Not Everyone Wants Guaranteed Wages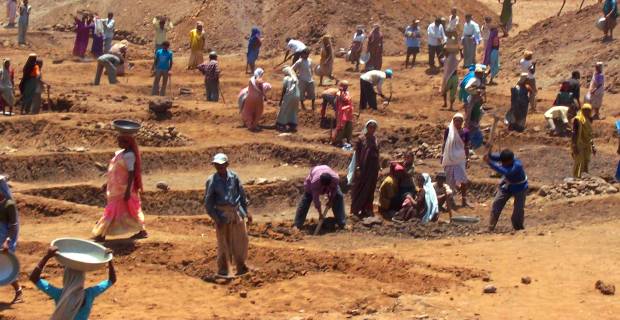 Highlights
* MGNREGA has cost the taxpayer Rs 227,700 cr from its inception in 2005-06 & about 48 million households have been provided employment
* Only 30% of the work projects were completed & only 22% of funds were utilised in the 182 audited districts spanning 14 states
* According to a CAG report, Rajasthan, Andhra Pradesh & Maharashtra have seen lowest completion rates
The Mahatma Gandhi National Rural Employment Guarantee Act (MGNREGA) is India's most expensive 'flagship' scheme. Critics have branded it a form of dole, creating jobs where none really existed, distorting the labour market and creating inflationary pressures.
Nevertheless, MGNREGA has ensured that many rural workers get at least 100 days of guaranteed wage employment, earning earn close to Rs 100 a day by doing a whole host of odd jobs ranging from flood management and rural sanitation to irrigation projects.
The scheme has cost taxpayers Rs 227,700 crore from the time it was initiated in 2005-06 and some 48 million households have been provided employment. MGNREGA has worked particularly well in states like West Bengal (WB), Uttar Pradesh (UP) and Assam where the off take has been the highest. On the other hand, it has not really taken off in Maharashtra, Andhra Pradesh and Rajasthan.
While economic backwardness and lack of jobs could be the obvious reasons for why the scheme has done well in some states, the fact remains that the scheme has not really picked up in many states and districts. Understanding the reasons for this would help in assessing the scheme's overall efficacy.
A Comptroller and Auditor General (CAG) report based on an audit of 182 districts of India (of a total of 632) released on April 2013 might have some answers. For instance, only 30% of the projects were completed and only 22% of the funds were utilised in these 182 districts spanning 14 states.
First, which are the states where MGNREGA has been slow? According to the five-year CAG report covering the period April 2007 to March 2012, Rajasthan (34%), Andhra Pradesh (35%) and Maharashtra (40%) have seen the lowest completion rates of work projects. On the other hand, WB (85%), Assam (74%) Kerala (72%) and UP (72%) have the best completion rates in the 182 districts reviewed by the CAG.
About 13 million work projects were sanctioned amounting to Rs 126,961 crore but only 3.8 million work projects were completed by spending Rs 27,792 crore.
Figure 1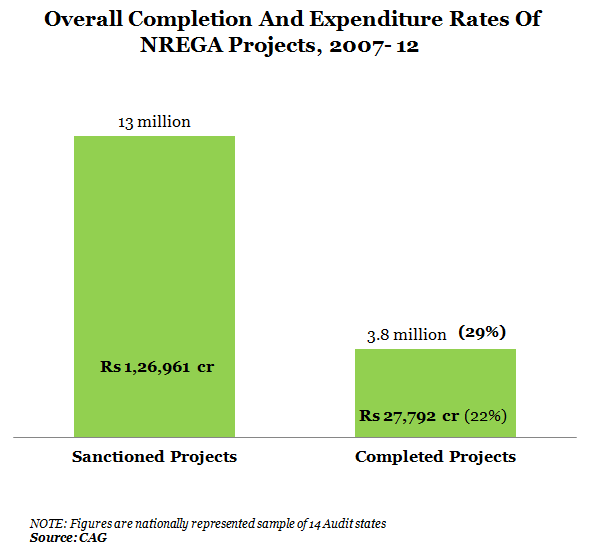 Let's look at the top 10 states with high work completion rate.
Figure 2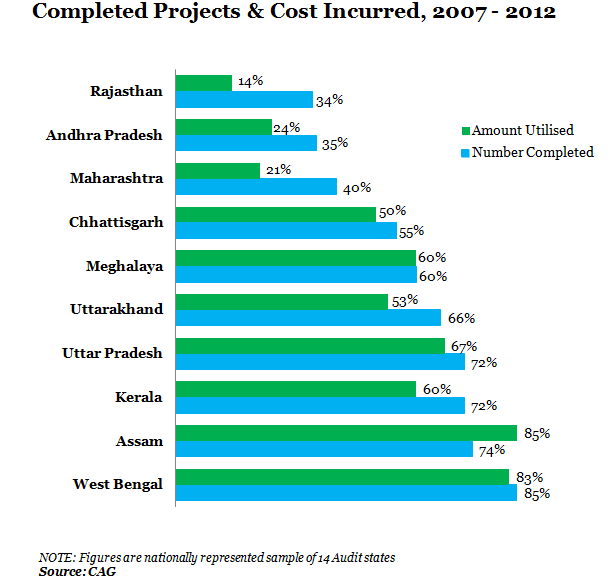 As expected, the states with high completion rate have utilised a larger portion of their fund allocations, such as West Bengal and Assam which are at more than 80% utilisation. Andhra Pradesh, Maharashtra and Rajasthan rank lower with 24%, 21% and 14% utilisation levels, respectively. Incidentally, the work projects continue and the table reflects the completion rate during the audited period.
A total of 60% of the funds are supposed to go for wages while 40% is meant for material and supplies of the work projects. The Union Government pays 100% of the wages but only 75% of materials and supplies.
Data from the MGNREGA website shows that around 10 million projects have begun since the inception of the programme in 2005 with 1.4 million works completed and 8.2 million in progress – an all-India completion rate of a mere 10%!
So, what is the Ministry of Rural Development's defence for the shortfall in work execution? The Ministry says the annual plan for work execution is prepared by the local Gram Panchayat based on demand for projects by the local population. However, it does not necessarily reflect the projects taken up or completed in the financial year.
Deficient planning is indicated as a reason for shortfalls in work projects. About 1,201 Gram Panchayats did not convene meetings to develop work plans and as a result annual plans were either not done or remained incomplete. In 49 districts out of the 182 surveyed, annual plans for the execution of MGNREGA were not even developed.
Project execution is also dependent on the availability of other employment opportunities such as agriculture and non-farm activities. MGNREGA has been criticised for drawing away rural workers from traditional modes of employment like agriculture though the Ministry says that other employment opportunities, probably private sector jobs, led to shortfall in execution of important developmental works.