Northeast (Minus Assam) Has 59% Of Mumbai's Rail Length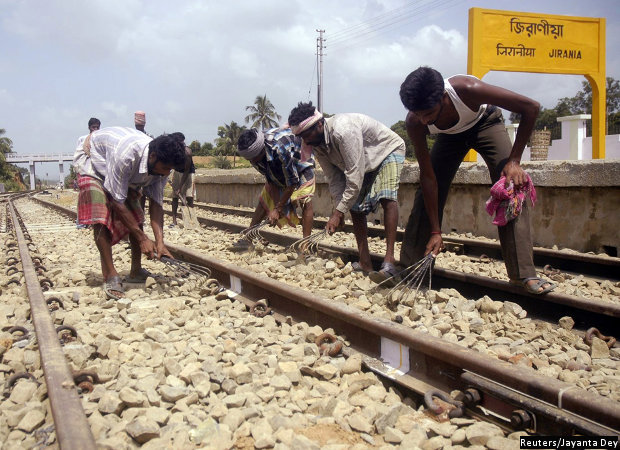 Workers of the Northeast Frontier Railways work on a new railway track at Jirania railway station, about 20 km (12 miles) west of the northeastern Indian city of Agartala.
*The eight north-eastern states collectively contain 12% of India's national-highway length, although they are home to about 3.8% of the country's population.
*Only the capitals of Assam (Guwahati) and Tripura (Agartala) are connected via rail.
*Tripura--along with Uttar Pradesh--has India's highest power deficit, -15.6%, followed by Meghalaya with -15.3%.
The first part of this three-part series on the northeast analysed growth rates, unemployment and poverty.
In the second part, we will look at physical infrastructure, such as highways, railways, aviation and electricity.
Northeast has 12% of India's national highways but lags in other roads
National highways in the northeast are 9,525 km long, 12% of India's total. Assam, with a population of over 31 million, accounts for about 30.9% of the national highways within the eight states. As much as 42% of surfaced state highways are in Assam.
Sikkim accounts for 0.1% of the national highways and is home to 610,577 people.
Despite the road density per capita being high in these states, the road infrastructure is inadequate, according to a report by PricewaterhouseCoopers (PWC) India, a consultancy, and the Indian Chamber of Commerce.
The length of state highways increased 2.2% between 2008 and 2013, from 6,936 km to 7,089 km, while surfaced state highways expanded 8.4% over the same period.
The northeast accounts for only 4.1% of India's state highways.
Village and district roads are pre-dominant in the northeast states, according to the PWC India report.
When most of the states have seen an increase or no change in the length of state highways, Meghalaya has actually seen a decline from 1,134 km in 2008 to 858 km in 2013. This is because 361 km of state highways were converted to national highway in 2012, according to this report in The Shillong Times.
Remove Assam, and Northeast has fewer railways than Mumbai
The eight north-eastern states together have 2,646 km of railway. That's only more than Odisha with 2,516 kms. Almost all the northeast's railways are in Assam--all but 179 km, according to Indian Railway data. That's 59% of the length of Mumbai's commuter rail lines.
The Ministry of Railways has allocated Rs 5,338 crore in the 2015-16 budget for infrastructure development in the northeast.
Boosting the railway network in the northeast will help in bolstering trade routes with some neighbouring countries, such as Bangladesh and Myanmar.
It is difficult to build railway in the northeast, since most of the states (Arunachal Pradesh, Manipur, Meghalaya and Mizoram) are ridden with hills and mountains.
Air connections are also poor; Arunachal, Sikkim have no airports
The eight northeast states have nine airports. Three airports are under construction at Holongi, Tezu and Tawang in Arunachal Pradesh, which has no airports.
Sikkim, which also has no airport, had seen work start at Pakyong, stopped since December 2013, after local villagers protested demanding rehabilitation and compensation.
The Sikkim government said these issues would be sorted out by August 2015 and the airport would start working by September 2017, according to this report in Business Standard.
Power deficit in Tripura India's worst; Sikkim country's only power-surplus state
All eight north-eastern states face power deficits, except Sikkim, which has built a series of dams and exports electricity, as IndiaSpend has reported. It is quite another matter that the dam-building programme is embroiled in debt and scandal, which, too, we reported.
The wide variations between north-eastern states that we referred to in the first part of this series are evident again. Tripura and Meghalaya are among India's most power-deficit states; Sikkim is India's only power-surplus state.
The Centre allocated Rs 680 crore in 2015-16 to the northeast areas to develop electricity infrastructure.
Assam has the highest installed capacity of hydro power in the region with 429.7 MW and Meghalaya the second highest with 356.6 MW.
Major issues in the development of hydro-power are delays in environment and forest clearances, land acquisition, development of infrastructure and long-term financing, according to the Ministry of Development of North Eastern Region's Action Plan for Power.
This is the second of a three-part series. You can read the first part here and the third part here.
(Salve is a policy analyst with IndiaSpend. Pandit is an intern with IndiaSpend and a student at St. Xavier's, Mumbai)
We welcome feedback. Please write to respond@indiaspend.org. We reserve the right to edit responses for language and grammar.
__________________________________________________________________
Liked this story? Indiaspend.org is a non-profit, and we depend on readers like you to drive our public-interest journalism efforts. Donate Rs 500; Rs 1,000, Rs 2,000.