Northeast Deadliest Place For Security Forces In 2015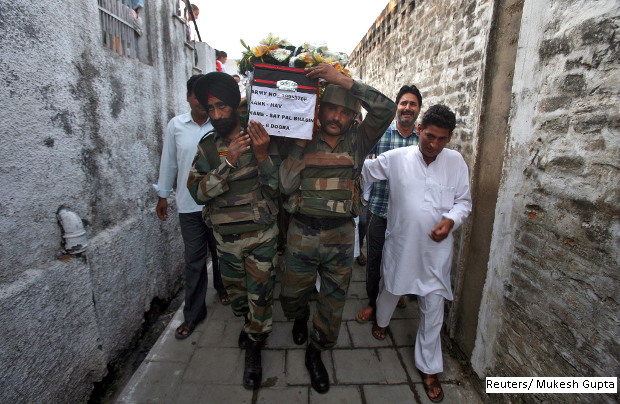 Indian army soldiers carry a coffin containing the body of their colleague Sat Pal Bhasin, one of 18 soldiers killed during a terrorist ambush in Manipur on June 4, 2015.
India's northeastern states are now the most unsafe conflict theatre for security forces with 41 deaths this year.
These states accounted for 23 deaths of security personnel in 2014, according to data compiled by the South Asia Terrorism Portal.
Eighteen Indian army soldiers were killed and 11 injured in Manipur's Chandel district in a terrorist ambush on June 4, 2015, the worst-such attack in two decades.
Source: South Asia Terrorism Portal; News Reports; *Figures for 2015 up to June 8.
34 security personnel died this year while countering Naxal terrorists in various states affected by left-wing extremism.
IndiaSpend earlier reported how these states regularly accounted for the highest number of terrorism-related deaths over the years.
Jammu and Kashmir, another serious terrorism-affected zone in India, has seen 18 security personnel losing their lives this year.
J&K ranks third this year in deaths of security personnel after Chattisgarh (28 deaths) and Manipur (20 deaths).
Overall, India has lost 3,093 security personnel due to terrorist violence over the period 2005-2014, but yearly deaths have declined 63% since 2005.
Source: South Asia Terrorism Portal; News Reports; *Figures for 2015 up to June 8.
Responsibility for the June 4 attack was claimed by Nationalist Socialist Council of Nagaland (Khaplang) or NSC (N), a Naga separatist outfit, and Kanglei Yawol KannaLup (KYKL), a Manipuri Meitei separatist outfit, both operating out of Myanmar.
The Indian army launched retributive action against the groups in two locations along the Indo-Myanmar border.
The operation was conducted in co-ordination with Myanmar after the army received "credible and specific" intelligence inputs that further attacks were being planned, according to an official army statement. ¦
(Sethi is an analyst with IndiaSpend.)
__________________________________________________________________
"Liked this story? Indiaspend.org is a non-profit, and we depend on readers like you to drive our public-interest journalism efforts. Donate Rs 500; Rs 1,000, Rs 2,000."