No person As Squeezed In As The Mumbaikar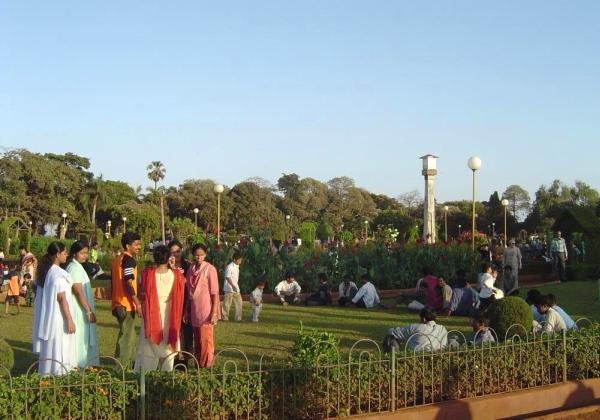 (A view of Hanging Garden in south Mumbai)
A visit to any open area in Mumbai reveals what the locals, known as Mumbaikars, really crave — open space. Every playground, every promenade and every park is packed, revealing what they lack—open space.
Every person in Mumbai has access to just 12 sq ft of open space, which includes gardens, parks, recreation grounds and playgrounds.
It isn't much better for living space.
A report by BMW Guggenheim Lab reveals Mumbaikars have a living area of 48 sq ft per person as compared to 111.5 sq.ft in Shanghai, 1,124 sq.ft in New York and 2,248 sq.ft in Washington D.C.
The report said: "In a city where within the span of a day, a public street can transform from a crowded place of transport to a vibrant market to a gathering space for group prayer and back again to its original state, flexibility is essential for city dwellers. It seems natural that Mumbaikars' attitudes towards privacy and the spaces in which it is achieved would also be in a constant state of change."
The study said that Mumbai's citizens found privacy in public places like beachfront spaces, parks, bus stops, zoning out in local trains, mosques and markets. While 54% of the 800 respondents to the study considered "home" to be their most private space, many participants said that they do not feel comfortable speaking about private matters at home, since it is so cramped and small.
(Image Credit: Flickr)
This article is a part of our series "Mumbai Special: The Revival Agenda". You can read the whole series here.
__________________________________________________________
"Liked this story? Indiaspend.org is a non-profit, and we depend on readers like you to drive our public-interest journalism efforts. Donate Rs 500; Rs 1,000, Rs 2,000."