No Hike In Fares & Freight Rates But Railways Will Earn More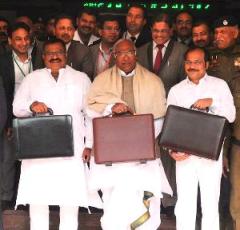 Amid the chaos over Telangana, Railway Minister Mallikarjun Kharge presented his maiden budget for 2014-15 in Parliament today.
The expected gross traffic receipts has increased from Rs 1,43,742 crore in 2013-14 to Rs. 1,60,775 crore in 2014-15, which is an increase of 11.8%. Another improvement has been in expectations of earnings from passengers, which will see a rise of 20.6%.
Here is how the revenue side of things looked in the interim budget:
Freight traffic target is proposed at 1,101 million tonne, an increment of 49.7 million tonne over the current year's revised target of about 1,052 million tonne.
Let us now look at the expenditure side of the budget:
The annual plan outlay for 2014-15 is Rs 64,305 crore, an increase of 8% from the revised estimates of 2013-14. The spending has been scaled down in 2013-14 from an estimated Rs 63,363 crore to Rs 59,359 crore.
Gross Budgetary Support is likely to increase from Rs 26,000 crore in 2013-14 to Rs 30,223 crore in 2014-15.
The estimates for total working expenses have increased 13% from the revised estimates of 2013-14. Ordinary working expenses cover additional requirements on account of fresh recruitment, increase in dearness allowance rates, increase in fuel bill, higher lease charges payable to IRFC and general inflationary increases.
The budget estimate for pensions in 2014-15 is Rs 27,000 crore, which is an increased of 12% over the previous year's revised estimate of Rs 24,000 crore.
The budget has announced 72 new trains in 2014-15, which includes 17 new premium trains, 38 express trains, 10 passenger trains, 4 MEMU trains and 3 DEMU trains.