New Model Of Tracking TB Patients Holds Promise For India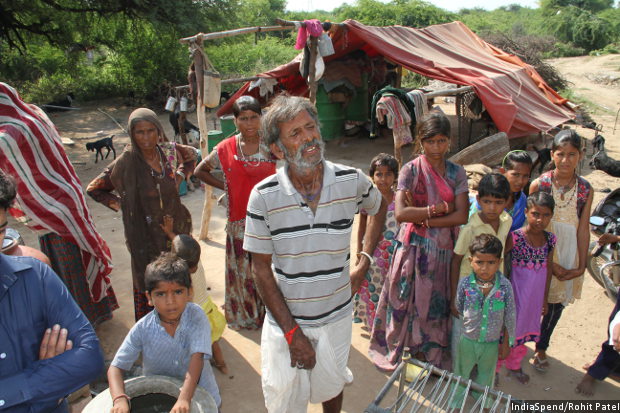 Khema Bhai Vanjara, a TB patient, is a member of a Gujarati nomadic community. The pilot program in Mehsana has made it easier to register and track patients, such as Khema Bhai, even if they are diagnosed and treated in the private sector.
Mehsana (Gujarat): "Is Khema Bhai there?" B D Sagar shouted out in Gujarati to a small group of people sitting under a tree on a dusty knoll, in the outskirts of Mehsana city, in north-western Gujarat. Sturdily built Sagar, a senior treatment supervisor in India's national tuberculosis (TB) programme, was searching for a TB patient, a tribal, called Khema Bhai Vanjara. A woman told Sagar that Khema Bhai had moved to another make-shift hut, five minutes away.
"If this had happened in the past, we would have had no idea where the patient is," explained Sagar confidently, in Hindi, with a laptop bag slung over his shoulder. "Now I have two ways of finding the patient--I can call on the mobile number registered in the system or, I can go to the registered doctor, and ask him to inform me when the patient comes back," he said, as he sat on his black motorcycle, plastered with the words "Govt. of Gujarat".
Sagar and Khema Bhai Vanjara are part of a pilot programme in the district of Mehsana, about 80 km north of Ahmedabad, to provide TB patients treated in the private sector--which handles about half of all TB cases nationwide--free medicines and counselling. In doing so, the programme hopes to address a major failing in India's battle against a disease that takes more than two lives every three minutes, or 480,000 lives, every year. India has an estimated 2.8 million new cases of TB--more than a quarter of the global burden--every year. No more than 8.4% of patients estimated to be treated in the private sector are registered with the government, leaving millions of India's TB patients unmonitored, drug regimens incomplete and the disease as persistent as ever.
In the second quarter of 2016, the private sector in Mehsana notified --the official term for registering patients with the government--about 974 TB cases, more than 25 times the total number of cases registered in the first quarter of 2013--a mere 37--before the programme began.
The programme, initiated by the Central TB division, part of India's Ministry of Health and Family Welfare, attempts to engage private doctors to increase the number of TB patients registered with the public sector, and track the treatment completion of private sector patients. These patients are still treated within the private sector.
"Earlier the attitude used to be: Why take care of those patients who don't come to government system? Leave them," said K K Patel, Mehsana's district TB officer. "Now we try to reach them too."
Replicating the programme across India could help better assess the actual burden of TB in India, but the national TB control programme is short of funds to scale the programme nationwide. India's national TB control programme received only about 50% of the funds it requested from the government in 2015-16, a trend that has continued at least for the past four years, according to data from annual reports of the programme. Funding patients from the private sector would increase the total cost to the government. The pilot programme in Mehsana is funded in part by the Bill and Melinda Gates Foundation, but the funding is unlikely to continue after 2020.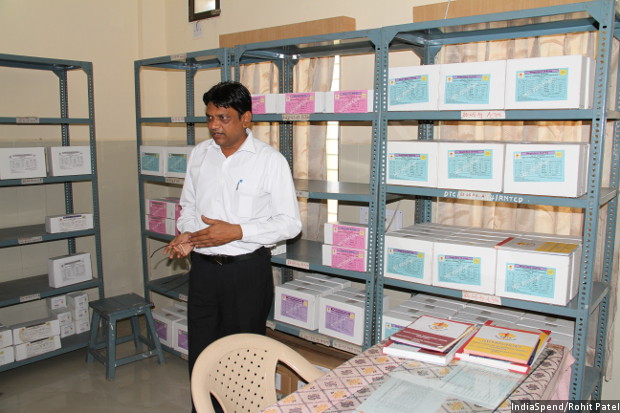 KK Patel, district TB officer, Mehsana, Gujarat, is seen in the drug storage room at the district TB centre. The pilot programme in Mehsana has been successful, in part, because of its strong public health system, Patel explained.
By relying on public health system, India under-reports TB cases
India underestimates the burden of TB by relying only on cases registered in the public sector, expert opinion and two sub national studies in its calculations, according to this 2014 World Health Organization (WHO) report. In its 2016 report, the WHO revised its estimate of India's TB burden upward, as IndiaSpend reported on October 14.
Of the 2.8 million TB cases estimated in India, in 2015, the public sector registered 56% cases for treatment, or about 1.5 million cases, according to data from India's revised national tuberculosis control programme (RNTCP).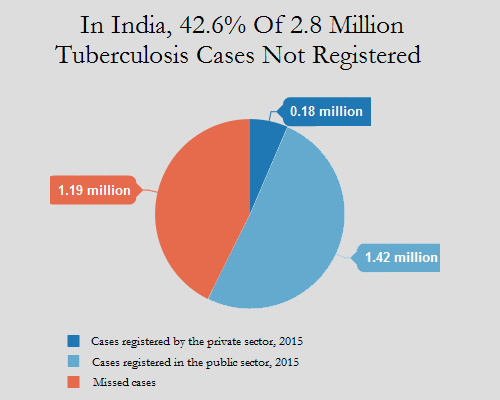 Source: World Health Organization, Revised National Tuberculosis Program
If the government cannot track private-sector patients, they might not complete treatment, adversely affecting their health and productivity, and making it more likely that the TB bacteria turn resistant to some anti-TB drugs.
Drug-resistant TB is a more potent form of the disease that takes longer to cure, and is more expensive to treat than regular TB. India has about 80,000 estimated cases of multi-drug resistant tuberculosis, with about 16% of previously treated cases estimated to be drug-resistant, according to WHO data.
Recent efforts to measure TB cases estimate that the private sector treats 2.2 million TB cases--at least as many TB cases as the public sector. The private sector in India could treat anything between 1.19 and 5.24 million patients in 2014, according to this 2016 study published in the Lancet, a medical journal, which based its data on the sale of drugs containing Rifampicin, the main anti-TB drug.
It was only in 2012 that the government made it mandatory for private doctors to report cases to the government. Overall, notification rates in Gujarat and India have gone up by about three times. Gujarat registered 42.2 private-sector cases per 100,000 in 2015, up from 10.3 cases in 2013. India registered 14.4 cases per 100,000 people in 2015, up from 3.1 in 2013.
Better reporting in India helps the world track TB better
The push to notify TB cases has not only substantially increased the cases registered in India but also in the world, which has battled the disease for about 40,000 years.
TB cases reported across the world increased from 5.7 million in 2013 to over 6 million in 2014, according to this 2015 WHO report. In 2014, India accounted for 27% of all TB notifications in the world, according to the WHO. Reporting in India increased by 29% compared to 2013.
Source: PATH, World Health Partners and Revised National Tuberculosis Control Program
In part, the increase in notifications can be credited to the new pilot programmes in Mehsana, Mumbai, and Patna, which were started in 2014.
The call centre, the chemist and free medicines: How the programme works
In all three sites, private practitioners can contact a call centre, register their patient, and get a voucher number. When the patient goes to a chemist with the prescription and voucher number, the chemist calls the same call centre, confirms the voucher and provides the medicines to the patient free of cost. The programme directly reimburses the cost of the medicines to chemists. In Mehsana and Patna, chemists receive an additional 3% of the cost of the medicines.
Field officers, such as Mehsana's Sagar, who are part of the district's TB control programme, receive details of the patient when they are registered with the call centre. These field officers call, message and sometimes visit the homes of these patients to ensure that they understand the disease, take the medicines, and answer any queries they might have about the TB drug regimen or their health in general.
In Patna and Mumbai, the pilot programme also offers free diagnostic tests for TB such as X-Rays and the GeneXpert, which tests for Rifampicin resistance. The pilot programmes do not treat drug-resistant patients, but transfer them to the public sector for treatment, where patients are treated under the RNTCP.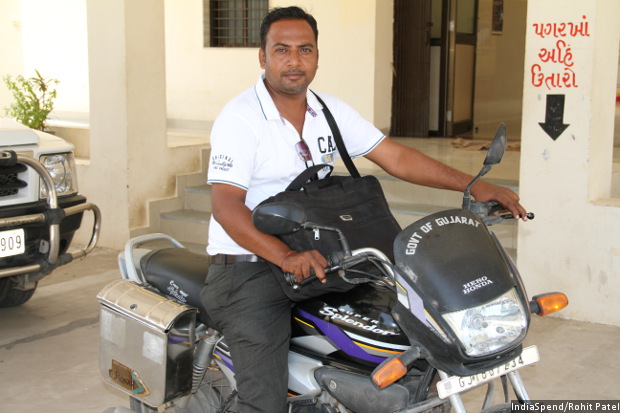 After the pilot programme, field officers, such as Sagar, now handle double the cases they would manage in the past. He works seven hours on the field, and then at home, all for Rs. 15,000 a month.
Tracking Khema Bhai: If nomads can be tracked, anyone can
The day after Sagar was informed that Khema Bhai had moved to another location, he revved up his motorcycle and set out to find him. Khema Bhai Vanjara--he estimates he is about 55 years old--is a member of a Gujarati nomadic community, and has moved from place to place within Mehsana district over the last seven to eight years. Sagar found Khema Bhai, a lanky man dressed in a knee-length, white dhoti and striped t-shirt, on a stretch of land on the outskirts of Mehsana city, where about 20 other families from the same community live.
Khema Bhai and his family of 10 survive on Rs 6,000 to Rs 7,000 a month, he said. A doctor at a private hospital diagnosed Khema Bhai with tuberculosis about a year ago. Costs kept piling up: The doctor's consultation fee cost Rs 330, medicines cost around Rs 1,000 a month, including drugs for TB. But Khema Bhai didn't feel better.
He visited several doctors, and after two months, Khema Bhai contracted pneumonia. Hospitalisation costs were about Rs 22,000. When Khema Bhai became better, the doctor put him back on the TB meds, and told him that the government provides free drugs at private chemists. Now, although Khema Bhai still spends around Rs 700 on medicines other than TB drugs, it is much easier to afford the medicines, he said, standing near a charpai, a string bed, with his family congregating around. Further, he doesn't have to go every alternate day to a government-affiliated clinic for free medicines, which would have been near impossible for him, a daily-wage labourer.
Before the pilot programme, patients would have to visit a DOTS, or directly observed therapy short course centre every other day and take TB medicines in front of a health worker or doctor.
A key link to tracking runaway patients: Field officers who earn Rs 15,000 a month
Counselling by field workers, and the incentive of free medicines, convinces several patients to return to their doctor. For instance, "patients who would have run away after the diagnosis, now come back," said Sonal Choudhary, a doctor who has been a part of the programme since May 2016. This improves "patient adherence" to the treatment and medication, she said.
Chemists who are part of clinics that have many TB patients have benefited from higher sales. For instance, Shailesh Patel's sales have almost doubled. In 2015, he sold TB medicines worth around Rs 120,000, or Rs 10,000 a month. In 2016, in five months alone, he has sold nearly Rs 97,000 worth of TB drugs--on average, over Rs 19,000 a month. Patel ascribed the increase to more patients returning to the shop and to more patients taking TB medicines because they are free.
But the success of the programme in Mehsana is greatly dependent on the work done by field officers, who act as the liaison between the programme, chemists and private practitioners, in addition to counselling patients.
Sagar, who is the senior treatment supervisor for Mehsana city, manages all the case load for a population of 500,000. The inclusion of these private facilities has doubled his load. He meets about 7-8 patients a day to counsel patients and check on their treatment, working seven hours a day on the field. After he goes home, he completes the programme register filling in details of patients and their treatment status. Sagar is still paid Rs 15,000 a month, much less than what he could earn in the private sector. Further, he is a contract worker with no job security. No new staff have been hired by the district TB centre.
"It is because our public health system is strong, and because we have dedicated staff, that we are able to implement the programme successfully," Patel, the district TB officer, explained.
Doctors and chemists too have to spend extra time to register patients with the call centre. "It would take 20 minutes to register one patient," said Chirag P Patel, a pharmacist at Hart Medical, attached to the busy Hart Clinic in Mehsana, that gets up to 15 TB patients a month. "Often, the call centre operative would ask questions we didn't understand, and we would have to ask the doctor," he added, explaining that they tried the programme for some time, but now prefer referring patients to the clinic opposite, that is part of the programme.
In states without strong health systems, existing government staff might be unable to take on extra work to include private sector patients. For instance, Bihar, the third most populous state in India, has no staff in key positions of a TB-HIV coordinator, a drug-resistant TB coordinator, and far fewer treatment supervisors than the state of Gujarat. Bihar's TB control programme is supposed to cover 113,000 people--double the population compared to Gujarat's TB control program.
In such cases, the government would have to partner with private organisations that help fill this gap.
In Mumbai, the programme is implemented by a non-governmental organisation, PATH, which hires field workers through third-party organisations, to assist doctors and chemists. The field workers register patients for doctors at high-burden clinics, maintain programme registers, which reduces the extra work that doctors, and staff in the public sector would have to do for the programme. The programme in Patna is also run by a private organisation.
The Mumbai programme hires a total of 238 people, and costs $140 (Rs 9,339) per patient, mostly because of the added cost of providing free diagnostics, according to PATH, as compared to the Mehsana programme, which hires no new personnel, and costs $80-$90 (Rs 5,336-Rs 6,003) per person diagnosed, according to the Bill and Melinda Gates Foundation.
"The perception of a weak public health sector also makes it difficult to implement the program, said Nita Jha," programme lead for urban TB at World Health Partners, the non-governmental organisation running the pilot programme in Patna. She said it was an uphill task to convince both--senior practitioners to move to government-recommended diagnostic methods and treatment, and patients to take government-funded medicines. "They preferred paying for medicines rather than taking free drugs from the government," she said.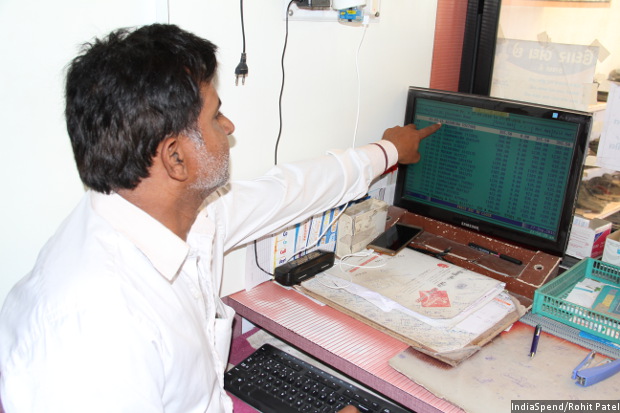 Sales have almost doubled, as more patients return to the shop to take TB medicines because they are free, Shailesh Patel, a chemist in Mehsana, said.
Do patients value free medicines?
Not everyone believes that the free medication helps patients complete treatment. Umesh Patel, a general physician in Mehsana, treats about 60 patients a year, and only about 15 complete the treatment. He believes that free medicines are "not worth it" because patients do not "value" them. "If a family pays for the medicines, they will ensure that the patient takes the medicines," he said. Only the poorest patients should get free medicines, not every TB patient who comes to a clinic, he said.
Up to 83% of all patients registered in the public sector completed treatment in 2015, according to the 2016 RNTCP annual report. The pilot programmes have been slightly less successful than the public sector TB control programme: 80% of private sector patients evaluated in Mehsana until June 2015 completed treatment. In Mumbai, 75% of patients registered till November 2015 completed treatment, while the treatment completion rate in Patna is 73%.
What's next for the pilot programmes?
The pilot programmes in all three cities will continue for the next three years. In Mumbai and Patna, where private organisations aid the government, the pilots will be integrated with the government sector by moving all diagnostics from private labs to either government labs, or labs that agree to work with the government sector, according to officials from PATH in Mumbai, and World Health Partners in Patna.
The government might also provide private chemists drugs procured through government machinery instead of reimbursing the cost of medicines procured by chemists themselves. But the integration is still in early stages and its success depends greatly on government capability, willingness of private practitioners and chemists to work with the government, and support from private organisations, like NGOs, to the government, the officials added.
(Shah is a reporter/editor with IndiaSpend.)
We welcome feedback. Please write to respond@indiaspend.org. We reserve the right to edit responses for language and grammar.
__________________________________________________________________
"Liked this story? Indiaspend.org is a non-profit, and we depend on readers like you to drive our public-interest journalism efforts. Donate Rs 500; Rs 1,000, Rs 2,000."