Naxalism Rears Its Head Again But Is Losing Ground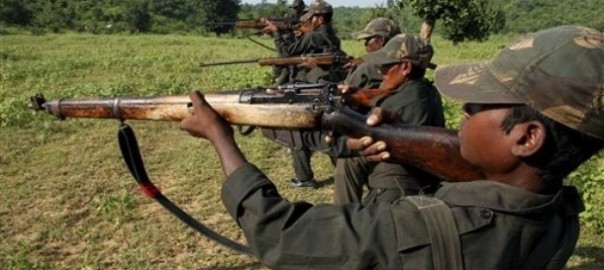 Left extremists or Maoists, in Indian parlance, are back in the news with plans to observe Martyrs Week, 'Shahid Saftah', from 28th July to 2nd August 2014, in Chhattisgarh's Bastar region. The damaging of Essar Steel'spipeline near Balapam-Vishakhapatnam district on 26th July is being highlighted as a mark of strength and part of the Martyrs Week celebrations.
Naxalism or violent Maoist activity is viewed as the biggest threat to internal security by the Government of India. Maoists are ideologically left-wing radical groups attempting to overthrow the democratic government in India through extremist means using arms and explosives. The regions affected the most due to such violence come under the tribal belts (Dandakranya forests) that have been facing economic and social exploitation.
IndiaSpend had earlier reported on the developments: Naxal-Related Violence Has Killed Over 5,000 In 6 Years; Deaths Due To Terrorist Attacks Are Declining; States Sit On Hundreds Of Crores Of Funds For Modernising Police Forces.
The operational area of Maoists covers a wide range of districts in states like Andhra Pradesh, Chhattisgarh, Jharkhand, Bihar, Madhya Pradesh, Maharashtra, Odisha, Uttar Pradesh and West Bengal, which is known as the Red Corridor. These areas are rich in natural resources, mainly forest products and mineral ore, which are largely untapped causing economic loss to the nation. These districts also face major challenges like poverty, illiteracy, overpopulation, malnutrition, diseases and underdevelopment leading to lack of employment, educational and health facilities.
The major left wing extremist group is Communist Party of India (Maoist) which was formed after the merger of Maoist Communist Centre of India (MCC) and Peoples War Group (PWG) in 2004. These are banned organisations by the Government of India under the Unlawful Activities (Prevention) Act, 1967.
The Maoists run their own parallel government, called the Janatana Sarkar (or the Peoples Government), in the region of their stronghold. They also hold Jan Adalats (People's Court) to address local issues. A total of 363 Jan Adalats have been held since 2009.
Let us now look at the data on Maoist violence:
The total number of Maoist incidents has declined from 2,258 in 2009 to 1,136 in 2013. Major states hit by Maoist activities are Jharkhand and Chhattisgarh with incidents totaling to 2,787 and 2,497, respectively, from 2009-14. West Bengal has shown a drastic drop in numbers from 255 in 2009 to only one in 2013.
Over 3,400 people have lost their lives due to Maoist violence in the last six years. However, there has been a steady decline in casualties from 1,005 in 2010 to 397 in 2013. West Bengal, again, has seen a steep fall - from 158 deaths in 2009 to 0 in 2013-14.
(A disclaimer here: The number of deaths here are different from the earlier data set but are taken from the same Home Ministry data point)
Over 1,400 civilians have lost their lives due to Maoist violence during the last six years. While 1,030 security personnel have lost their lives, 698 Maoist fighters have also died during the clashes.
Anti-Naxalite Measures taken by Government of India
The Ministry of Home Affairs established a Left Wing Extremism (LWE) Division in 2006 that looks after counter-naxal operations like implementation of development schemes under different ministries and deployment of Central Armed Police Forces in troubled areas.
There have been 1,130 encounters between the security forces and the naxalites in the span of six years (2009-14) and 997 attacks have been carried out by Naxal guerrilla groups on the police forces.
The new NDA Government, in its maiden Budget, has allocated Rs. 2,29,000 crore for defence and internal security. An earlier allocation of Rs 1,847 crore (BE of 2013-14) for the modernisation of state police forces with further allocations for developmental activities to tackle left wing extremism has been increased to Rs. 3,000 crore in Budget 2014-15.
(State-Wise) Allocations Under the Scheme of Construction/Strengthening of Fortified Police Stations:

Source: Ministry of Home Affairs
Note: *Andhra Pradesh including State of Telangana; Figures in Rupees. Crore
Bihar has got maximum funds (Rs 124 crore) under this scheme with the most number of police stations (85). Bihar is the only state where there has not been much of a decline in Maoist activities (incidents/deaths) compared to other states. Bihar is followed by Odisha with a total allocation of Rs. 112 crore and Jharkhand (Rs 97 crore).
The Government of India also has Surrender-Cum Rehabilitation policy for Naxalites in affected areas to end the violence and promote peace and development in the region. Under this policy, the surrenderee would be given trade/vocation training with a monthly stipend of Rs 2,000 for 36 months, grant of Rs. 1.5 lakh as a fixed for 3 years, subject to their behavior, and additional weapon incentives.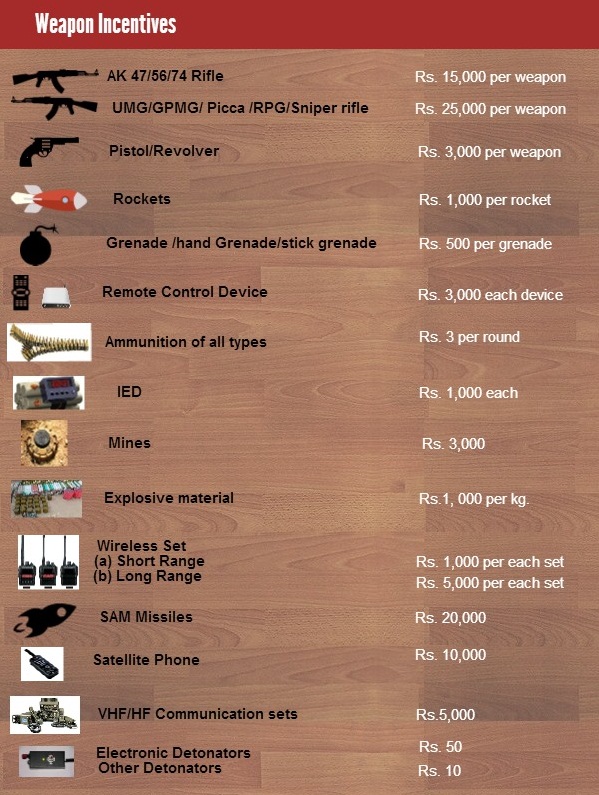 Source: Ministry of Home Affairs
Various paramilitary forces like Central Reserve Police Force (CRPF), Commando Battalion for Resolute Action (CoBRA) have been deployed in anti-Naxal operations by state and central governments. Recently, the Chhattisgarh Government deployed around 1000 ITB paramilitary forces to counter Maoist operations in Rajnandgaon district. Since 2009 to May 2014, a total of 1,666 Maoists have surrendered, 10,816 arrested and 3,332 weapons have been recovered.
Conclusion
Some of the reasons for the decline in Maoist activities may be the killing of top leaders in encounters with security forces, deaths due to health issues/diseases, many being arrested and jailed and shortage of funds, arms and ammunitions. So, the question is - has the Government been able to tame it, if not completely, but reduce the number of incidents and attacks? Or has it become a dormant volcano seeking a vent (right opportunity) to burst or strike?