Narendra Modi Goes To America, In Triumph. What Can He Bring Back?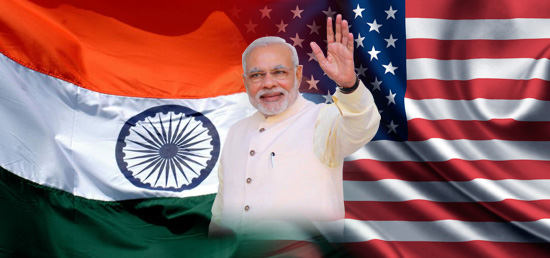 (Image: Ministry of External Affairs)
"My thanks to the shower of liberal sentiments that has overflowed this platform. My thanks to this enlightened audience for their uniform kindness to me…"
This was what Swami Vivekananda, or Narendra Nath Dutta, the man Prime Minister Narendra Modi reveres, said 117 years ago in Chicago during a ground-breaking US tour. Expect the modern Narendra to receive similar sentiments and cheering audiences during what is likely to be a triumphal tour of the world's remaining superpower.
Washington D.C. and New York, it appears, are all set to welcome Modi between September 26 to September 30, 2014. This is Modi's first visit to the US, since he was denied a visa in 2005 after the Gujarat riots. Both countries are keen to strengthen economic, defence and diplomatic ties.
Modi's opportunity to win over Americans will come during a rare address to a gathering of 20,000 people on September 28 at Madison Square Garden, New York, a crowd that Reuters said was a "rock'n'roller's dream". Modi will also:
Address the United Nations General Assembly on September 27.
Meet US President Barack Obama at the White House on September 29 and 30.
Witness September 30 celebratedas 'US-India Partnership Day', the result of a bipartisan resolution unanimously passed by the US Senate.
Apart from the pomp, there is much serious business for Modi: From defence and strategic ties, expanding bilateral trade and services, cooperation in space and counter-terrorism, the US immigration bill, intellectual property rights (IPRs) and the standoff at the World Trade Organization (WTO) on trade facilitation.
Modi has promised 'ache din', or good days, to Indians through economic growth and infrastructure development. Boosting trade, investment and promoting India as a global manufacturing hub with his slogan, "Come, Make in India". Clearly, strong foreign policy initiatives are vital. The Indian economy saw a growth of 5.7% in gross domestic product (GDP), the best in 10 quarters, after the NDA Government came to power in May this year.
Trade is booming …
Let us look at the Indo-US trade performance for the last five years.
Total trade between the two nations has reached a remarkable high of nearly $62 billion in 2013-14 from just $5.6 billion in 1990. Exports seem to be doing fairly well with a consistent rise every year and touching $39 billion in 2013-14. Imports have declined from $ 25 billion in 2012-13 to $21.51 billion in 2013-14. The trade balance stands at $16.64 billion at the end of 2013-14 as against $3 billion in 2009-10.
Let us now look at commodity-wise imports and exports for the past five years:
India's major exports to the U.S. includes natural and cultured pearls, precious stones and metals, especially cut and polished diamonds and jewelry. Total exports under this head amounted to $ 7.84 billion in 2013-14. Exports of mineral fuels have seen a steady rise from $ 0.44 billion in 2009-10 to $3.96 billion in 2013-14, making it the second most exported commodity.
India's major imports from the U.S. include nuclear reactors, worth $2.72 billion in 2013-14. It is interesting to see India importing natural/cultured pearls from the U.S. since that is also its top exported commodity. Major imports actually come in the form of miscellaneous goods, which was worth $ 2.75 billion at the end of 2013-14.
…investments are not
Kathleen Stephens, US Ambassador to India, while addressing a gathering of entrepreneurs at the American Business Corner of the Rajasthan Chamber of Commerce and Industry on 4th September 2014 said: "The American private sector is eager to join with India to invest. We want to see India and US relationship grow in both ways. We want to see American companies come and invest here and vice versa, while expecting the Indo-US trade to rise from over $100 billion to $500 billion in near future."
Despite being the world's largest economy, USA ranks 5th and contributes just 6% of total FDI with a cumulative inflow of $12 billion from 2000 to 2014. In 2013-14, only $806 million came in the form of FDI in India from USA. (IndiaSpendhad earlier reported on low FDI inflows from the USA). Hence, India would be emphasising on getting in more investments in the form of FDI.
According to Richard M Rossow, a senior fellow and Wadhwani Chair in India US Policy Studies at Centre for Strategic Studies and International Studies (CSIS), one of the reasons for the deterioration in bilateral economic relations over the last few years is the slow pace of reforms, particularly in terms of FDI caps. The Bilateral Investment Treaty (BIT) could be the game changer, providing much-needed protection that could lure US companies back to support India's industrial drive, he said.
A counterbalance to China
The 21st century is said to be Asia's century, with the emergence of China and India. The region is of prime importance to the world, with its vast reserves of oil and gas. The Obama administration has embarked upon the 'Pivot of Asia' policy, a term coined in 2011 to rebalance China's growing military and economic might in the region. The US would look to strengthen its bilateral partnership with India, as a counter to China.
Indo-US defence trade has shown remarkable growth in recent years crossing $10 billion. Both the nations will want to strengthen defence cooperation, in view of rising Islamic extremism from the Islamic State in Iraq and Syria (ISIS). The withdrawal of US soldiers in 2016 from Afghanistan will raise concerns for India; this may be a key point on the agenda, followed by the renewal of a ten-year-old defence agreement, set to expire in 2015.
Chuck Hagel, US Secretary of Defence, during his visit to India in August 2014, said "security, stability, freedom of sea lanes, economic development and energy" is important to both nations, as well as the Asia-Pacific region. Hagel said US wants to be a partner in India's military modernisation and recognises its needs to strengthen its defence-industrial base.
India has raised its FDI cap from 26% to 49% in the defence sector, hoping to develop indigenous capabilities. Both countries have agreed to jointly develop and produce next-generation weaponry, such as anti-tank guided missiles and unmanned aerial vehicles (UAVs). Keen on technology transfers, India will buy Boeing's Chinook and Apache helicopters in a deal valued at $2.5 billion. Similarly, India will also look forward to expand the civil nuclear deal, as the Indian Space Research Organisation (ISRO) prepares to sign a space agreement with NASA.
"Liked this story? Indiaspend.org is a non-profit, and we depend on readers like you to drive our public-interest journalism efforts. Donate Rs 500; Rs 1,000, Rs 2,000."