#MumbaiSpend: Now You Can Track How Mumbai Spends Its Money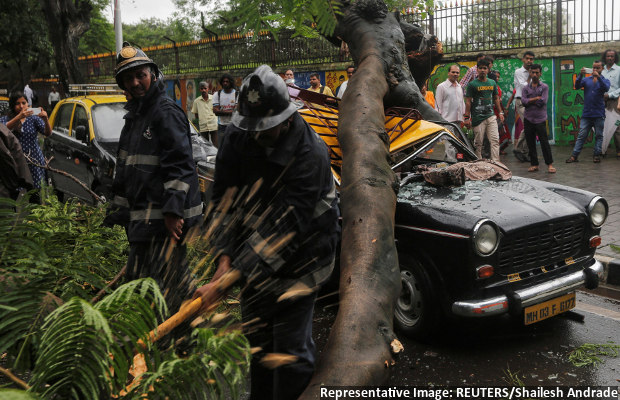 In the current fiscal year, close to 40% of budgeted civic funds for Mumbai, or Rs 978 crore, went to the development and maintenance of the city's drainage system. Yet, on August 29, 2017, with 315.8 mm of rain in 12 hours, Mumbai drowned.
Over three and a half years, from April 2014 to August 2017, six companies--RPS Infraprojects, K R Construction, Relcon, R K Madhani, J Kumar & Co., and Prakash Engineers--were involved in 55% or Rs 4,272 crore worth of road projects executed by the roads department. The BMC had blacklisted five of these contractors in March 2017.
Between April 1, 2014, and August 30, 2017, more than 10% of the Rs 2,428 crore the BMC spent on garbage management was given to two contractors--Antony Lara Enviro Solutions and M K Enterprises--to collect, transport and dispose of the city's waste. Yet, on August 29, 2017, the city's drains choked with garbage, often piled next to roadside drains.
On August 29, 2017, as torrential rains lashed Mumbai, citizens felt a sense of deja vu. The downpour may have been the heaviest recorded in 12 hours since the 2005 deluge, but the chaos is familiar every monsoon.
Complaints of water-logging, short circuits, trees toppling, garbage-clogged drains, potholed roads and snarled traffic are common, and the same questions arise: How is India's richest municipality spending tax money? Who are its contractors?
Our new project, MumbaiSpend, provides these answers. For the first time, it makes public Mumbai's civic-spending data in real time, allowing citizens and the media to directly monitor spending of the Brihanmumbai Municipal Corporation (BMC).
In India's financial capital and its richest municipality, citizens remain unaware of or uninvolved in how their city spends their money. Open data are the surest ways of bringing transparency to government processes, and through the use of civic technology, as we call it, the distance between citizens and government can be reduced.
What's there in our database
MumbaiSpend provides comprehensive data on vendors, purchase orders, vendor earnings over a specified period of time and spending patterns of the BMC across its various departments, including public health, roads, disaster management, education, storm water drains, solid waste management, transport, election, water supply, fire brigade, bridges, licenses, shops and establishments.
At the Department Overview page, you can analyse how departments spent funds, issued work orders over a time period that you can decide.
Through Vendor Stats, citizens can access lists of vendors/contractors, by department, and, in the case of registered companies, explore details of managements and boards of directors. Payouts to various vendors and spending by departments are available on mumbai.indiaspend.org. The data on the MumbaiSpend platform are updated weekly, in line with BMC spending updates.
What our preliminary analysis reveals
The roads, storm water drains and solid waste management departments of the BMC are the highest spenders, a preliminary analysis of the data available on the website shows.
Vendors catering to these departments feature among the civic body's highest earners. These departments perform key functions in preventing the city from flooding, according to this 2005 Fact Finding Committee on Mumbai Floods report. Their poor performance was on display on Tuesday as several parts of the metropolis suffered from inundation, potholed roads, and garbage-clogged drains.
Over five months to August 2017, the stormwater drains (SWD) department accounted for nearly 44%--or Rs 1,208 crore--of all BMC work orders issued, data for the current fiscal year (2017-18) show.
A significant portion of these funds was spent on the vendor API Civilcon , which earned Rs 65 crore since April 2017. The company is also one of the top three highest-earning vendors in all of the BMC in the current fiscal, securing contracts worth Rs 92 crore across departments, the MumbaiSpend database shows.
Of the Rs 65 crore the SWD department paid API Civilcon, Rs 23.7 crore was allotted for desilting three major nallahs (canals) in Wadala in Mumbai's F/North ward in preparation for the monsoons.
At 12 pm on August 29, 2017, this was the situation in the Wadala area of the F/North ward:
On August 29, 2017, this was the situation in Wadala #MumbaiSpend (2/2) pic.twitter.com/A3wBKmmJTI

— IndiaSpend (@IndiaSpend) August 30, 2017
Roads:
Between April 2014 and August 2017, the BMC spent Rs 7,793 crore on road works in the city, of which six companies alone--RPS Infraprojects Pvt. Ltd., K R Construction Pvt. Ltd., Relcon Infraprojects Ltd., R K Madhani & Co., J Kumar & Co. Pvt. Ltd., and Prakash Engineers & Infraprojects--were awarded contracts worth Rs 4,272 crore (55%).
Of these, RPS Infraprojects was awarded the most contracts for such works and is now the second-highest earning vendor of the BMC. While the company has been awarded contracts worth Rs 51 crore from April 2014 to August 2017 on its own, it is also involved in joint ventures worth Rs 726 crore, our MumbaiSpend database shows.
Over the same period, K R Constructions Pvt. Ltd. was involved in joint ventures valued at Rs 933 crore--the highest amount paid for such road projects, the database shows.
Prior to the start of this fiscal year, in March 2017, excluding Prakash Engineering, the corporation had blacklisted the other five companies (and Mahavir Roads and Infrastructure Pvt. Ltd.) for shoddy construction that cost the city Rs 350 crore, the Mumbai Mirror reported on March 29, 2017.
In 2016, the civic body registered a first information report against the same contractors with the Azad Maidan police station in connection with a road construction scam, the Hindustan Times reported on April 28, 2016.
Solid Waste Management:
Between April 1, 2014, and August 30, 2017, the BMC spent Rs 2,428 crore on garbage management for Mumbai, of which 10% (or Rs 261 crore) was given to two contractors alone--Antony Lara Enviro Solutions and M K Enterprises.
While Antony Lara Enviro Solutions earned Rs 148 crore to develop and operate the Kanjurmarg dumping ground, M K Enterprises was paid Rs 133 crore to collect and transport waste for disposal from parts of the western suburbs and slums, clean streets, provide garbage bins etc.
Two directors of Antony Lara Enviro Solutions Pvt. Ltd. also own other companies to which the BMC allots solid waste management-related contracts and other works, further analysis of the MumbaiSpend database showed.
While Shiju Anthony Kallarakal owns Antony Motors--engaged in activities related to collection and transportation of waste--Jose Jose Kallarakal owns Antony Waste Handling Cell, which has also been hired for such work.
Between April 2012 and August 2017, the BMC's solid waste management department employed these three related companies for collection, transport and disposal of Mumbai's waste and other works, cumulatively earning them Rs 176 crore in civic contracts--this is five times the actual expenditure of the entire SWM department in 2012-13 (Rs 34.26 crore), according to this December 2014 IndiaSpend civic budget analysis.
Note: Ronak Sutaria is the architect of the MumbaiSpend project. Namita Mohandas and a team of interns from Asha for Education (Mumbai), a nonprofit have worked on this project.
(Saldanha is an assistant editor and Marbaniang is an intern with IndiaSpend. With inputs from Swagata Yadavar and Aishwarya Mahajan.)
We welcome feedback. Please write to respond@indiaspend.org. We reserve the right to edit responses for language and grammar.
__________________________________________________________________
"Liked this story? Indiaspend.org is a non-profit, and we depend on readers like you to drive our public-interest journalism efforts. Donate Rs 500; Rs 1,000, Rs 2,000."