More Layoffs Likely As India's Manufacturing Sales Shrink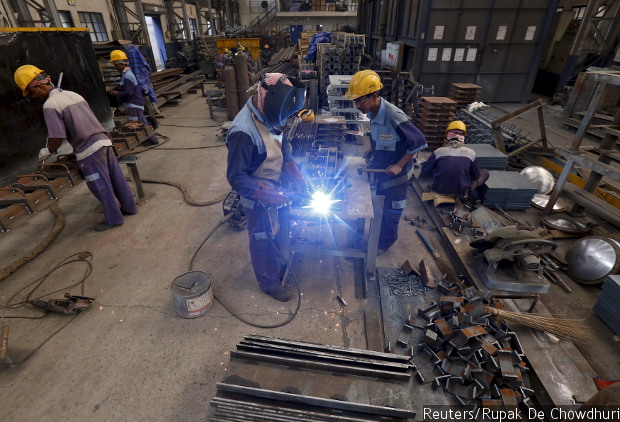 Employees make iron parts for bridges at a manufacturing unit in an industrial area on the outskirts of Kolkata. Sales of manufactured goods fell 3.7% during 2015-16--the first decline in seven years--sparking fears of layoffs and debt default in the months to come.
Despite the government's efforts to attract investment under its Make-in-India campaign, sales of manufactured goods fell 3.7% during 2015-16--the first decline in seven years--sparking fears of layoffs and debt default in the months to come.
Spurred by a global slowdown and lack of demand, sales of manufactured goods were falling even before demonetisation, affecting sectors ranging from textiles to leather to steel.
As a result, in the six months to September 2016, engineering major Larsen & Toubro laid off some 14,000 employees. Companies such as Microsoft, IBM and Nokia were also reported to have cut back on their workforce in 2016--albeit on a smaller scale--blaming sluggish demand for downsizing.
In November 2014, just weeks after Prime Minister Narendra Modi launched his Make-in-India campaign, Nokia shut its factory in Chennai, rendering 6,600 full-time workers jobless.
Economists say the government must step in to support the manufacturing sector, which constitutes 15-16% of the gross domestic product (GDP) and supports 12% of the workforce.
Why sales are down: Investment falls, costs and import duties rise, demand contracts
A range of factors including falling investment, increased input costs and higher import duties have caused demand for manufactured goods to fall, a trend that was visible before demonetisation and has strengthened since.
While the services sector grew by 4.9% in 2015-16, faster than the 3.7% recorded in the previous financial year, manufacturing contracted for the first time in seven years, from a growth rate of 12.9% in 2009-10 to -3.7% in 2015-16, data from the Reserve Bank of India (RBI) show.
Source: Reserve Bank of India
Small-scale private companies, with yearly annual sales of less than Rs 100 crore, have been more seriously affected as their sales have contracted continuously for the last seven years. Having registered an 8.8% decline in 2009-10, their sales fell by 19.2% year-on-year in 2015-16.
"Our sector is making huge losses as the price of electricity and raw material has gone up," Shan Ali Syed, owner of a small-scale textile plant in the town of Bhiwandi, 32 km northeast of Mumbai, told IndiaSpend. "Hence, cost of final product also increases, and we are unable to compete with cheaper imported Chinese products."
Source: Reserve Bank of India
"Higher export duty and decline in demand has led to reduction in sales even before demonetisation," Manoj Kishanchand Ahuja, a Mumbai-based small-scale gold jewellery manufacturer, said. "We were forced to reduce production. So, hiring of workers on contractual basis has also gone down." He added that most of his business takes place in cash, and post-demonetisation, the situation has worsened.
The decline in investment during the past few years has also impacted demand for manufactured goods, economist Jayati Ghosh, professor at Jawaharlal Nehru University's Centre for Economic Studies and Planning, told IndiaSpend.
Investment has fallen because of a decline in demand, leading to lower sales and profits. "New orders recorded a decline sequentially (quarter-on-quarter) as well as on a year-on-year basis and dipped into negative territory," the RBI said in its latest report.
A cutdown in industrial output for the fourth straight month in December, along with a depressed investment outlook, could lead to more layoffs, industry captains have warned.
On top of that, net loans to the manufacturing sector, which account for 65% of corporate loans, have declined by 77% in the last six years, IndiaSpend reported in January 2017. Large-scale manufacturing units have been the worst hit, recording a fall of 69%.
The fallout: Jobs and companies at risk
If sales do not improve, companies will act to cut costs, manufacturers and traders said.
"The most common way of cutting cost in India is to reduce the workforce," economist Ila Patnaik, who has served as the principal economic advisor to the government of India, told IndiaSpend. "If the global economy and the domestic market do not improve, we can expect more layoffs in this sector."
Companies forced to close down due to financial distress will also lay off workers. Closure of 186 industrial units led to net job losses of 12,176 in the manufacturing sector over the last four years, the labour ministry estimated in this December 2015 reply filed in the Lok Sabha.
Source: Ministry of Labour & Employment; For 2012 & 2013, figures for Andhra Pradesh indicate jobs lost/units closed in undivided Andhra Pradesh. For 2015, figures for January to October.
Syed blamed the post-demonetisation cash crunch for falling sales as well as a shortage of workers due to mass exodus from cities. "Labourers have to be paid in cash as they don't have bank accounts. Since we were unable to pay them in cash, the workers have returned to their villages," he said.
In the first 34 days of demonetisation, micro- and small-scale industries have suffered job losses of 35% and a 50% dip in revenue, an All India Manufacturer's Organisation study showed as the Indian Express reported on January 7, 2017.
Global upheavals have also caused problems for manufacturers, GK Jain, a large-scale manufacturer and exporter of readymade garments, said. "For the last three years, there has been uncertainty in the global market. The foreign currency market has been volatile, and there is an influx of surplus products," he added. "The volatility has led to a reduction in sales and has adversely impacted the profit margins."
With sluggish growth and high unemployment hitting American and European economies, importers there want to pay lower prices to overseas manufacturers, squeezing exporters' profit margins, Jain said.
There has been a rise in borrowings by vulnerable companies in the steel sector, the RBI report said. However, steel secretary Aruna Sharma said "There was heavy investment in public and private steel sector in the past, and the investment takes place in cycles." She added, "So, once the returns on that investment start coming, there will be big investments again."
The RBI also noted that Indian manufacturers have collectively run up debt of Rs 6.9 lakh crore. The decline in sales and its impact on profit margins has impacted manufacturing industries' ability to service their debt. In its study of the financial statements of 1,707 manufacturing companies over the last four years, the RBI revealed that the number of vulnerable companies whose debt-equity ratio is higher than 200% has increased from 215 in 2012-13 to 284 in 2015-16--an increase of 32%. A high debt-equity ratio means a company is aggressively using borrowed money to finance its growth, leading to higher risk for default.
The RBI's analysis also showed that the debt at risk of default among private manufacturing companies grew nearly four-fold, from Rs 58,800 crore ($8.9 billion) to Rs. 2.1 lakh crore ($32 billion) in the four years to March 2016.
What can be done: Invest in infrastructure, remonetise and increase overall public spending
Economists agree that the government must take steps to undo the damage caused by demonetisation by investing more in infrastructure, remonetising the economy and increasing the allocation for public-spending programmes.
"The government needs to either increase its consumption spending or ensure an increase in wage incomes. Government must invest more in public schemes, which can lead to creation of jobs in direct and indirect sector," Ghosh said. "Instead, its cavalier attitude towards the national employment guarantee scheme and social spending has led to reduced consumption possibilities for workers."
The government needs to remonetise the financial system quickly as the informal economy, which includes parts of the manufacturing sector, is dependent on it, Ghosh added.
It could take two to three quarters for the effects of the demonetisation-induced short-term shock to wear off and for normalcy to return, Patnaik predicted.
For longer-term support to manufacturing and job creation, new investment and enterprise are a must, economist Ajit Ranade said. "If we need to add two million jobs every month, then we need to create 20,000 to 50,000 new enterprises every month," he said. "We need a big push in infrastructure."
(Mulye is a Delhi-based independent journalist and a member of 101Reporters.com, a pan-India network of grassroots reporters.)
We welcome feedback. Please write to respond@indiaspend.org. We reserve the right to edit responses for language and grammar.
__________________________________________________________________
"Liked this story? Indiaspend.org is a non-profit, and we depend on readers like you to drive our public-interest journalism efforts. Donate Rs 500; Rs 1,000, Rs 2,000."