More Girls Studying, But 84% Drop Out After Graduation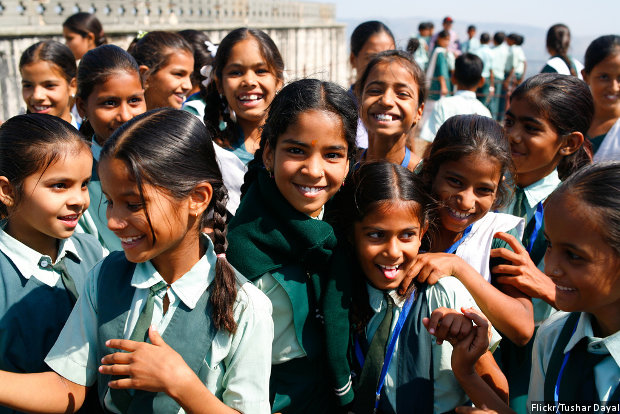 While more young women are enrolled in higher education than ever before--and apparently more successful in clearing 10th-standard board exams than young men--they are either marrying early or not finding or not looking for jobs, according to an IndiaSpend analysis of various data.
The enrolment of girls in higher education increased from 39% to 46% from 2007 to 2014, but female participation in India's labour force declined to a low of 27% in 2014 from 34% in 1999, according to a 2015 study by the International Monetary Fund (IMF).
Almost 12 million women are enrolled in undergraduate courses, but few continue to professional courses; 600,000 women were enrolled for diploma courses in 2013, the latest year for which data are available. Even fewer women sign on for PhDs; only 40% of PhD candidates are female.
In 2016, as we said, girls were more successful than boys in clearing 10th-standard exams of a national education board, a trend that has held over seven years.
While 428,443 girls appeared for the 10th-standard exams of the Central Board of Secondary Education (CBSE), 379,523 were successful--a pass percentage of 88.5%, according to CBSE data. By comparison, 564,213 boys wrote the exams and 444,832 were successful--a pass percentage of 79%.
Source: Central Board of Secondary Education
Pressure to marry early continues
So, what happens to these girls after the board exams?
The CBSE is one of many boards nationwide, but the trend of girls overtaking boys is probably being repeated elsewhere. What could be responsible for the trend reversing itself in higher education and young women not making it to the job market is the push to get married.
Although the median age of marriage has increased, it continues to be low: 19.2 for women in 2011 (up from 18.2 in 2001), according to 2011 Census data. Men got married, on average, at 23.5 in 2011, up from 22.6 in 2001.
The enrolment in higher education has been estimated to be 33.3 million, of which 17.9 million were male and 15.4 million female in 2014-15, according to the All India Survey on Higher Education, released by the Ministry of Human Resource Development in 2015.
Young women accounted for 46% of the total enrolment in higher education, an improvement from 44.3% in 2012-13.
The gross enrolment ratio (GER, the number of college students in the 18-23 age group as a proportion of all young men and women in that age group) in higher education in India was 23.6 in 2014-15, up from 20.8 in 2012-13. This is lower than the global average of 27 and lower than other emerging economies, such as China (26) and Brazil (36), according to data released by the Ministry of Human Resource Development.
While the GER for young men was 24.5, the GER for young women was 22.7 in 2014-15, an improvement from 17.9 in 2012-13.
Source: Ministry of Human Resource Development
The number of young men enrolled for higher education increased 13% to 17.9 million in 2014-15, from 15.8 million in 2012-13, and the number of young women enrolled increased 21% to 15.3 million from 12.6 million.
After graduation, numbers of men increase, women decrease
The highest concentration of women is seen among undergraduates, at 12.4 million, followed by 1.9 million for post-graduation. Only 0.6 million girls are enrolled for diploma courses.
As many as 14 million boys are enrolled in undergraduate courses (almost 17.5% higher than girls), followed by post graduation (1.8 million, or 6.1% lower than girls) and graduate diploma courses (1.6 million, 61% higher than girls).
The trend of more young men than women is evident at almost every level after high school, except M.Phil, post graduate and certificate courses, where female enrolment is slightly higher than male enrolment. Post graduate courses have 49% males and 51% females, according to the data released by Ministry of Human Resource Development.
Source: Education statistics, Ministry of Human Resource Development; figures in %)
Women tend to focus on the humanities, with 38% of all women enrolled in Bachelor of Arts courses, followed by science and commerce; 28% of men enrol for BA courses. When it comes bachelors of education, women (2.8%) once again outnumber men (1.8%).
Up to 8% of all young men sign up for bachelor's courses in engineering, nearly double of women (4.1%). There is a similar skew for male (9%) and female (4.5%) in bachelors in technology courses.
Women dwindling in workforce, despite rising female enrolment in higher education
When the gender parity index--or GPI, the ratio of female students to male students--in higher education rises, it should lead to higher female labour force participation rates, typically measured as the share of women employed or seeking work as a share of the working-age female population.
In addition to raising labour input, the resulting human-capital accumulation should boost potential output, according to a 2015 study by the IMF. But the percentage of women in India's workforce is declining, as IndiaSpend reported in March 2015.
India's female labour force participation has dropped from 35% in 1991 to 27% in 2014, a rate below the global average of around 50% and the East Asian average of around 63%, according to a 2015 IMF study.
As incomes rise, women's labour force participation often falls, only to rise again when female education levels improve; consequently, the value of women in the labour market increases, the IMF study said. That is not happening in India.
(Salve is an analyst with IndiaSpend.)
We welcome feedback. Please write to respond@indiaspend.org. We reserve the right to edit responses for language and grammar.
__________________________________________________________________
Liked this story? Indiaspend.org is a non-profit, and we depend on readers like you to drive our public-interest journalism efforts. Donate Rs 500; Rs 1,000, Rs 2,000.