Money For Rural India From Delhi Triples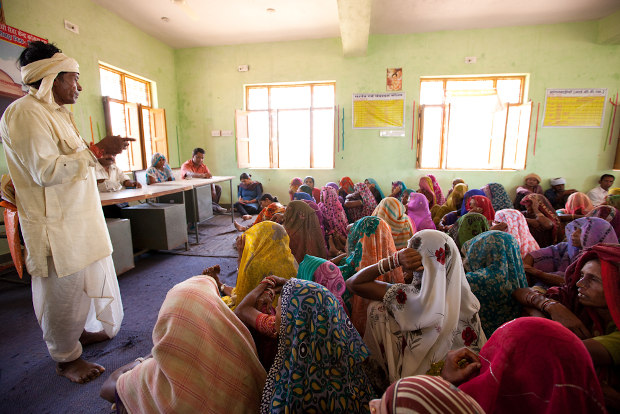 A meeting at Kankradara panchayat in Dungarpur district of Rajasthan. Panchayats such as Kankradara are set to get better funding because of the 14th Finance Commission. Image: UN Women/Gaganjit Singh
Over the next five years, money to rural local governments (panchayats) will rise nearly three times, from Rs 63,051 crore ($13.3 billion) to Rs 200,292 crore ($31.2 billion), on the recommendations of the 14th Finance Commission—a constitutional body that recommends sharing of financial resources between the centre and the states.
Panchayat institutions in Kerala are most effectively decentralised and so best placed to handle this money. The next best are Karnataka, Maharashtra and Tamil Nadu.
Gram panchayats, the smallest unit of the panchayat system, get the largest share of finances, 60%, from the central government.
Block and District-level panchayats, the second and third tier of the 3-tier panchayati raj, get most of their money from the states.
While gram panchayats generate 11% of revenue, block and district-level panchayats generate 0.4% and 1.6%, respectively.
These are some of the key findings of a report titled A Contemporary Analysis of Fiscal Transfers to Rural Local Governments in India by Accountability Initiative, a New Delhi-based think tank.
While India's urban population increased 31.8% between 2001 and 2011, 69% of India is still rural. This fact has not been lost on Delhi.
A major transfer of power was a part of local government reforms in the early 1990s when panchayats were duly empowered. The Indian Government became a three-tiered structure—centre, state and local (rural and urban)—in 1992 under the 73rd and 74thamendments.
Local governments are divided into two parts, urban and rural. Rural government is further divided into three tiers: gram (village) panchayats (0.25 million), block panchayats (6405) and zila (district-level) panchayats (589).
The 14th Finance Commission stressed more devolution of power to states and has recommended Rs 287,436 crore ($48 billion) for all local governments, rural and urban, to be distributed across states, based on population and size. It also suggests that rural local bodies be given more money than urban bodies--the share for rural local governments increased from 0.5% to 2.0% of the total allocations from the 13th to the 14th Finance Commissions.
The Rs 287,436 crore will be transferred over a period of five years to both rural and urban local bodies. While allocations for urban areas rose from Rs 23,111 crore to Rs 87,144 crore, allowances to rural areas have almost tripled under the 14th Finance Commission.
Gram panchayats do better—but not good enough
There are more than 0.25 million gram panchayats across the country, and they have likely generated around Rs 3,118 crore ($0.65 billion) as revenue in the year 2011-12, according to latest figures. That's less than the estimated state budget for Manipur in 2014-15.
Gram panchayats generate more than 11% of their total revenue from own collections. This includes local taxes such as immovable property tax and user charges (taxes on land and houses, customs duty, the toll tax, license fees on transport and communication etc.) The remaining 89% comes from central funds, central Finance Commission funds, and devolved funds and grants in aid from state governments.
We can see a steady increase in gram-panchayat revenues, an indicator of greater autonomy and accountability, mirrored in a drop in transfers from Delhi.
From nearly 70% in 2009-10, gram-panchayat transfers from the Centre have declined to nearly 61%. This may be because more central grants are going to the states and states are giving more money to block- and district-level panchayat bodies.
Intermediate panchayats, or block panchayats, generate 0.4% of their revenue and get nearly 79% as transfers from the centre and state governments.
District panchayats are not very much better; they raise about 1.6% on their own.
Measuring devolution to panchayats in India: a comparison across states
Rural institutions in Kerala benefit from the most financial devolution among all states. "Kerala occupies first place in Finances, second position in Accountability and Functionaries and ranked third in the dimensions of Framework and Functions. Functioning of panchayats in the state is considered highly transparent. The state devolves maximum numbers of functions to panchayats and at the same time has a transparent system of transferring money under [the] panchayat's window. The...state finance commission in Kerala has emerged to be the most effective in the recent past. Kerala has adequate staff for the effective functioning of panchayats as found from the study. Under the indicator of fund availability, the state secured the highest scores," according to the study done by the Ministry of Panchayati Raj.
Karnataka, Maharashtra and Tamil Nadu follow according to a study conducted by the Ministry of Panchayati Raj.
The study ranked panchayati raj institutions in states of India on the basis of amount of devolution. Devolution here refers to granting more powers, functions and funds to panchayats. Before the 1992 local government reforms, panchayats were only semi-formal bodies. As a part of these reforms, local bodies became more formalised as they were given due functions and powers under the constitution.
These powers were related to tax collection for generating own revenues, governance-related powers for managing the local bodies and law-making for the same. A study conducted by the Ministry of Panchayati Raj ranked panchayati raj institutions across states on various parameters: functions, finances, functionaries, capacity-building, and accountability.
It is a general perception that panchayats are financially and technically under-equipped to perform core functions, such as maintenance of water works, drainage and sanitation, upkeep of school buildings and other public assets, much less welfare and economic functions, related to agriculture and industries, according to the report.
The finance dimension in devolution registered a low national average of 32.05 in the Index Score among the states. Thirteen states were placed above the average score for devolution--implying fewer financial powers and resources--at panchayat level in most states of India
The 0.25 million gram panchayats are the smallest units of government and the closest to the 833 million people living in villages in India. With greater devolution of both finances and functions in these institutions, Indian democracy can be deepened till the grassroots, T R Raghunandan, advisor to Accountability Initiative and former joint secretary, Ministry of Panchayati Raj, said in The Indian Express. ¦
(The second part of this series will analyse how local institutions spend their money and the effects of that spending.)
---
"Liked this story? Indiaspend.com is a non-profit, and we depend on readers like you to drive our public-interest journalism efforts. Donate Rs 500; Rs 1,000, Rs 2,000."