Modi & Manmohan: 1 Year, Spot The Differences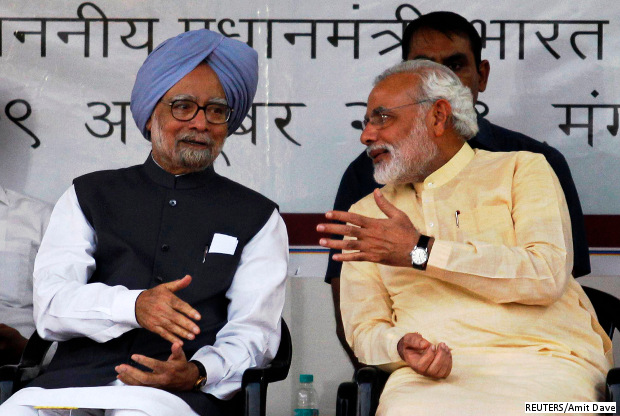 Former prime minister Manmohan Singh (left) with Prime Minister Narendra Modi (right), when he was the chief minister of Gujarat, at the inauguration of a museum in Ahmedabad on October 29, 2013.
The economy rebounded.
Exports and imports declined.
Foreign-exchange reserves grew.
Coal production, electricity generation and petroleum consumption rose.
Non-performing assets (NPAs) in banking soared.
There are great similarities between Prime Minister Narendra Modi's first year in office—which he completes on May 26—and the corresponding first year of former PM Manmohan Singh's last term.
In seven of 12 indicators evaluated by IndiaSpend, the data reveal a similar trend—a reasonable economic performance after an economic downturn, as the chart below reveals: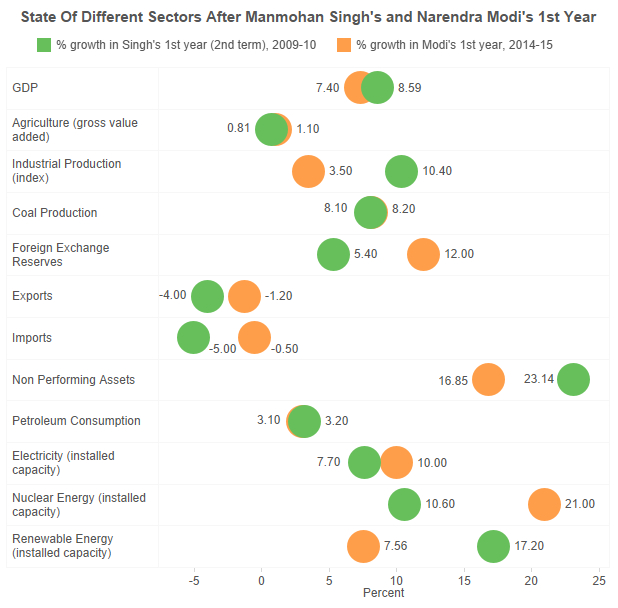 Source (1- 2009-10, 2- 2014-15) : GDP 1, 2; Agriculture 1, 2; Industrial Production 1, 2; Coal Production 1, 2; Foreign Exchange Reserves 1, 2; Exports 1, 2; Imports 1, 2; Non Performing Assets 1, 2; Petroleum 1, 2; Electricity 1, 2; Nuclear 1, 2; Renewable Energy 1, 2. *NPAs for 2014-15 calculated up to December 2014.
The large variations in the first-year period centre on:
Industrial production: In Modi's first year, the index of industrial production (IIP) for eight core sectors (coal, crude oil, natural gas, refinery products, fertilisers, steel, cement and electricity) grew 5% during 2014-15, against 4.2% the previous year. In Singh's first year, the IIP for six core industries (crude oil, refinery products, coal, electricity, cement and finished carbon steel) grew 10.4%, compared to 2.8% in the previous year 2008-09.
Direct comparisons are difficult, considering that Singh was in his second term in office. Modi carries Singh's economic legacy, which worsened considerably by the end of the term, attributed by observers to a global downturn and misgovernance.
But these indicators offer a broad statistical evaluation of the first years of Modi and Singh (during UPA2, as the second term of the United Progressive Alliance was called).
A journey through the numbers
Economic Growth: Overall gross domestic product (GDP) growth in 2009-10, at constant prices, was reported to be 8.9%. After a change in calculation and base year, GDP growth is estimated to be 7.4% for 2014-15.
Agriculture: Agriculture, which employs about 600 million Indians, registered a growth of 1.1% in 2014-15 compared to 0.8% during 2009-10. The numbers indicate a long-standing—and worsening—crisis.
Foreign-exchange reserves: Forex reserves increased 12% from US$ 341 billion at the end of 2014-15 as compared to US$ 304 billion at the end of 2013-14. For Singh in UPA2, they increased 5.4% from US $ 241.7 billion at the end of 2008-09 to US $ 254.9 billion in 2009-10.
Coal: Coal from India's mines increased 8.2% in 2014-15, later falling into a controversy over botched allotments, one of the reasons for the decline in UPA2's image. In 2009-10, production increased 8.1%. Performance of the coal sector is expected to improve with the re-allotment of 67 coal blocks through an auction, although Modi's figure of Rs 2-lakh crore ($31.25 billion) windfall is now contested.
Petroleum: In 2014-15, consumption of petroleum products (diesel, petrol, LPG etc.) increased 3.1%, compared to 3.2% during 2009-10. India's demand for petroleum products is expected to grow 3.3% next financial year, according to the oil ministry.
Electricity: A good indicator of an economy's health, installed electricity capacity in 2014-15, rose 10% against 2013-14. In 2009-10, it increased 7.7% over the previous year.
Renewable energy: With pressure on India to cut carbon emissions and a small base, renewable energy—it is responsible for 12% of India's total power installed—growth rates were high during both terms. The total installed capacity of renewable energy reported a 7.56% growth in 2014-15 and a growth of 17.20% in 2009-10.
Non-performing assets: NPAs of public sector banks increased 17% from Rs 2.27 lakh crore in March 2014 to Rs 2.73 lakh crore in December 2014, a carry-over from UPA2. Public sector bank NPAs had increased 23% in 2009-10 over the previous year. NPA growth rates of this magnitude can destabilise the banking system.
---
"Liked this story? Indiaspend.com is a non-profit, and we depend on readers like you to drive our public-interest journalism efforts. Donate Rs 500; Rs 1,000, Rs 2,000."