Modi Leads BJP To Thumping Victory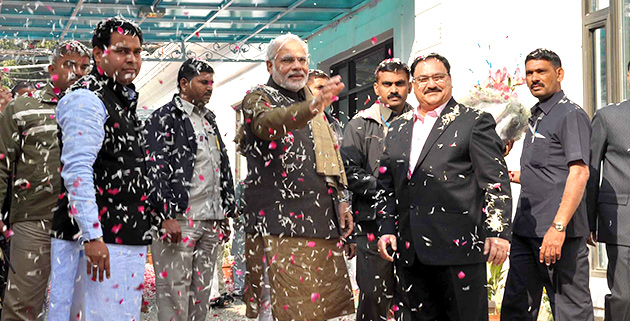 * We have to fulfill the dreams of 125 crore Indians. That is the responsibility of the new Government.
* You will not see a majdoor (labourer) like me for the next 60 months. Sabka saath, sabka vikas (everybody together, progress for everybody) is our DNA.
Bharatiya Janata Party's Prime Ministerial candidate Narendra Modi , addressing his victory rally in Vadodara, said: "I spent only 50 minutes here but you gave me victory with a margin of 5.70 lakh votes. I bow my head and thank all the people of Vadodara. It is for the first time in the history of independent India that a single party with a clear thought has emerged as an alternate to Congress thinking. It is time to live for the country. Let us pledge to live for the nation."
Never before in its three-decade history has the BJP won such a landslide victory in the Lok Sabha polls, with the BJP-led National Democratic Alliance (NDA) winning 337 seats. The last time a BJP-led NDA was in power was between 1999 and 2004and they had the backing of 270 MPs and 29 MPs of the Telugu Desam Party (TDP).
Modi won both the seats he contested from – Vadodara and Varanasi. Some of the other prominent BJP leaders who won the elections were LK Advani, Nitin Gadkari, Uma Bharti, Sushma Swaraj, Anant Kumar and Dr. Harsh Vardan. Arun Jaitley was among the key leaders who lost the polls.
Congress, on the other hand, had to bite the dust this time, recording its worst show ever in the elections. After ruling for 10 years as the dominant partner of the United Progressive Alliance (UPA), Congress and its allies could manage to win only 59 seats.
The Congress list of winning candidates: Sonia Gandhi, Rahul Gandhi, Ashok Chavan, Jyotiraditya Scindia, Kamal Nath, Veerappa Moily. And losing candidates: Sushil Kumar Shinde, Meira Kumar, Milind Deora, CP Joshi, Sachin Pilot, Naveen Jindal, Nandan Nilekani and Ajay Maken.
BJP's Prime Ministerial candidate Narendra Modi wrote on his victory wall: "India has won! Good days are ahead." BJP president Rajnath Singh said the party's agenda for these elections was development and good governance, adding that the country has shown its faith in the BJP and its agenda.
Amit Shah, who co-ordinated BJP's efforts in U.P and is considered a key Modi man, said: "It is a victory for India, and an unprecedented victory for the party. The Modi wave turned to a tsunami today. Congress did not get any seat in seven seats."
While Congress president Sonia Gandhi said they will accept the verdict with humility, Congress vice president Rahul Gandhi, smiling, said he holds himself responsible for the defeat of the party.
And now comes the difficult challenge of managing an economy plagued by high inflation, low growth and low investments. As Swaminathan Aiyar wrote in Economic Times, "If Modi brings about the good management he has promised, growth could ramp up to 6.5% next year and stabilise around 7% subsequently. If so, Indian markets may be in for a sustained bull run. If not, the current euphoria will fade in a year or so. "
What does corporate India want from Narendra Modi? Reverse Land Acquisition Act to boost infrastructure development, clearing private sector's receivables fast and resolving last-mile issues to revive projects. Ajay Piramal, chairman, Piramal Group, said: In the long-term, by which I mean five years or thereabouts, the key is infrastructure development. Reviving infrastructure projects by streamlining approval and decision-making processes will be critical. By 2019, the structural growth rate of India should be at 8% or higher."
Federation of Indian Chambers of Commerce & Industry (FICCI), an industry body, feels a clear mandate is positive for India. "It is amply clear that the country, especially the youth, wants development and good governance", Sidharth Birla, president, FICCI, said. "FICCI hopes that this mandate will help the leadership restore much needed investor confidence, attract higher investments and generate employment, especially in the manufacturing sector," Birla added.