Modi is right, Maharashtra Is India's Second-Most Communally Troubled State
Addressing an election rally in the state, Modi said after Uttar Pradesh, the maximum communal riots occur in Maharashtra.
A Fact Check based on data collated from replies in Lok Sabha proves Modi right. IndiaSpend had earlier reported Maharashtra's number two position last year during the clashes in Jammu & Kashmir.
"While the number of communal clashes declined from 2009 till 2011, it escalated again in 2012. The same is true for the number of people injured and killed due to riots. The trend shows that the number of incidents is reducing again this year," the report had said.
Here is a look at the top 5 states based on riots between 2009 and 2013 (March), based on replies in the Lok Sabha:
Uttar Pradesh had the most communal riots and deaths, 482, as we said in an earlier report, Maharashtra was the second with more than 450 clashes and more than 75 deaths.
The National Crime Records Bureau reported 72,126 riots across the country in 2013, a decline of more than 3% compared to 2012. Ten-year and five-year analyses revealed a 25.8% in rioting compared with 2003 and 6.2% compared with the average of the last five years (2008–2012).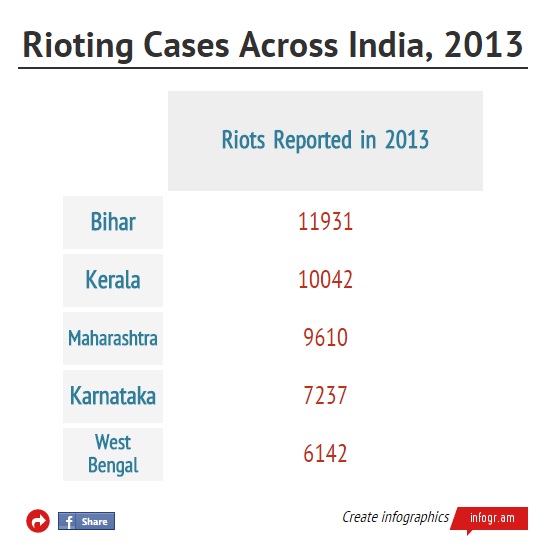 Bihar (11,931 cases) followed by Kerala (10,042 cases) reported the highest number of riots in 2013. Maharashtra came in at number three with more than 9,600 cases, followed by Karnataka (7,200) and West Bengal (6,100).