Modi Criticises Pak, Its 15-Year Terror Bill Is $118 Billion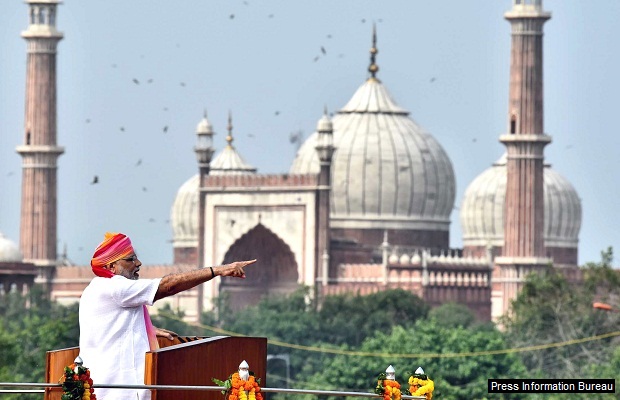 As Prime Minister Narendra Modi criticised Pakistan--without naming the country--for supporting terror groups, 671 infiltration incidents and 738 terrorist attacks were reported in Jammu and Kashmir (J&K) over the last three years, according to a government reply to parliament on July 19, 2016.
As many as 141 terrorists and 64 civilians were killed across the state between 2013 and July 10, 2016, the reply said.
As many as 23,061 terrorists, 1,431 civilians and 6,220 security personnel have died in J&K over 28 years to August 7, 2016, according to the South Asia Terrorism Portal.
Source: Lok Sabha; * 2016 figures till May.
Source: Lok Sabha; * 2016 figures till July 10 2016.
About 34,000 AK-47 rifles, 5000 grenade launchers, 90 light machine guns, 12,000 revolvers, three anti-tank guns, four anti-aircraft guns, 350 missile launchers and 63,000 kg of explosives, including RDX and more than 100,000 grenades were seized by security forces from terrorists in J&K over the last 25 years, Modi said on August 12, 2016, at an all-party meeting on J&K.
"During this period, more than 5,000 foreign terrorists were killed, which is almost equal to the strength of 5 Battalions," said Modi.
Terrorism has cost Pakistan $118 billion over the last 15 years in direct and indirect costs, according to Pakistan's Economic Survey 2015-16.
Source: Pakistan Economic Survey 2015-16; *Estimated on the basis of 9 months actual data
"Pakistan forgets that it bombs its own citizens using fighter planes. The time has come when Pakistan shall have to answer to the world for the atrocities committed by it against people in Baluchistan and Pakistan-occupied Kashmir," Modi said on August 12, 2016.
As many as 351 incidents of violence were reported against minorities in Pakistan between 2012 and 2015, according to the 2016 report State Of Religious Freedom In Pakistan by Jinnah Institute, a public policy advocacy in Pakistan.
"Sindh and Balochistan, in particular, witnessed persistent targeted killings and bomb attacks against members of the Shia community. In Balochistan, anti-Shia messaging in public spaces and in the press continued with impunity," the report said.
People in Balochistan had thanked him for standing by them, according to Modi.
In 2015, 247 civilians were killed in Balochistan, of which 114 were attributed to militant outfits and 143 were considered the work of the state apparatus and its surrogates, according to South Asia Terrorism Portal.
Since 2004, till April 17, 2016, at least 922 civilian killings were reported by militant outfits. In addition, 463 people went missing and 157 bodies were found mutilated in Balochistan in 2015.
(Mallapur is an analyst with IndiaSpend.)
We welcome feedback. Please write to respond@indiaspend.org. We reserve the right to edit responses for language and grammar.
__________________________________________________________________
Liked this story? Indiaspend.org is a non-profit, and we depend on readers like you to drive our public-interest journalism efforts. Donate Rs 500; Rs 1,000, Rs 2,000.