Marathwada Worst Hit, As Monsoon Stutters In Half Of India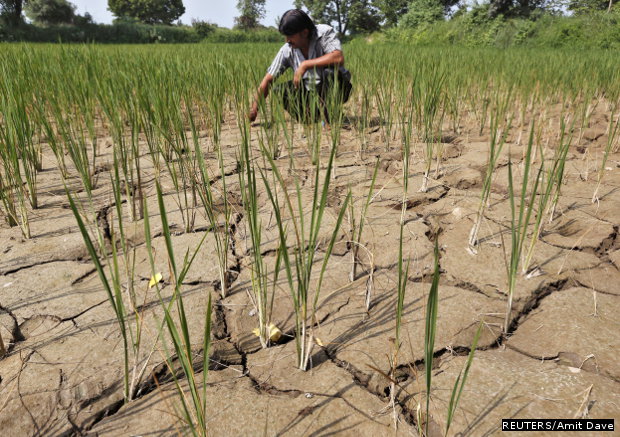 Image used for illustrative purposes only.
Pune and Marathwada: From driving tractors, to driving cars, Laxman (he did not want his full name used) has come a long way from being a farmer in Beed—the arid heart of Maharashtra—to now driving cars in Pune.
"We always have a problem with water. However, this year is even worse in our area," said Laxman. "People are not even getting water for drinking and bathing. Forget about water for crops. All our crops have been destroyed. How will we survive? No wonder farmers are killing themselves. It is impossible to repay loans. What will they do? Not all are lucky to be able to find a job in the city like me."
Here in the south-central region of Marathwada—the erstwhile domain of the Nizam of Hyderabad—a drought now considered the worst in nearly half a century (as Indiaspend reported last week) has made water so precious that it's even being stolen.
Despite being in the middle of the monsoons, Marathwada has received about 49% of the rainfall it should have received. Across India, 17 of 36 meteorological subdivisions have reported deficient rainfall, meaning 50% less than normal, but there is no region as badly affected as Marathwada.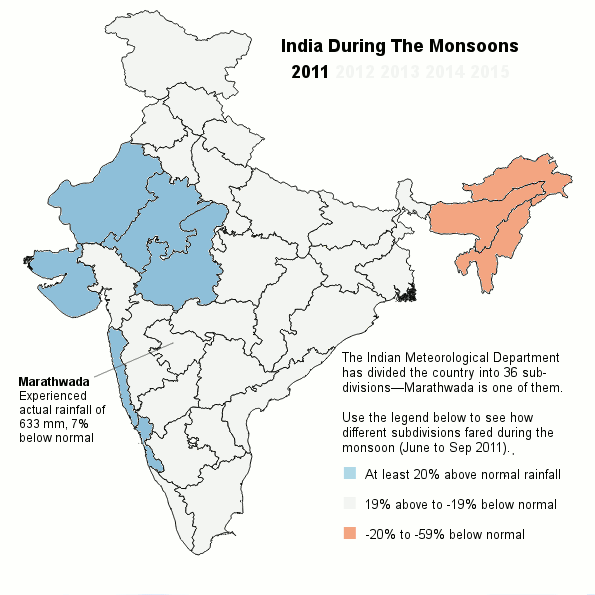 Source: Indian Meteorological Department; Shapefile: Datameet
As much as 84% of Maharashtra's agriculture is rain-fed, but the rainfall varies widely in different regions. Rainfall deficits are reported once every five years and drought conditions occur once every eight or nine years, so droughts are not unusual in the state.
Here is why the situation appears especially alarming this year:
The per capita surface water available in the region is just 438 cubic metres, while the ideal level is 1,700 cubic meters.

Wells in the region are running dry even at 400 feet.

Dam storage levels are at record low levels.
Maharashtra has only 49% of the water it should have stored in its dams. In Marathwada's dams, those levels are as low as 8% [1], raising fears of mass migration to Pune and Mumbai.
The more alarming news is the continuing dip in water tables over the last five years. The highest decline in groundwater levels this year appears to be in Hingoli district, according to 2015 data from the Groundwater Surveys and Development Agency (GDSA). The other district with a serious dip in water levels is Osmanabad, where the average water level this January was 6.87 m, down from the five-year average of 2.74 m.
With as many as 10,000 borewells being sunk every month, according to this report from the South Asia Network of Dams, Rivers and People (an NGO), water withdrawal has exceeded recharge, and aquifers—veins of underground water—have gone dry in many Marathwada villages.
The density of borewells is as high as 210 deep borewells across a 40-sq-km to 50-sq-km area in villages near Tasgaon in the southern district of Sangli. As many as 1,188 water tankers are being used in Marathwada alone, 145 more than 2014, the Times of India reported.
Death, friction and unrest rise in Marathwada
With the summer-monsoon kharif crop failing across 70% of Marathwada's farmland, more than 600 suicides have been reported this year in this region of 19 million people. Four Marathwada districts—Beed, Latur, Osmanabad and Parbhani—have been put in the "alert" category, meaning a state of crisis, by the Mahalanobis National Crop Forecast Centre. Fodder and water are hard to find for livestock, and farmers find few buyers because of Maharashtra's beef ban.
The three worst-affected districts of Beed, Osmanabad and Latur do not have fodder to sustain about 2.2 million animals, the Times of India reported. Fodder camps planned by the government have not yet started. Cow shelters cannot bear the load of additional cattle, forcing farmers to sell off their livestock at throwaway prices. There are now reports of increasing unrest among farmers in the state [6].
Marathwada and neighbouring Solapur are at loggerheads about sharing water from the Ujani dam. The government has been planning to supply water from the Ujani dam to villages in Latur by train, a plan that has been ferociously opposed by Solapur with threats of an agitation for taking 'Solapur water" to Marathwada [3].
Why has this situation come about?
The politics and economics of water use in Marathwada favour industries that require large quantities of water, such as sugar, steel and beer.
There is a narrow understanding of droughts being connected only to a lack of rain, said Suneel Joshi of Jal Biradari , a network of water experts, farmer groups, NGOs and social scientists. Droughts are a broader phenomena rooted in the breakdown of indigenous systems of farming that have changed farming from a self-supporting, interdependent and collective activity to a centralised top-down system that has increased farmers' dependence on the government.
Current water-intensive farming practices require farmers to buy greater quantities of fertilisers and pesticides, forcing them into a spiral of increasing debts with no security.
Short-term reactions to a long-term problem
The government has focused on short-term measures, such as relief packages to farmers in distress, creating jobs and discussing healthcare for farmers in depression.
The Bombay High Court noticed the lack of a long-term strategy and suggested that the government evolve a disaster-management plan.
Experts contend that cultivation of water-guzzling sugarcane must be restricted in the region—a move that now awaits a decision—and traditional crops, such as pulses and oilseeds, be grown instead, even if these lack political enthusiasm.
"We need a total change in perspective", said Joshi of Jal Biradari. He suggested a crop pattern that considers water and other conditions in a river basin. Others argue that a long-term plan for drought mitigation must include soil quality, crop management, water management, alternative livelihood opportunities and livestock management [4].
Rainwater harvesting and other signs of hope
All is not gloom and doom. Maharashtra has been one India's most progressive states in terms of watershed development and participatory water management initiatives and has a number of success stories, such as Ralegan Siddhi, Hiware Bazaar, the work of NGO Soppecom with water users' associations in Waghad and Palkhed, the work of the voluntary movement Paani Panchayat and the NGO network Afarm, in addition to a number of centrally and state-sponsored programmes.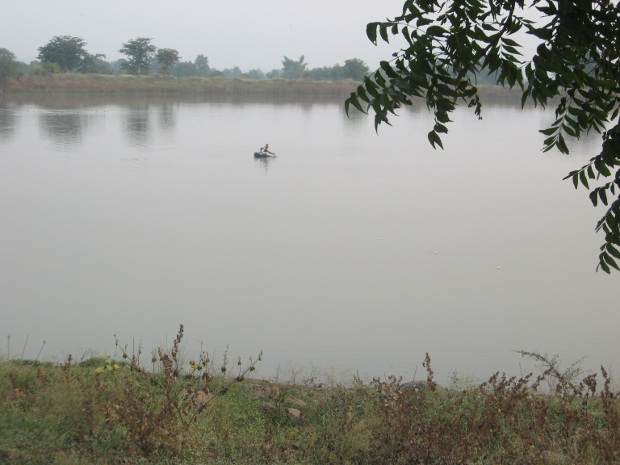 A 200-year-old lake revived by the people of Vilna village near Nagpur. Credit: IndiaWaterPortal.Org
Some recent examples also come from villages like Khamgaon Maval [5], Manyali village in Yavatmal district in Maharashtra, Jalna district in Marathwada, Valni village in Nagpur, Naigaon village in Ahmednagar district's Jamkhed area, Pingori village in Purandar taluka of Pune district, and Medsinga village in Osmanabad.
These collective efforts at rainwater harvesting have allowed villages to have water even in the middle of drought, serving in part as inspiration for the government's recently launched Jalayukta Shivir Yojana.
Last week the media reported rain showers across many previously dry parts of Marathwada and elsewhere in Maharashtra, raising hopes that water levels might rise and the kharif crop be revived. That might help, but without large-scale, long-term planning, a repeat in an era increasingly unpredictable weather—as IndiaSpend previously reported—is inevitable.
(A version of this article previously appeared on the India Water Portal. Khambete, a consultant with India Water Portal, is interested in exploring the relationships between health, water and environment.)
References:
1. Sakal News (2015) Dushkalachyativrazala. Sakal (Marathi) Monday, 7th September 2015
2. Rizwanullah, S (2015) 32 Marathwada farmers end lives in a week, toll 660. The Times of India, Pune, Tuesday, September 8, 2015
3. Jadhav, R (2015) Strife over dam stake, agitation threat. The Times of India, Pune, Sptember 5, 2015
4. Gune, D (2015) Kordepashan. Lokasatta Pune (Marathi), September 6, 2015.
5. Sakal (2015) Water level rises because of Jalayukta Shivar. Sakal (Marathi) Pune, September 1, 2015
6. The Times of India (2015) Unrest due to agarian crisis worsens situation. The Times of India, Pune, Wednesday, September 9, 2015
________________________________________________________________________
"Liked this story? Indiaspend.com is a non-profit, and we depend on readers like you to drive our public-interest journalism efforts. Donate Rs 500; Rs 1,000, Rs 2,000."