Manmohan Singh's Wealth Doubles In 2012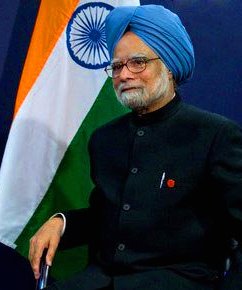 Prime Minister Dr. Manmohan Singh's wealth has doubled to over Rs 11 crore from Rs 5 crore last year, thanks to appreciation of property values.
Praful Patel is the only billionaire minister in the current UPA government with assets of over Rs 125 crore.
While Kamal Nath was the richest minister with assets of over Rs 200 crore last year, the sharpest decline (91%) in assets this year has been reported by him with assets dropping to Rs 18 crore.
The Prime Minister's Office recently released the assets and properties of all the ministers, and the top five includes Kapil Sibal, Jyotiraditya Scindia, MK Alagiri and Milind Deora.
Appreciation in real estate value has benefited Manmohan Singh. His properties in Chandigarh and New Delhi are currently valued at Rs 4.74 crore and Rs 2.53 crore, respectively. The same properties were valued at Rs 90 lakh and Rs 88.67 lakh, respectively, last year.
Dr. Manmohan Singh has declared possession of a Maruti 800 car purchased for Rs 2.4 lakh in 1996. The present value of the car is only Rs 21,000.
Milind Deora with assets of Rs 34 crore has over double the assets of a senior minister like Sharad Pawar who has declared assets worth Rs 16 crore.
Interestingly, Ajay Maken, Vayalar Ravi and Mukul Wasnik have seen no change in their assets over last year.
Surprisingly, S.Jagatrakshakan , the DMK minister who is in the middle of the coal allotment scam, has reported over 90% drop in assets.
The table below compares the assets and properties of the cabinet ministers for the last two years:
| | | | | |
| --- | --- | --- | --- | --- |
| Cabinet Minister | 2011-12 | 2010-11 | Increase/Decrease (in %) | Cash At Hand as on March 2012 |
| Praful Patel | 125 | 122 | 2.4 | 1.47 |
| Kapil Sibal | 44 | 37 | 19 | 0.0079 |
| Jyotiradtiya Scindia | 38 | 33 | 15 | 1.86 |
| M. K. Alagiri | 37 | 35 | 6 | 0.039 |
| Milind Deora | 34 | 31 | 10 | 0.01 |
| Kamal Nath | 17.6 | 203 | -91 | 2.85 |
| P. Chidambaram | 30 | 24 | 25 | 1.6 |
| Rajeev Shukla | 29 | 24 | 21 | 0.11 |
| Ajit Singh | 19 | 18 | 5 | 0.06 |
| Sharad Pawar | 16 | 12 | 33 | 0.02 |
| Sushil Kumar Shinde | 12 | 14 | -14 | 0.31 |
| Manmohan Singh | 11.7 | 5 | 120 | 0.45 |
| Pawan Bansal | 6.6 | 6.7 | -1.5 | 0.43 |
| Salman Khurshid | 6.2 | 5.7 | 8.7 | 1.24 |
| S. Jagathrakshakan | 5 | 68 | -92 | 0.06 |
| Ajay Maken | 4 | 4 | No Change | 0.01 |
| Sachin Pilot | 4 | 3 | 33 | 0.007 |
| Mallikarjun Kharge | 4.3 | 4 | 7 | 0.71 |
| Jairam Ramesh | 4.25 | 4.27 | -0.4 | 0.56 |
| S. M. Krishna | 4 | 2 | 100 | 0.45 |
| Anand Sharma | 4.2 | 3.9 | 7.6 | 1.61 |
| Sriprakash Jaiswal | 3.5 | 3.7 | -5.4 | 0.01 |
| Ghulam Nabi Azad | 3 | 2 | 50 | 0.005 |
| Farooq Abdullah | 3.2 | 0.58 | 452 | 0.71 |
| Vayalar Ravi | 1 | 1 | No Change | 0 |
| Mukul Wasnik | 0.73 | 0.73 | No Change | 0.2 |
| Jaipal Reddy | 0.66 | 0.60 | 10 | 0.13 |
| Ambika Soni | 0.55 | 0.37 | 48 | Not Declared |
| A.K. Anthony | 0.46 | 0.35 | 31 | 0.04 |
| Veerappa Moily | 0.32 | 0.13 | 146 | 0.0029 |
(In Rs cr)
Source: Prime Minister's Office