Lives Lost Due To Un-natural Causes Increased By 59% To 33.7 Lakhs In A Decade
Lives lost by un-natural causes have seen as sharp rise in the past decade as data from the Mospi shows that number of un-natural deaths has increased from 2.41 lac in 2002 to 3.72 lac in 2012, up 59%. In fact, most deaths that occurred were due to traffic accidents and almost 15 lac people have lost their lives due to traffic related accidents in a decade. Mospi has categorized un-natural deaths as those which occurred due to fire, stampede, suffocation, traffic accidents, explosions etc whereas natural deaths are those caused by lightning, flood, earth quake, etc.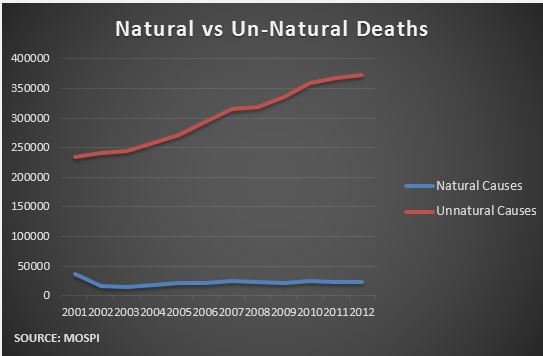 In another incident that was in news where chaos led to a stampede at a funeral procession of a Muslim spiritual leader, Syedna Mohammed Burhanuddin, the chaos resulted in the lost of lives of many people. This is not the first time such incidents have occurred.
According to BBC, hundreds of people have died in similar tragedies in the recent years. In October, 100 people were crushed in a stampede at a Hindu festival in Madhya Pradesh, the year 2011, saw more than a 100 deaths at a festival in Kerala. The overall data from the Mospi shows that a total of 1,842 lives have been lost due to this tragedy in the last decade.