'Leaders Treat Environment Like Indian Gods, Do Puja And Aarti, Pay Lip Service'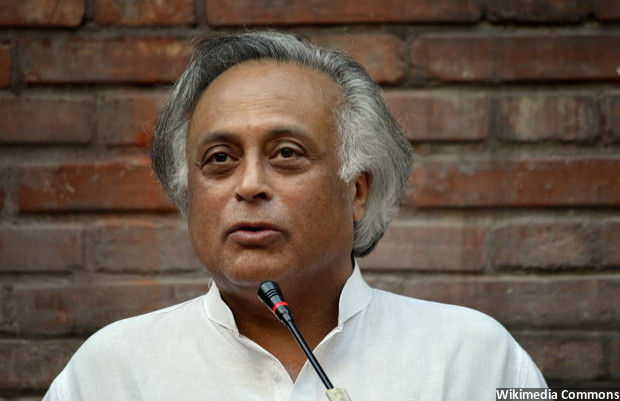 Jairam Ramesh, 63, has been a member of the Rajya Sabha since 2004 and held several portfolios, including rural development and drinking water and sanitation, during the second term of the UPA regime from 2009-14. But he is best-known, and still remembered, for his stint as environment minister.
He now says it was a role he was least prepared for. "Till I became the minister, I was like any other Indian – liking hill stations, liking forests and wild animals, but that was that. It was not an over-riding passion for me. So in May 2009, to my shock, to my surprise, and to my dismay, I was made minister for environment, and I thought main kahaan phas gaya hoon? (where have I got stuck), because all my life I had done finance, planning, industry, commerce, power."
In an interview with IndiaSpend, Ramesh--an alumni of IIT Bombay (mechanical engineering) and Carnegie Mellon University (public policy and public management), and a former advisor to the Deputy Chairman of the Planning Commission (1992-94) as well as advisor to the finance minister (1996-98)--talked about his latest book 'Indira Gandhi: A Life in Nature', why you can't leave the environment to market forces, the current government's view of the subject, the erosion of the National Green Tribunal's autonomy, the recent commercial approval for GM mustard and the how implementation of environmental laws remains a major problem area. (Edited excerpts)
Q: In your new book 'Indira Gandhi: A Life in Nature', you are exploring a previously unknown side of the former prime minister which you think defined her -- her love for nature. She was instrumental in pushing for several wildlife conservation programmes, like Project Tiger, and several pieces of environmental legislation, including the Wildlife Protection Act of 1972 and the Forest Conservation Act of 1980. How essential is it for a successful policy maker to be actually passionate about wildlife or the environment?
The love for nature, love for the environment, biodiversity, wildlife, forests, and mountains, this was a private obsession for Indira Gandhi from when she was a child, but that private obsession became a public calling when she became prime minister.
So, what was a private fascination became a subject of political priority for her when she became prime minister, and in a speech that she gave on the 24th of November 1969, in Vigyan Bhavan, where she talked about her fascination and fondness for nature, for the first time she said that a characteristic of an integrated human being is the communion with nature, is an empathy with nature, is a special affinity for nature.
So here was a political personality who faced multiple political challenges, faced numerous economic crises, but nature and environment became a matter of day-to-day political concern for her. It was not episodic, it was not fleeting. It became a part of her political functioning.
Q: How would you assess the prime ministers who followed her in terms of their commitment to conservation?
In terms of her fierce commitment to the protection of nature, Indira Gandhi remains in splendid solitude, in a minority of one. I think she remains the first and last prime minister of India to reflect a concern for nature as part of her political personality. For example, she put a halt to the Tehri dam. She saved the Silent Valley in Kerala. She launched Project Tiger.
In fact, I would rate her even higher than Nehru, from whom she inherited her love for nature. Nehru was one of the most profound influences on her, but in terms of taking hard decisions and making tough choices I think Indira Gandhi stands alone.
Q: In 2011, India's population was 1.21 billion, with a decadal growth rate (2001-2011) of 17.64%. The average population density was 382 people per square kilometre, according to Census data. By 2024, India's will population equal China's and is expected to rise to 1.44 billion, further increasing 1.5 billion in 2030 and approaching 1.66 billion in 2050, according to United Nations projections. You have repeatedly said that the country cannot afford to follow a blind 'grow now, pay later' model. How can policy makers balance economic growth with the least damage to natural resources and habitats, keeping in mind that India is land-starved?
All politicians talk about balance. But very few are prepared to work that balance, because that balance requires some very difficult decisions to be taken. So all politicians say that we must have both – economic growth and environmental protection. At the level of theory and philosophy it is one thing, but when you get down to brass tacks how do you do this? What are the choices that leaders begin to make, that give priority to factories, to investments, to builders? So environment is like an Indian god or goddess -- you do puja, you do mangal aarti, but it doesn't mean much. A lot of lip service gets paid.
We are going to add another 400 million people to our population over the next 30 years. In most countries, the population is either declining or stable, but India is one country where population is going to expand. You need to protect the environment, if for nothing else then for something to leave behind. If you are going to extract all the coal and destroy the forests, if you are going to extract all the bauxite and destroy the forests, what is going to be left?
This is where the role of government is absolutely critical, because destruction of the environment may provide benefits to some, but it imposes social costs on many. In order to deal with the social costs on the many, governments have to intervene. You can't leave environmental issues to market forces.
Q: Countries in South Asia, including India, face an "increased frequency and magnitude of extreme weather events resulting in flooding, landslides, damage to property and infrastructure, devastation of agricultural crops, reduction of hydropower generation, and negative impact on human health", according to a 2014 Asian Development Bank assessment of the economic costs of climate change. In economic terms, the total climate change cost to India could be 1.8% of its annual GDP by 2050. How can one look at or measure natural resources through an economic, health and livelihood perspective?
We have to recognise that environmental issues in India are public health issues, that environmental issues are livelihood issues and that if you don't deal with environmental issues we are creating conditions that are simply intolerable for future generations.
A lot of our disasters are happening because of climate change or the loss of ecological cover. There is a direct link between the loss of mangroves and the damage caused by the tsunami of 2004. There is an intimate link between what happened in Uttarakhand in 2013 and the manner in which roads were built in the mountain areas.
We have to understand that our human interventions are already causing ecological havoc. It's not that they are going to cause ecological havoc tomorrow, but that they already are.
We tried to change the way we measure growth when I was minister. I kept saying that GDP should stand for Green Domestic Product, not Gross Domestic Product. Today the headlines say we are growing at 7% or 8% but it does not reflect the depletion of natural resources. GDP numbers reflect depletion of physical capital but does not reflect loss of natural capital.
A few countries -- Norway, Costa Rica, Mexico -- do report economic growth measured conventionally, and also economic growth after factoring in environmental costs and benefits. India should also be doing the same thing because then we will know what the real GDP is. When we say real GDP, it means adjusted for inflation, so we should actually be measuring 'real real GDP', which is also adjusted for impact on natural resources.
Q: How can we bring the environment back into public discourse?
Well, right now the public discourse is very anti-environment. The public discourse is "ease of doing business." The big papers, big industries and industry associations, the prime minister himself, his colleagues, they are on a different path altogether. The focus is on how to loosen environmental regulations.
They have completely emasculated the National Green Tribunal (NGT). They are loosening the Forest Rights Act. They are completely denying Community Forest Rights, there is a determined effort to weaken the Forest Conservation Act, the Environment Protection Act.
This government believes that the environment is a regulatory burden, it does not see it as a societal obligation, it does not see it as something that is absolutely essential for India's present and India's future. It sees the environment as a bottleneck in the ease of doing business. That is the mindset.
Reducing regulations, allowing state governments more power, is a recipe for faster clearances. For example, the NGT was set up by an Act of Parliament in 2010, and they have not had the courage to come and amend the Act directly, they have amended it through a back door, through the Finance Act.
Q: What could be the fallout of the changes in regulations for appointments to the tribunal? Will ex-judges be weary of coming on board?
Hopefully there will be no fallout, because this is already being challenged in the courts. My petition will be filed soon too. This cannot go unchallenged. But I don't know what the Supreme Court is going to say, frankly.
Q: Did you envisage that the NGT would achieve as much as it has in five years?
I have kept myself at a complete distance from the NGT after I set it up. But yes, the NGT achieved much, it created a lot of public confidence. A lot of people have written in to me in the last couple of weeks, very concerned about what the government has done. What the NGT did in the 'Art Of Living' episode regarding the floodplains of the Yamuna, I think displeased a lot of people.
The NGT is now only five years old, but I think we were only the third country in the world to have a specialised quasi-judicial body for environmental matters. But this government's priority is very clear, they don't want the NGT. They want to make the NGT an administrative body, completely controlled by the ministry of environment, which means controlled by the Prime Minister's Office (PMO).
Q: If the legislations for protecting the environment are slowly being eroded, how much judicial support can the environmental lobby hope for?
I don't know, the Supreme Court blows hot and blows cold. But I have noticed in the past couple of months a distinct tendency of the Supreme Court to support the Executive. Normally, you would think that the courts would be an ally, but particularly in the last 12 months, the Supreme Court has been far more pro-Executive, which does not necessarily mean pro-people, mind you, or pro-environment. They are pro-government.
Q: On May 11, 2017, the apex body for considering issues of genetic modification, the Genetic Engineering Appraisal Committee (GEAC), gave the nod for the commercial cultivation of GM mustard, recommending that the ministry of environment approve it. On May 17, the government informed the Supreme Court that it was yet to reach a decision on approving the crop. This is similar to the situation in 2009 with BT brinjal, which received approval from the GEAC but was not given the go-ahead by the ministry of environment. You implemented a moratorium against its release in 2010, stating that the time should be used to "build a broader consensus so that as a country we are able to harness the full potential of GM technology in agriculture in a safe and sustainable manner." Do you think that the concerns raised then have been resolved now?
BT Brinjal was the first food crop, so I wanted to be extra careful. You see, the Americans have a permissive approach to GM technology, and the Europeans have a prohibitive approach. I followed a middle path, which is the precautionary approach.
I was criticised for not approving Bt Brinjal, but by February 2017, seven years had passed since the moratorium was imposed, and this government has not removed it. I had laid down three conditions for removing the moratorium: one, set up an independent, professional, regulatory authority. Two, build up a consensus among the state governments. Three, have a protocol for scientific verification of tests which will be acceptable across the scientific community. None of these condition have been met.
Q: By 2015, over a million deaths in India were attributable to exposure to PM 2.5, a microscopic particulate matter about 30 times finer than human hair and posing the greatest risk to humans. Ambient air pollution in India is an environmental issue that the government is concerned about. However, effective and synergised action is not being taken, and there is evidence of poor implementation of suggested remedies. Why?
They (the government) are taking air pollution in Delhi very seriously. I'm not sure that they are taking air pollution in other parts (of India) seriously. There is pollution in Vapi, in Ankleshwar, in Chembur, in Chandrapur. In fact, when I was minister we had identified 88 critically polluted clusters in the country. But Delhi is occupying a lot of the attention because it is the nation's capital and it has international visibility.
The primary instruments which need to be strengthened are the Central Pollution Control Board and the State Pollution Control Boards. These are the instruments of enforcement. Remember, the Environment Protection Act is very powerful. You can issue closure notices, you can issue show cause notices.
The enforcement of the laws is the problem. We have a fine set of laws, we have an extensive infrastructure of institutions and I think we just need to enforce these regulations and standards. Enforcement is the big issue. Enforcement means shaking up certain vested interests.
Maharashtra has had a fairly good history with the State Pollution Control Board, Gujarat and Tamil Nadu are some of the better State Pollution Control Boards. These boards, their technical capacity must expand and they must be given autonomy from the government. They have to be independent, professional bodies.
(Patil is an analyst with IndiaSpend.)
We welcome feedback. Please write to respond@indiaspend.org. We reserve the right to edit responses for language and grammar.
__________________________________________________________________
"Liked this story? Indiaspend.org is a non-profit, and we depend on readers like you to drive our public-interest journalism efforts. Donate Rs 500; Rs 1,000, Rs 2,000."