Kerala Faces Polls With Declining Gulf Remittances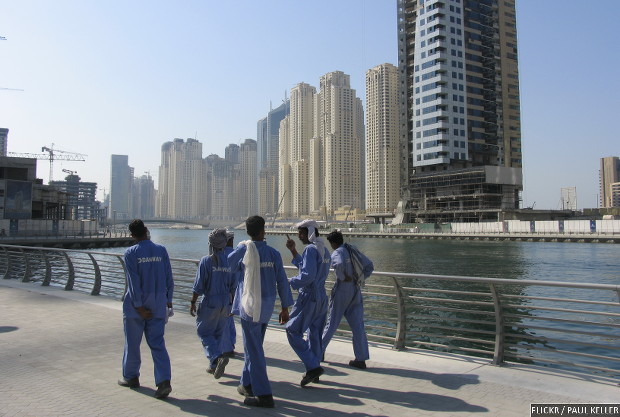 Indian construction industry workers in Dubai.
The coastal state of Kerala—going to polls on May 16, 2016—receives 40% of remittances that come to India, which dropped to a four-year low of $14.9 billion (Rs 1 lakh crore) in the third quarter (October-December) of 2015-16.
Remittances finance as many as 20% Kerala households, or 2.4 million families. Assuming a family size of three, remittances directly affect 7.2 million of 35 million Keralites, according to a recent paper in the Economic and Political Weekly by K.C. Zachariah and S Irudaya Rajan based on the Kerala Migration Survey, 2014.
The paper said:
Remittances, at Rs 70,000 crore, accounted for 36.3% of the net state domestic product (NSDP) in 2014.
Remittances constitute a fourth—Rs 22,689 of Rs 86,180—of the per capita income of Kerala in 2014.
Remittances were 1.2 times the revenue generated by the Kerala government in 2014.
Money inflow to India falls to four-year low
The growth rate of remittances to developing countries is estimated to have fallen from 3.2 percent in 2014 to 0.4 percent in 2015, according to the latest report on migration by World Bank.
Private money transfers to India reached 2011 levels, falling under $15 billion during the October–December quarter 2015, according to Reserve Bank of India data.
India received $64 billion (Rs 3.8 lakh crore) in remittances in 2014-15.
Source: Developments in India's Balance of Payments, Reserve Bank Of India 2014-15, 2015-16. These include all private transfers including workers' transfer to homes, institutional transfers by banks, etc.
Source: Developments in India's Balance of Payments, Reserve Bank Of India 2014-15, 2015-16. These include transfers only by workers working abroad to their families in India.
"With the fall in global oil prices, profits of Gulf companies have declined. This has had an immediate impact on money sent by people from Gulf to India, and particularly Kerala," K.C. Zachariah, Honorary Fellow at Thiruvananthapuram's Centre for Development Studies, told IndiaSpend.
Source: Research paper on Remittances in India, Facts and issues, IIM Ahmedabad.
Punjab, Tamil Nadu, Andhra Pradesh and Uttar Pradesh rank below Kerala in remittance inflow, receiving 12.7%, 12.4%, 7.7% and 5.4%, respectively, in 2009 (latest available data, although there is likely no change in this proportion, according to experts).
Kerala tops the share of remittance, with the number of workers sending money to the state increasing in the five years to 2014.
Source: Kerala Migration Study 2014, Centre for Development Studies, Thiruvananthapuram.
Kerala received foreign money from 1.36 million non-residents in 1998. The number of Keralites working abroad had jumped to 2.4 million by 2014.
"Declining oil prices reduced the amount of remittance money in the short term in 2015-16. As this economic slowdown is a sustained one, the number of workers emigrating outside Kerala is going to decrease gradually. Money sent by professionals like engineers and doctors will increase while that sent by workers—who currently dominate remittances—will decline", said Zachariah.
Kerala will likely remain the remittance front-runner, which means it will continue sending more people than any other state.
Why the majority of Kerala emigrants lean towards the Congress
As 20% of households survive on remittances, 20% of the state's electorate would be affected by the slowdown. The share of voters is a potent force in the political economy of the coastal state.
People from all three major religious communities—Muslims, Hindus and Christians—emigrate to other countries; a majority, 86%, work in the Gulf countries.
Source: Kerala Migration Study 2014, Centre for Development Studies, Thiruvananthapuram.
The majority of emigrants is Muslim because the Gulf countries are Islamic, notes the study in EPW by Dr. Zachariah.
"As majority of the emigrants from Kerala are from religious minority communities, politically, most remittances-receiving households in specific regions prefer the Congress-led United Democratic Front, due to nation-wide secular image of the leading party," Sajad Ibrahim, Kerala representative of National Election Study, conducted by Delhi-based Centre for Study of Developing Societies told IndiaSpend.
"However, corruption scandals alleging the involvement of some ministers in the incumbent government will be the most important poll issue in Kerala. Further, anti-incumbency will help the Communist Party-led Left Democratic Front (LDF)," he said.
"It is difficult to measure the effect of reducing remittances on lives of people," said Dr. Zachariah. "It is a recent observation and we are into planning an in-depth study."
(Waghmare is an analyst with IndiaSpend.)
We welcome feedback. Please write to respond@indiaspend.org. We reserve the right to edit responses for language and grammar.
__________________________________________________________________
"Liked this story? Indiaspend.org is a non-profit, and we depend on readers like you to drive our public-interest journalism efforts. Donate Rs 500; Rs 1,000, Rs 2,000."