Jaitley's Big Bet on Disinvestment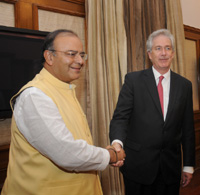 Finance Minister Arun Jaitley has placed a huge bet on the appetite for shares of public sector undertakings (PSUs) among investors while presenting the Union Budget for 2014-15.
Mr Jaitley expects to raise Rs 63,245 crore from disinvestment in the current financial year as against the revised estimates of Rs 25,841 crore in 2013-14 – a 145% jump.
If the Government is able to meet the target, it would be the highest-ever collections from disinvestment ever in a year.
The Government raised Rs 25,890 crore in 2012-13, which means there was actually a marginal decline last year. Here are the numbers: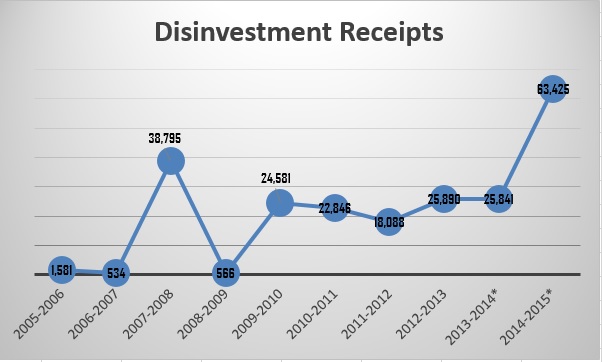 (Source: Budget 2014; Figures in Rs crore; * Revised Estimates; ** Budget Estimates)
The best year for the Government for disinvestment receipts till now was 2007-2008 when it could raise Rs 38,795 crore. So, the target now is almost twice of that figure. The big issuances over the last two years include Rs 11,450 crore of NTPC public issue and Rs 3,000 crore exchange traded fund (ETF) of PSUs.
According to a report in Economic Times, the Government has lined up 10% stake sale in Coal India and NHPC and 5% in Sail, ONGC, PFC and REC. A 5% stake sale in ONGC alone will get the Government about Rs 18,000 crore. Hero Motor joint managing director Sunil Munjal said on a television show the number could even go up to Rs 80,000 crore if the markets remained as they were.
The Finance Minister, in an interview after presenting the Budget, said: "There are a large number of public sector companies where you have a flexibility of divesting four-five per cent or seven-eight per cent. And those transactions have reached a fairly advanced stage. The market is at an all-time high and it is a great time to divest."
So, while raising over Rs 63,000 crore through disinvestment could be a tough call, the Finance Minister is confident that it is achievable. We will know the results by February 2015.