Jabalpur Most Unsafe Indian City For Women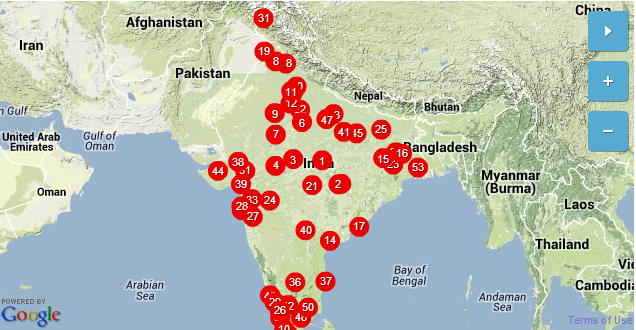 Contrary to popular opinion, Delhi is not the most unsafe place for women if we were to use reported rape cases as a benchmark.
Data from the National Crime Records Bureau (NCRB 2012) shows that this distinction goes to Jabalpur in Madhya Pradesh which tops the list in terms of number of reported rape crimes. Jabalpur has reported 14.4 rape cases for every 100,000 women in the city, which is an increase of 36% from 2011.
In fact, if we look at the top ten cities, four of them are from Madhya Pradesh. Bhopal, Indore & Gwalior rank 3rd, 4th & 6th in the top 10 cities for rape cases per 100,000 women in the country. (View Google Map below)
Delhi (City) is 11th on the list with 7.7 cases per 100,000 women. This is much higher than the all-India average of 3.9 cases per 100,000 women population. Contrast this to Mumbai where it is much lower at 2.7 per 100,000 women.
Cities that had the lowest cases in our calculation were Kolkata, Malappuram, Vadodara and Ghaziabad. However, when we look at the year-on-year change, cities like Ghaziabad have seen the sharpest increase, even though in absolute numbers, it increased from 5 cases in 2011 to 15 cases in 2012.
Use the Map below to see India's most unsafe cities for women.
(Red buttons above are clickable)
Instructions on how to use the map above.
To see the map properly, you can use the "Full Screen" option.You can use the zoom controls on the extreme top right hand side to magnify the map to get city-wise details. The red dots are positioned in a chronological order to show which city has the highest rape cases per 100,000 women population. For example, Delhi ranks 11th on the list of cities as per these statistics. As you hover the mouse on every city, you can read details about the crime rate etc.
There is also an option to use the Play (>) button by which the map will show you all the cities.