It's Sop Time: Government Fires On More Cylinders To Woo Voters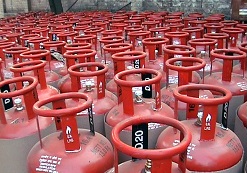 In what is evidently a pre-election sop, India's UPA Government has hiked the number of subsidised LPG or cooking gas cylinders per household from 9 to 12. The move is expected to cost the Government around Rs 5,000 crore annually.
Subsidised LPG costs Rs 414 for a 14.2-kg cylinder in a city like New Delhi while consumers who have exhausted their quota have to buy refills at the market price of Rs 1,258 per cylinder.
After the cabinet decision, households will get one cylinder extra on top of the quota of 9 cylinders in February and March. And from the fiscal year beginning April, they will be entitled to 12 cylinders or 1 cylinder per month at the subsidised rate.
Union Petroleum Minister Veerappa Moily said over 89% of the 150 million LPG consumers use up to 9 cylinders in a year and only 10% have to buy the additional requirement at the market price. "After the quota is raised to 12, about 97% consumers would be covered by subsidised LPG," he said.
The Government had initially capped the supply of subsidised LPG cylinders to 6 per household in September 2012 in a bid to cut its subsidy bill. The quota was raised to 9 in January 2013.
Meanwhile, Reserve Bank of India Governor Raghuram Rajan termed the LPG subsidy a "misdirected subsidy."
In a TV interview, Rajan said he believed there was a certain amount of population that can benefit from subsidised LPG cylinders. "But beyond a certain point, you are reaching people who can well afford to pay for it. Now whose pocket is it coming from? It's coming from the pockets of people who are getting subsidised."
A statement released by the Petroleum ministry on January 17 said that the under-recovery for LPG was constant at Rs 762.70 per cylinder. Here is a look at the increasing under-recovery due to LPG:
The oil marketing companies have reported a total under-recovery of Rs 60,097 crore during the first half of 2013-14 on petroleum products like diesel, PDS kerosene and domestic LPG.
Finance Minister P Chidambaram has provided for only Rs 65,000 crore as subsidy in Budget 2014. And the actual fuel subsidy burden in 2013-14 is likely to be Rs 1,40,000 crore, more than double the Rs 65,000 crore budget estimate.
The Government has also decided to suspend linking the LPG subsidy to the Aadhaar number. Mr Moily had this to say about delinking Aadhaar and subsidy: "There are a lot of complaints about problems in accessing Aadhaar."
Aadhaar is a 12-digit individual identification number issued by the Unique Identification Authority of India (UIDAI) on behalf of the Government of India. Aadhaar is expected to help citizens access Government and non-Government services. UIDAI has completed issuing 560 million cards.
The Government had linked the LPG subsidy payment to the Aadhaar number and bank accounts under the Direct Benefit Transfer for LPG (DBTL) scheme. LPG consumers in 184 districts in 18 states were getting cash in their bank accounts and they had to buy LPG at the market rate.
According to data released by the Government on December 30, 40 million cash transfers have been covered under DBT with transactions amounting to Rs 2,000 crore.