'It Is Necessary To Involve Men In The Family Planning Programme In A Big Way'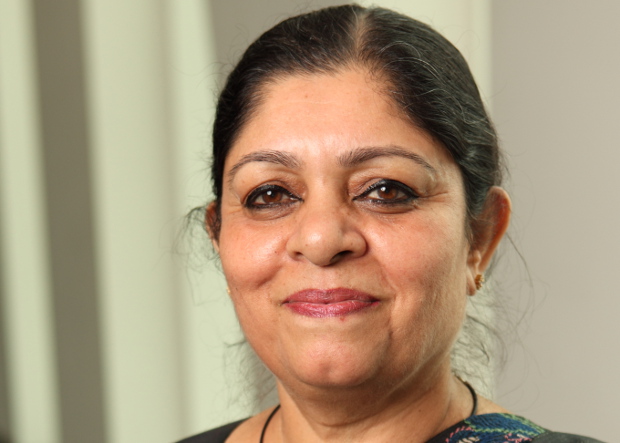 Female sterilisation continues to be the most popular method of contraception among Indians, accounting for over 75% of the modern family planning methods used, according to National Health Family Survey 2015-16 (NFHS-4). Male sterilisation's share in family planning methods was 0.62% despite being safer, quicker and easier.
Although cultural taboos tend to put the onus of family planning on women, things are changing. In 2005-06, 78% of Indian men acknowledged that women alone do not bear the responsibility of family planning; yet, male sterilisation has fallen from 1% to 0.3% in the last ten years.
Poonam Muttreja, executive director, Population Foundation of India, an advocacy and research institute focused on population issues, tells IndiaSpend in an email interview, how more men can walk their talk.
Why does female sterilisation continue to be the most widely used method of contraception in India? What are the social and cultural reasons for this?
A major focus in the government programme on family planning has been on promoting and providing services for permanent methods--in particular, female sterilisation.
This is supported by the NFHS-4 (2015-16) data on contraceptive use, which show the prevalence of female sterilisation at 36% among modern contraceptives used while the total usage of any modern contraceptive was 47.8%.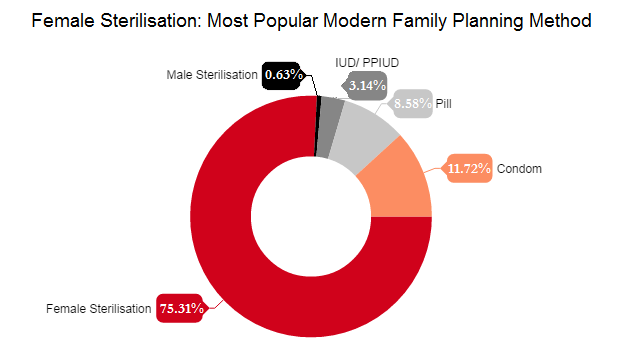 Source: National Family Health Survey, 2015-16Note: Based on usage by women aged 15-48 years.
The reliance on female sterilisation at all ages was observed in almost all states. In fact, for most women, sterilisation was the first and the only method of contraception. According to NFHS-3 (2005-06), for the country as a whole, 77% women had not used any other method of contraception before accepting sterilisation.
There are several factors that account for this: Lack of awareness of sexual and reproductive matters, lack of knowledge about appropriate contraceptive methods, myths and misconceptions, lack of access to services, information and counselling on available methods of contraception, their benefits and side effects and management.
Incentives play an important role in sterilisation being promoted at all levels of service provision. Though vasectomy is a safer, quicker and easier option, several studies have suggested that Indian men do not undergo the procedure as they are worried about losing their virility.
Gender inequality, rooted in cultural norms, and lack of male involvement, continue to cause poor family planning practices nationwide. There need to be campaigns to promote the adoption of vasectomy, including strategies to break gender stereotypes, dispel myths and position men as responsible partners.
Unlike other contraceptive methods, sterilisation does not require management of side effects if done under hygienic conditions and with due compliance of prescribed guidelines for family planning.
Did the recent deaths of women during sterilisation inhibit state governments from setting sterilisation targets?
Post the Bilaspur sterilisation camp deaths (15 women died in November 2014), the government took several steps to improve the quality of care in family planning services and strengthen the capacity of service providers in providing such services in public health facilities.
The ministry of health and family welfare issued a directive to all state governments to adhere to the guidelines and protocols to deliver quality family planning services in a spirit of voluntarism and within a rights and accountability framework.
The health ministry has already added injectable contraceptives, progestin-only pills and centchroman (oral birth control pills) to the family planning programme in India.
The September 2016 verdict of the Supreme Court in the Devika Biswas case (that called for cessation of sterilisation camps as a method of population control) underlines the need for doing away with the camp approach and provide fixed-day services at public-health facilities.
Three clear directives from the Supreme Court make this a landmark judgment:
One, the judgment calls for stopping the practice of holding sterilisation camps within a period of three years.
Two, it calls upon state governments and union territories to ensure that family planning targets are not fixed so that health workers and others do not indulge in what would amount to a forced or non-consensual sterilisation merely to achieve the target.
Three, it makes a number of concrete recommendations to the union and state governments to improve the implementation of family planning programmes. These relate to ensuring easy access to empanelled doctors, making appropriate information available in the local language, and ensuring proper informed consent of the prospective patient.
Why does such a small proportion of Indians use vasectomy? Is this because of cultural taboos and low awareness?
Vasectomy is not a popular method worldwide--only 2.4% couples choose male sterilisation worldwide.
In USA and Canada, male sterilisation is popular among only 10.8% and 21.7%, respectively, of the population.
After Canada, only Britain (21%) and South Korea (16.5%) fare well in male-vasectomy acceptance. Within our neighbourhood, 12.8% of the population in Bhutan and 4.8% in Nepal prefer male sterilisation.
Cultural taboos and myths attached to vasectomy are responsible for its unpopularity. As I mentioned earlier, although vasectomy is a safer, quicker and easier option, several studies have suggested that Indian men do not undergo the procedure as they are worried about losing their virility. Gender inequality, rooted in cultural norms and lack of male involvement, continues to cause poor family planning practices nationwide.
Which are the successful health strategies, engaging men, used in other countries that can be replicated in India?
Historically, the emphasis has been largely on methods for women with little effort to involve men. The public health system, family planning programmes and communication strategies should be designed to encourage male engagement.
There should be an emphasis on changing mindsets and stereotypes so that women making decisions are not viewed as an aberration but rather the norm. This would lead to enabling women to take decisions regarding their own health as well as increase spousal communication.
Data from successful interventions indicate that an individual or a couples' counselling session can lead to short-term behavioural change when it comes to family planning practices.
Gender norms and traditional views of masculinity and how they define power and relationships should be examined and discussed.
An approach of some effective programmes is making the physical space of the healthcare centre more conducive to male clients. This includes making literature on men's needs available, seeing male clients at different hours of the day, and training staff to be more welcoming to men.
What is being done by the government to engage men in family planning initiatives?
The government has revamped the campaign on contraceptives that is being promoted on all forms of media.
Amitabh Bachchan is a brand ambassador for family planning; this will probably have a positive impact as was seen in the polio drive.
Male vasectomy is being promoted; the government is planning to revamp the training for no-scalpel vasectomy.
Why do we need men involved in family planning initiatives?
We need to remember that family planning is not just a women's issue; it is a couple's issue. So, focusing on one will not yield optimal results. It is a gender issue and should be viewed as such.
In many parts of South Asia, men do not participate in discussions on family planning or are not engaged in informed decision-making. Patriarchal conditioning over generations have convinced them that, in terms of family planning, the onus is on women to use contraceptives.
While NFHS-3 data revealed that 22% men felt contraception is women's business, contraception decision-making is controlled by men, studies show.
Studies have also shown that lower family size and desired fertility are observed among women with higher levels of autonomy; higher rates of contraceptive prevalence were recorded among women with greater interpersonal control; and lower rates of child mortality were observed among women with more decision-making powers.
In India, since 2000, three important documents, the National Population Policy (2000), the Uttar Pradesh Population Policy (2000) and the 10th Five-Year Plan (2002-2007), have mentioned the importance of male involvement in Planned Parenthood (M.E. Khan and P. Panda, 2004).
it was observed in the studies on NFHS 3 data that institutional delivery is likely to be higher where there is high level of women's autonomy and high level of male involvement in antenatal care. Women should have the choice and the right to take decisions regarding their healthcare. Women empowerment should be seen as a basic human right.
Although women's autonomy improves the utilisation of reproductive and child health (RCH) programme services, male involvement appears to be a key factor for the overall utilisation of RCH and Integrated Child Development Services.
It appears that when health workers provide maternal and child health information to husbands, there is a strong association with positive health outcomes and service utilisation.
it is important to reach out to husbands/fathers with behaviour change communication efforts, encouraging men to be involved in their spouses' and children's health care, according to this 2016 study.
Communication interventions should encourage joint decision-making between spouses on healthcare issues. While factors such as a woman's age, place of residence, caste, tribe, education status, standard of living (wealth index), type of family and exposure to mass media play an important role in determining differential utilisation of RCH services, these are not easily modified.
The adoption of a behaviour change strategy, which encourages male involvement through joint decision making; encouraging men to be present during visits to health facilities; and targeting men for information on maternal and child health will enhance the utilisation of RCH.
There is also a need to involve male health workers in the programme where family planning counselling is largely done by female workers like Accredited Social Health Activists and Auxiliary Nurse Midwifes.
(Yadavar is principal correspondent with IndiaSpend.)
We welcome feedback. Please write to respond@indiaspend.org. We reserve the right to edit responses for language and grammar.
__________________________________________________________________
"Liked this story? Indiaspend.org is a non-profit, and we depend on readers like you to drive our public-interest journalism efforts. Donate Rs 500; Rs 1,000, Rs 2,000."