Is India's Rural Workforce Rejecting A Government Job Scheme?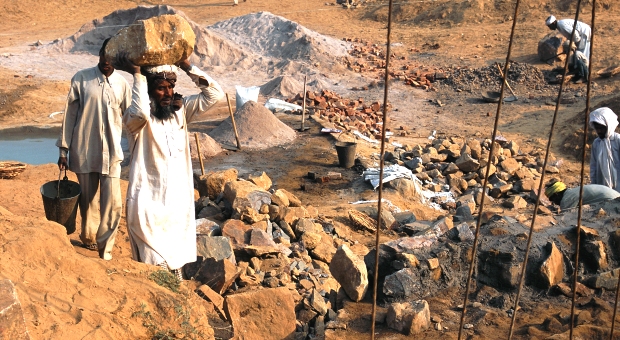 Highlights
* UP, Goa & Mizoram see sharp reduction in average number of working days
* All India average employment per household was 43 days in 2011-12
* Total number of households provided employment came down from 54 million in 2010-11 to 49 million in 2011-12
The Mahatma Gandhi National Rural Employment Guarantee Act (MGNREGA) is a 'flagship' social programme launched by India's Congress-led UPA Government in 2006. MGNREGA is a demand-driven scheme providing daily wages to unemployed rural people at an average of Rs 100 per day for 100 days a year.
The programme has been criticised by experts who have alleged that it distorts the rural labour market and affects agricultural production. Critics have also acknowledged that the scheme has improved rural wages, increases choice of work, brought record number of women into the workforce and improved attention to public utility works.
And yet, as IndiaSpend finds out, amazingly, the average number of workdays under MGNREGA has been dwindling along with the expenditure incurred under the scheme. The seeming conclusion: there are no takers for such jobs either among the workforce themselves or the implementing states. The statistics were also highlighted in Parliament, in a Lok Sabha session of March 7, 2013.
The Union Budget 2013-14 allocated Rs 33,000 crore for the scheme, the same as last year but the Revised Estimates (RE) or the almost final amount spent for MGNREGA for the last two financial years have always been around Rs 30,000 crore.
Figure 1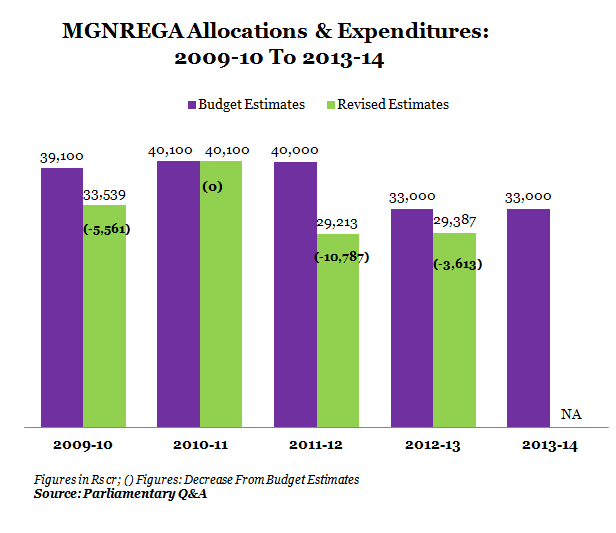 It can be seen that the Union Government is giving a lot of importance to MGNREGA, and therefore the Budget allocation is always higher than the revised estimates of the previous year. And yet in the period 2009 to 2012-13, around Rs 20,000 crore was not spent.
Figures 2 (a) & (b) highlight the average days per household of work that the states could provide under MGNREGA from 2009 to 2012-13 (up to December 2012):
Figure 2 (a)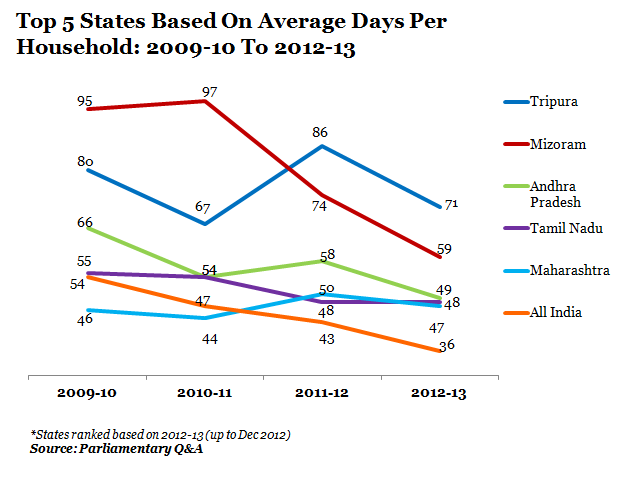 Figure 2 (b)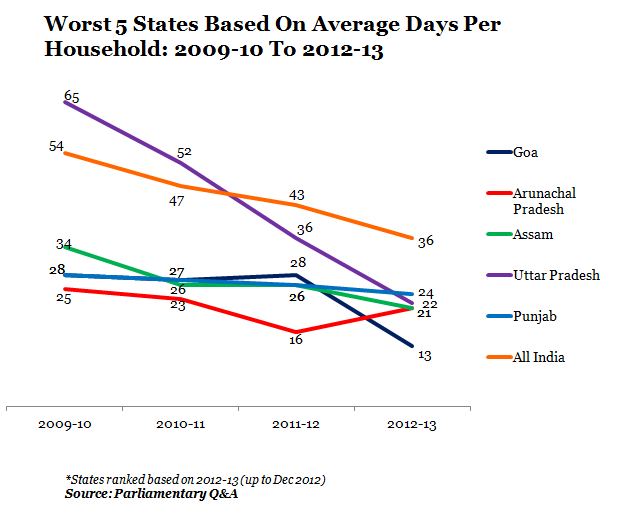 As against the planned 100 days of work, no state government has been able to meet the target since 2009-10. While the best achievement was by Mizoram (97 days in 2010-11), the worst is Arunachal Pradesh (16 days in 2011-12).
The All-India figure stands at 36 days of work at the end of December 2012, which is low considering that India's rural unemployment is 34% and around 34% of rural India lives below the poverty line (Tendulkar Methodology). Incidentally, the total number of households provided employment has also come down from 54 million in 2010-11 to 49 million in 2011-12.
Figures 3 (a) & (b) highlights the total expenditure for the period under review:
Figure 3 (a)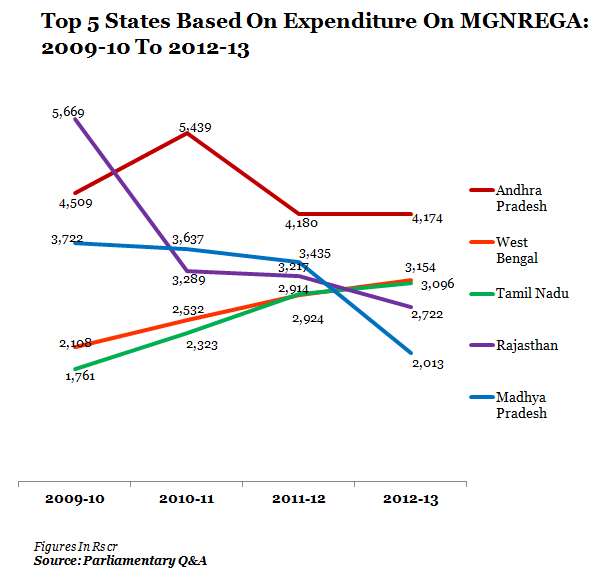 Figure 3 (b)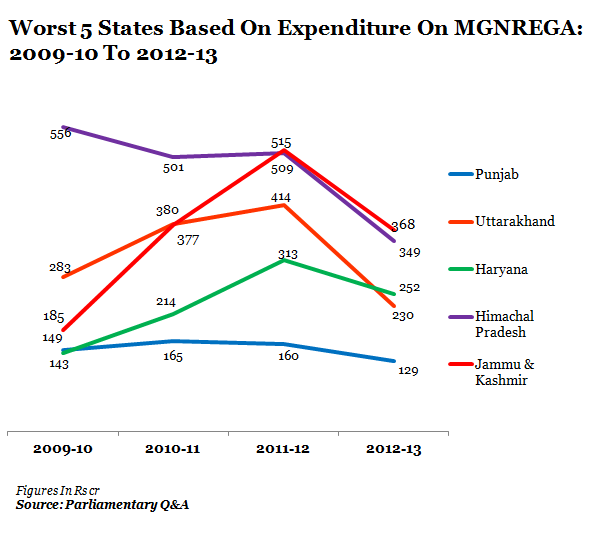 Andhra Pradesh and West Bengal have recorded the highest expenditure under MGNREGA. Andhra and West Bengal provided employment to 5.5 million and 5.4 million households in 2012-13, which is even higher than Uttar Pradesh (5 million), the largest state in India.
West Bengal and Tamil Nadu, as seen from the data, have steadily increased their expenditure while Madhya Pradesh is the only state among the top 5 whose expenditure has declined over the years.
The worst five states, Punjab, Uttarakhand, Haryana, Himachal Pradesh and J&K, have increased spending gradually from 2009-10 but saw a decline last year.
So, what are the reasons behind the decline?
MGNREGA is a demand-driven scheme. So, if there are fewer demands for job cards, whatever be the reason behind that, the number of person days is bound to come down. As mentioned earlier, households that were provided employment came down from 54 million to 49 million in the last two years. Therefore, the households provided employment; total expenditure and average days employed per household have also declined.
The issuing of job cards does not entitle a household to employment. They have to apply for work to receive the daily entitlement. Effective alternate employment opportunities, along with delayed payments, may also be deterrents affecting MGNREGA.
Most importantly, it is the responsibility of the State Governments to provide jobs for 100 days a year in accordance with the scheme. And there is evidence to show that states are not too enthusiastic about implementing the programme. Whichever way you look at it, the programme is losing its impact.
Related Articles:
1) A Much-Criticised Job Creation Effort Empowers Women
2) Higher Family Income & Education See Lesser Women Working In India