IPL Cricket – Who Makes What & How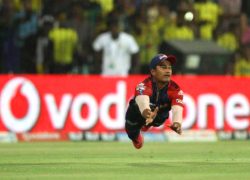 Come April 3, and cricket-crazy fans across the world be glued to Indian Premier League (IPL) matches played every day, for another 60 days.
At stake in this world showcase for Twenty20 cricket, a shorter format of only 20 overs, is prize money of Rs 25 crore ($5 million) and the billing as the world's "richest cricket tournament." But the prize money is only a small part of the larger advertising and broadcast rights riches lavished on this series.
Some quick history before we come to that. The first series was organised in 2008 by the Board of Control For Cricket in India (BCCI), the national governing body for the game across the country. IPL 6 this year will be contested by nine teams comprising players from around the cricketing world. The latest addition to the million dollar club is Australian cricketer Glenn Maxwell who was bought by Nita Ambani-owned Mumbai Indians for $1 million (Rs 5.5 crore).
IPL will henceforth be called Pepsi IPL after the soft drink major won the title sponsorship with a winning bid of Rs 396.8 crore for 10 years. IPL's brand value was estimated to be around $3 billion (Rs 16,500 crore) in the 5th season. The 5th season was clinched by Kolkata Knight Riders, the franchise owned by Bollywood actor Shah Rukh Khan.
Brand Finance, a brand valuation firm, has placed Mumbai Indians at the top of the valuation league at $48 million followed by Chennai Super Kings ($ 45 million) and Royal Challengers Bangalore ($41 million).
The Teams, Owners & The Money Paid
During the initial bidding, Mukesh Ambani-led Reliance Industries bid the most ($111.9 million) for the Mumbai franchise – Mumbai Indians. And then Subrata Roy-led Sahara Group awed everybody with their bid of $370 million for Pune Warriors.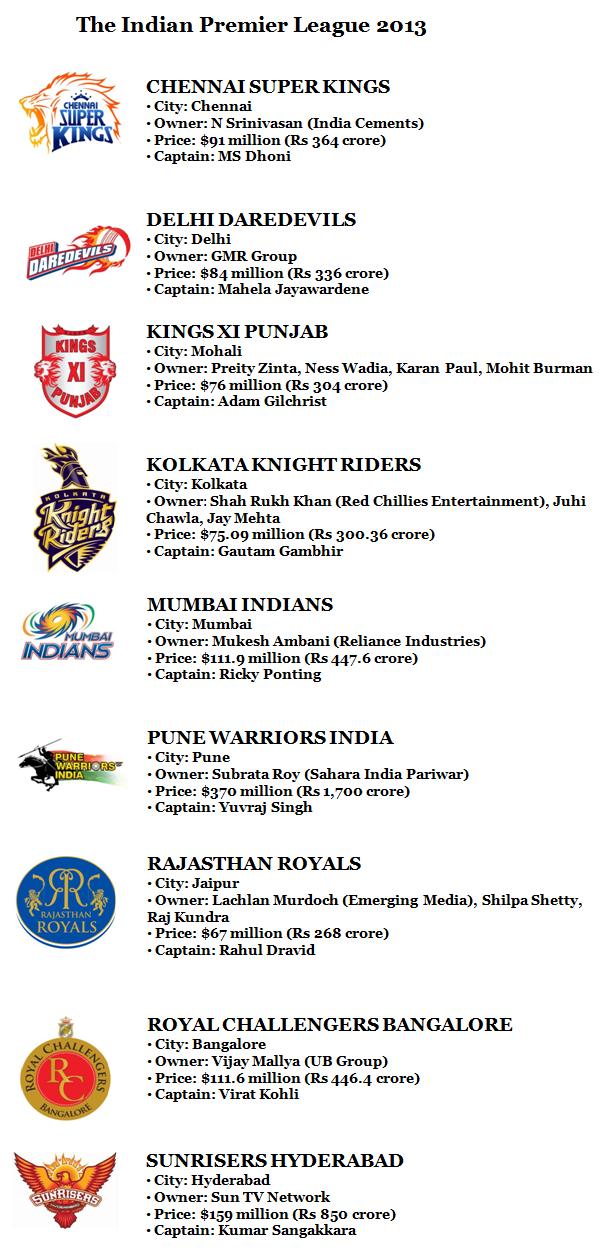 Team Economics
Every team plays each other in IPL - both at home and away - in a round-robin system. The top four ranking sides progress to the knockout stage of semi-finals followed by a final. To say whether an IPL team is making money or bleeding its owners is difficult since costs vary sharply and incomes are different for different teams.
Revenue: Share of television rights and central sponsorships, team sponsorship, share of gate receipts and in-stadia advertising...
Expenditure: Franchisee Fee to IPL, Player fees, stadium hire charges and marketing costs.
For example, Sahara paid around Rs 1,700 crore for the Pune Warriors rights but Sun paid only Rs 850 crore for the born-again Sunrisers Hyderabad. Similarly, franchisees like Chennai Super Kings, Mumbai Indians and KKR have attracted sponsors and advertisers unlike other teams but these teams are paying the top price for some key players. A new idea has been floated by CSK this year – health cafes. They are also expecting merchandise sales to bring in Rs 10 crore.
IPL's financials
? Broadcast rights sold by IPL for over Rs 8,700 crore ($1.6 billion) for 10 years. While 20% of it would go to IPL, over 70% would be distributed among franchisees.
? The title sponsorship has been sold to Pepsi for Rs 398 crore for 10 years.
? In-stadia advertising and ticket sales. For e.g. KKR has started selling tickets for the current season between Rs 300 and Rs 9,000.
In return, IPL offers a total Rs 25 crore in prize money.
While the champion team wins Rs 10 crore, runner-up gets Rs 7.5 crore, the third place team wins Rs 3.75 crore and the 4th place team also wins Rs 3.75 crore
So, how has BCCI gained from IPL? Here's a look at the latest available numbers.
Figure 1 (a)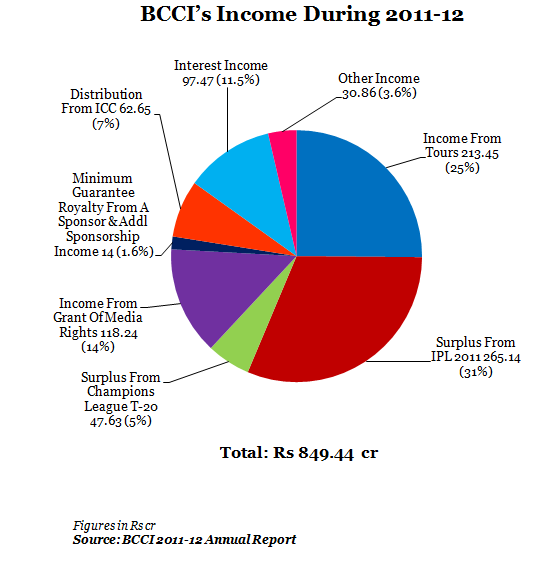 Figure 1 (b)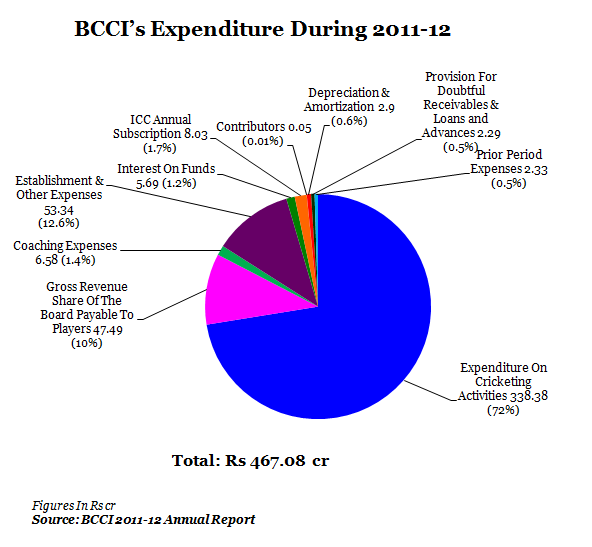 So the surplus from IPL has more than doubled to over Rs 265 crore for the year ended March 31, 2012 from Rs 119 crore in the previous years. Clearly, IPL can be a money-making machine for BCCI, which is touted as the richest cricketing body in the world. BCCI's other sources of income include cricket tours, grant of media rights, income from International Cricket Council (ICC) and interest income. (see chart)
BCCI spends money on organising camps for young cricketers and programmes for coaches, umpires and ground curators. An idea that BCCI is working on is specialist academies to enhance cricketing as well as other skills like umpiring.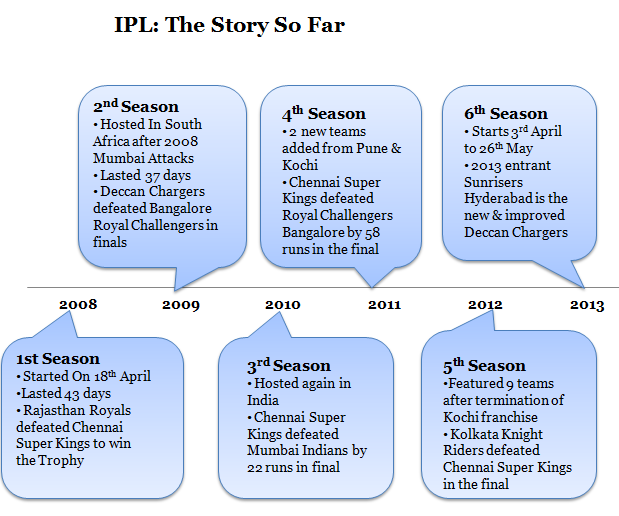 Well, that's the IPL story till now. Wait for an exciting climax on May 26...And a new round of stories next year about player switching, million dollar deals and much more...