Indo-Myanmar Border; The Biggest Arms Pipeline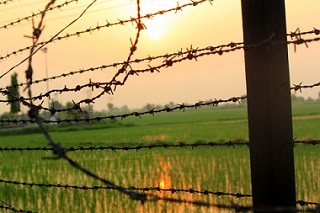 The Indo-Pak border is in the news for frequent skirmishes along the Line of Control and infiltration attempts by the Pakistani army. However, apart from cross-firings and incursions, there is another challenge along the borders - smuggling of arms and narcotics.
The Ministry of Home Affairs (MHA) recently furnished details in Parliament of smuggling activities along the border areas of Pakistan, Bangladesh, Nepal, Bhutan, Myanmar and China.
Data for the last 4 years shows that around 513 arms were seized from the 5 international borders, and 130,127 kg of narcotics were confiscated from the borders. The Indo-China border had zero incidence of arms and narcotics seizures. Incidentally, the Indo-China border is far more inhospitable for smuggling with large areas manned by security agencies as compared to the Indo-Nepal and the Indo-Burma border areas which allegedly have large unmanned areas.
The information is provided to the MHA by the Border Security Force, Sashastra Seema Bal, Indo-Tibetan Border Police and Assam Rifles – the forces dealing with smuggling activity along the borders.
The following figure gives an idea of the extent of cross-border arms seizures since 2010:
Figure 1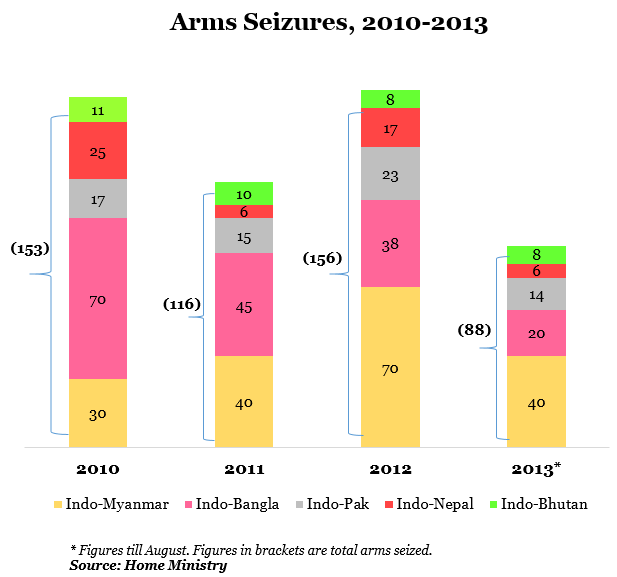 A total of 513 arms were seized in the last 4 years from India's international border areas. The Indo-Myanmar border leads in arms smuggling with a total 180 arms seized (around 35%) in 4 years followed by the Indo-Bangla border that saw 173 arms seizures in 4 years.
So, the eastern part of India accounted for around 69% of the total arms seized. The Indo-Bhutan had the least number of firearms seized (which does not prove that it is the most peaceful border) and accounted for only 7% of the total arms seized.
There is no clear trend in the number of arms seized every year. While 2012 saw a drastic increase in seizures compared to the decline in 2011, 2013 has, till date, seen a decline compared to earlier years.
The next figure shows the amount of narcotics seized from each of these borders:
Figure 2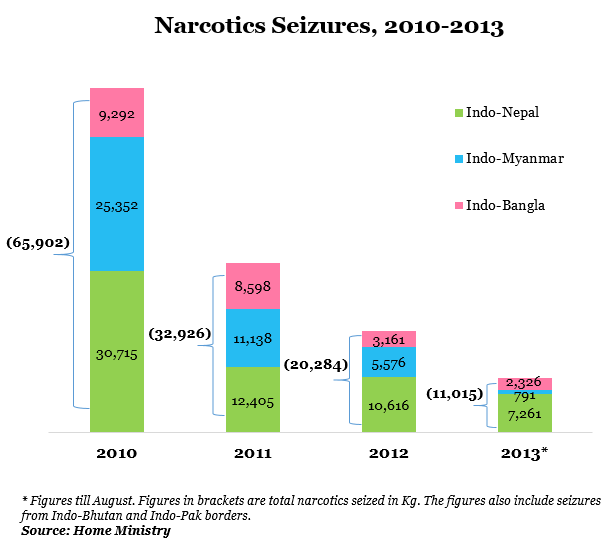 A total of 130,127 kilogram of narcotics has been seized in the last 4 years. While the Indo-Nepal border has the maximum narcotics seized, the Indo-Pak border has seen the least narcotics (695 kg) seized in 4 years. Also 2,201 kg of narcotics was seized from the Indo-Bhutan border during the same time. Around 47% of the total narcotics confiscated are from the Indo-Nepal border. Narcotics seizure has steadily declined in every border, and the total narcotics seized have also come down.
It can be seen that seizures of arms and narcotics have been declining in the border areas. So, does it denote that incidences of smuggling have reduced? Probably much more is entering the Indian market illegally than the reported seizures in these million dollar industries.