India's Yawning Infrastructure Gaps: Budget 2014 Primer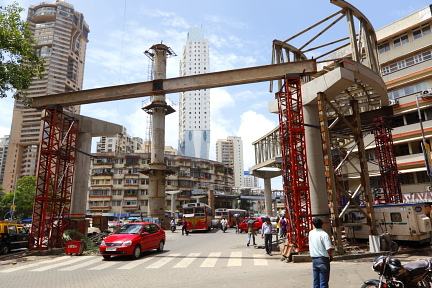 The Bharatiya Janata Party (BJP)-led National Democratic Alliance (NDA) Government has made several promises around infrastructure in both rural and urban areas. The promises include:
* Improve village-level infrastructure in terms of roads, potable water, education, health, supply chain, electricity and broadband.
* Logistics infrastructure, including stable power, for industries.
* Expedite freight corridors and attendant industrial corridors.
* Connect N-E and J&K through world-class highways and railways.
* Connect every village with all-weather roads.
* Economic model of port-led development.
* Sagar Mala project.
* Gas grids to make gas available to households and industry.
* Promote national optical fibre network; and
* Wi-fi zones in public areas
Meanwhile, the 12th Plan document has proposed investment of Rs 1 lakh crore i.e. nearly 9% of GDP for infrastructure development.
Problems of the sector
Land acquisition: This has been one of the major issues around building infrastructure, and has subsequently led to stalling a lot of infrastructure projects not just in urban areas but also rural areas. Much of the delays were caused due to land use laws, especially for projects dealing with roads, sewerage and water supply.
For example, JNNURM, the flagship infrastructure programme of the Congress-led United Progressive Alliance Government, did not provide money for private land acquisition as the burden of this was to be borne by state governments and urban local bodies (ULBs) with the exception of J&K, Himachal Pradesh, Uttarakhand and North-Eastern states. In Haryana, however, Government auditor Comptroller & Auditor General (CAG) noticed that JNNURM money was used to acquire private land for building collector wells (the main well from which the water can be drawn for water supply)for a price of Rs 203.86 crore alone ! Highlighting the fact that land acquisition often pushes up the cost of an infrastructure project.
Lack of resources:There has been unequal performance of states when it comes to infrastructure. One major reason for this is the fact that most poor states lack resources - both financial and human. States like Gujarat, Maharashtra and Karnataka have done well in schemes such as PMGSY and JNNURM because they have adequate financial resources to meet their share of the allocation. In the case of Uttar Pradesh and Bihar, key reasons cited by them are the lack of financial resources and expertise.
Unequal implementation: Most states with higher GDP have done well, thanks to their adequate financial resources and human expertise. There is also interest from the private sector in these states. These states also have prior experience of working with international agencies thus giving them an edge over the rest of the country. Poor states, on the other hand, are fraught with problems like lack of resources and expertise.
PPP investment: PPP investments are often cited as a way out of funding troubles faced by the government. In recent year there has been a shortfall of over Rs 1.25 trillion over two years, the government has been unable to complete critical projects in sectors like telecommunications, power, roads, water supply and irrigation and private sector has been expected to fill this gap.in fact the share of private investment has increased from 1.26% during the 10th Plan period to 2.73% in the 11th Plan. But only a few states have been able to attract private investment especially the developed states of Maharashtra, Gujarat and Andhra Pradesh. One of the reasons for less than adequate performance of the PPP projects are troubles in land acquisition, global financial crisis and lack skilled labour force. For example projects like GMR infra walked out of the Rajasthan-Gujarat highway project due to land acquisition and trouble in getting environmental clearances.
UPA's Efforts
The UPA Government had launched some major schemes and continued some of the already running schemes of the previous NDA Government. The three major schemes we will be looking at are JNNURM, IAY and PMGSY.
JNNURM
Jawaharlal Nehru National Urban Renewal Mission was launched in 2005-06. The scheme aimed to improve cities across the country by developing physical infrastructure and local governance.
Allocations to JNNURM, 2009-10 to 2013-14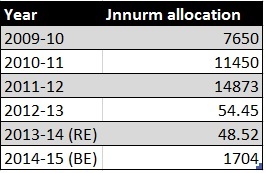 (Figures in Rs Crore)
Source: BUDGET 2013-14
In the table above we can see that the allocation from 2012-13 come down drastically. One of the reasons for that is that is that the scheme was coming to an end in 2013-14. Then in 2014-15 we can see that the there is a fresh injection to the scheme, this happened because the government wanted to launch a phase II of JNNURM which now with the new government remains to be seen.
Indira Awas Yojana, launched in 1985, helps rural poor people get better housing through full grant in construction of dwelling units and upgradation of existing houses.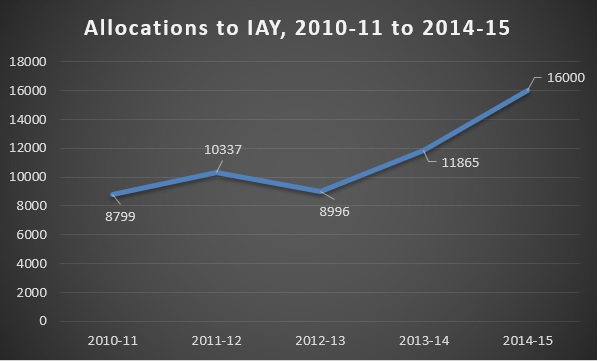 (Figure in Rs Crore)
Pradhan Mantri Gram Sadak Yojana was introduced during the earlier NDA Government in 2000. The programme aims to connect about 1,58,891 unconnected habitations with population of 500 people and above. The following are the allocations.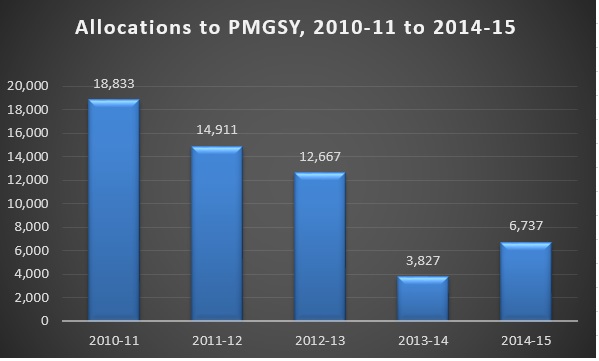 (Figure in Rs Crore)
Conclusion
Broadly, implementation is a challenge. There is a need to develop resources - both human and financial. There is also a need to improve the legislation around land acquisition, which makes it faster and also offers good compensation to the owners.