India's Salt Is Cheap But The Land Beneath It Is Not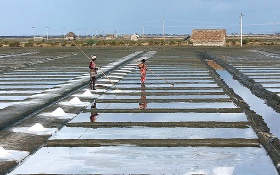 Bharatiya Janata Party (BJP) Member of Parliament from Mumbai (North East) Kirit Somaiya recently raised the question of salt pan land in and around Mumbai.
His question was: Whether any MoU has been signed between Union Government and Government of Maharashtra for development of salt pan land in Mumbai; (b) if so, the details thereof; (c) the progress made in this regard along with the present status thereof; (d) Whether the Government of Maharashtra has recently issued any order regarding reversion of ownership of salt pan lands; and (e) If so, the details thereof?
Mr Somaiya's interest might have been driven by rising concerns over Mumbai's vast salt pan land being given away cheaply to private realtors, not surprisingly, given the fairly central location of the pans and the land-locked nature of the city.
According to the reply given to Somaiya by Commerce Minister Nirmala Sitharaman, "The District Collector, Mumbai Suburban District, Government of Maharashtra has issued an order dated 4th January, 2014 in respect of about 2,978 acre of Central Government salt pan lands in various villages of Mumbai Suburban District as belonging to the State Government. The Salt Commissioner's Organisation has filed an appeal against the said order before Divisional Commissioner, Konkan Division which is pending."
Uhhh? Salt Commissioner's Organisation? What's that? And here's whatIndiaSpend found: Salt continues to be a Central subject in the Constitution of India, and the Salt Commissioner's Organisation, based in Jaipur and under the Ministry of Commerce, is responsible for regulation and control of manufacture, supply and distribution of salt by agencies. Now, how's that for total Government control on something as important or as simple as salt?
India produced 24.5 million tonne salt in 2012-13, according to the latest annual report available from Salt Commissioner's Organisation. Salt is produced in 52 districts across the country with Gujarat leading the table followed by Tamil Nadu, Rajasthan and other states.
The Government, through Salt Commissioner's Organisation, controls over 61,000 acre land across the country.
And now here's the kicker of the story: Seven public sector undertakings with a production of only 359,589 tonne i.e only 1.5% of total production have access to 92,800 acre land. While Rajasthan-based Sambhar Salts controls 57,600 acre, Gujarat-based Hindustan Salts controls 23,595 acre!
So, apart from the defence services, the Salt Commissioner and the PSUs under it seem to have access to large amounts of land in the country…. which, probably could be put to better use. But doing that evidently needs to be done under scrutiny and sufficient public gaze.