India's Real Skills Challenge: 263 Million Farm Workers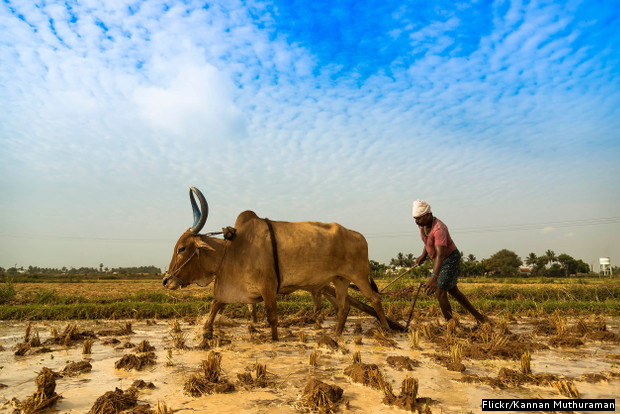 54% working population engaged in farms as cultivators and labourers
Low skills pushing more workers to become agricultural labourers
Only 2% (nearly 9 million) Indian workers formally skilled
The Prime Minister's Skill Development Mission (Pradhan Mantri Kaushal Vikas Yojana, PMKVY) has been launched to ensure many of India's 231 million young people under 25 are equipped with skills that the economy needs and jobs are created for the 12 million who seek them every year.
The programme is also expected to boost Indian manufacturing, linked as it is to the Make-In-India project.
The missing link here could be training farm workers, 263 million of them.
India: Workers and Participation Rates
As many as 54% of all workers and 42% of the rural workforce in India are engaged in farm-related activities.
No. Of Workers (in million)

Worker Participation Rate (%)

Total

Rural

Urban

Total

Rural

Urban

482

349

133

40

42

35
Farm Workers

Total (in million)

% of Total Workers

Total

Rural

Urban

Total

Rural

Urban

Cultivators

119

115

4

25

3

3

Agricultural Labourers

144

137

7

30

39

6

Total farm workers

263

252

11

54

42

8
Source: Census 2011; figures have been rounded
Cultivators or land-owning farmers are decreasing and agricultural labourers are increasing in the farm sector, IndiaSpend had earlier reported. The growth of the agriculture sector has been fluctuating, and the growth rate dropped to 0.2% in the last quarter of 2014-15.
As India's economy developed, the share of the agriculture sector is shrinking, but 600 million people are still dependent on the sector.
Since skill development among the working population is low, an increasing number of people are shifting to farm labour. Low skills compel them to either work as farm labourers or take up low-paying jobs.
Ashok Gulati, chair professor for agriculture at the Indian Council for Research on International Economic Relations wrote in The Indian Express, "Many policymakers often ask me in private why they should focus on agriculture when its contribution to GDP has decreased to less than 15 per cent (at factor cost)? Sure, the future of the Indian economy lies in greater industrialisation, urbanisation, service industry growth etc., provided these emerging sectors are globally competitive and able to absorb an increasing share of the labour force."
"But currently, almost half the workforce is engaged in agriculture, and unless it is schooled and skilled, it cannot move to high productivity jobs in urban areas. And this process is going to take at least 15-20 years, or even longer, when the proportion of the workforce engaged in agriculture will come down to, say, less than 25 per cent of overall labour."
Source: NITI Ayog; Figures in (%).
Make-In-India and Skill-India Missions Miss Agriculture
"In 2020, the average age of India's population at around 29 years is expected to be among the lowest in the world," said the Economic Survey 2014-15. "Consequently, while the global economy is expected to witness a shortage of young population of around 56 million by 2020, India will be the only country with a youth surplus of 47 million. These young people need to be healthy, suitably educated, and appropriately skilled to contribute optimally to the economy."
The current size of India's formally-skilled workforce is small, approximately 2%, the Survey said, quoting a labour bureau report. "This number compares poorly with smaller countries like South Korea and Japan which report figures of 96% and 80%, respectively," said the Survey.
While the Survey emphasises the importance of tapping the demographic dividend, so does the Skill India mission.
However, the focus on agriculture is missing. With nearly 42% of the rural workforce dependent on the sector, the only advantage under Make-In-India is in the form of food processing. The government intends to invest Rs 9,800 crore ($1.5 billion) to set up 42 "mega" food parks.
62 agricultural universities are not helping agricultural growth
India has 62 agricultural universities under the Indian Council of Agricultural Research. The Ministry of Agriculture has a department of agricultural research and education that has been allocated Rs 6,320 crore ($985 million) in the current financial year.
However, the sector is short on growth and productivity. IndiaSpend has earlier traced the relationship between low agricultural productivity and poor farm growth.
(Tewari is a policy analyst with IndiaSpend.)
Update: The story has been updated with comments from an expert, Ashok Gulati.
_________________________________________________________________
"Liked this story? IndiaSpend.com is a non-profit, and we depend on readers like you to drive our public-interest journalism efforts. Donate Rs 500; Rs 1,000, Rs 2,000."