India's Public-Health Failures That PM's Insurance Scheme Won't Plug: The Story Of Arti And Kailash
Palghar, Maharashtra: In March 2015, Kailash Burange, a painter of traditional art, and his wife Arti walked into the Nashik Civil Hospital in Western Maharashtra with their newborn baby girl. It had taken them over two hours in a bare ambulance, down the winding roads of the Western Ghats, to arrive from their home in a remote village called Poshera in Palghar that is just over 150 km to the north of India's financial capital Mumbai.
The next day, they walked out of the hospital with a dead baby in a plastic bag.
Born a day earlier, the baby had developed breathing complications. The couple spent the next 24 hours going up the hierarchy of India's public health system--from the clinic near their village called a primary health centre, which caters to a population of 30,000, to a larger secondary health centre and, finally, to a rural hospital. At every level, the couple found out that the system was not equipped with the basics needed to save their baby who was gasping for air--neither a ventilator nor a qualified doctor.
India spends 1.4% of its gross domestic product (GDP) on healthcare, less than South Asian neighbours Nepal and Sri Lanka, as well as several sub-Saharan countries in Africa, according to World Bank data.
Prime Minister Narendra Modi is set to launch the Ayushman Bharat-National Health Protection Scheme (AB-NHPS), dubbed as the world's largest health insurance programme, shortly. But, for people like Kailash and Arti, living in remote corners of the country, an insurance scheme means little when the hospital where they live lacks a doctor. The nearest private hospital is over 100 km in an area without any public transport. In 2016, health sub-centres--each of which caters to 5,000 people--were 20% short of human resources, while primary and community centres were 22% and 30% short, respectively, according to the 2016 Rural Health Statistics (RHS).
Maharashtra is one of the few states that runs an insurance scheme for those with an annual income of less than Rs 1 lakh. Kailash and Arti were eligible for the scheme, which can get them health services worth Rs 1.5 lakh in empanelled private hospitals. In reality, the couple knew that they would have to pay for medicines and the ambulance service to the hospital because while the insurance covers major procedures, hospitals ask patients to bear additional expenses. Studies looking at the impact of government-sponsored insurance for the poor found that 95% of patients who used the insurance to access healthcare in private hospitals ended up paying additional amounts out of their own pockets. Despite insurance, household medical expenses went up.
Every year, close to 55 million Indians may slip below the poverty line due to out-of-pocket medical expenses. If spending money was a choice, Kailash and Arti would have gladly done so to get their baby a ventilator. The couple hold a yellow ration card given to families below the poverty line. They were vaguely aware of the insurance scheme but no one from their village had ever used one. To start with, the couple had no money to pay for ambulance service to take their baby to another hospital.
With less than Rs 100 between them, they knew the insurance scheme would be of no use.
A resource-starved system
A dearth of government spending on India's public health system has left it resource-starved. The low pay to staffer plus infrastructure in dire need of repair has driven many talented healthcare providers to either join the private sector or work in other countries where they feel their skills are better utilised.
Rich patients no longer trust the almost free government health services, so they have migrated to the expensive private sector. The middle-class has followed, even though the cost puts a strain on their limited resources. For around 56% of the urban population and 49% of the rural population, the private sector is now the primary source of healthcare. Households that don't generally use the government health facilities are highest in Uttar Pradesh (80%), followed by Bihar (78%).
Left behind in the public healthcare system are the country's poorest, those like the Buranges.
Poshera, home to the Buranges, is over 100 km and about a five-hour drive to the north of Mumbai. To get to Poshera--which has a population of just over 400--you have to catch a bus that heads upwards along treacherous dirt roads. The last stop is 3.2 km from the village. There are no sign boards indicating which way to go, and no street lights. You have to rely on locals pointing in the general direction.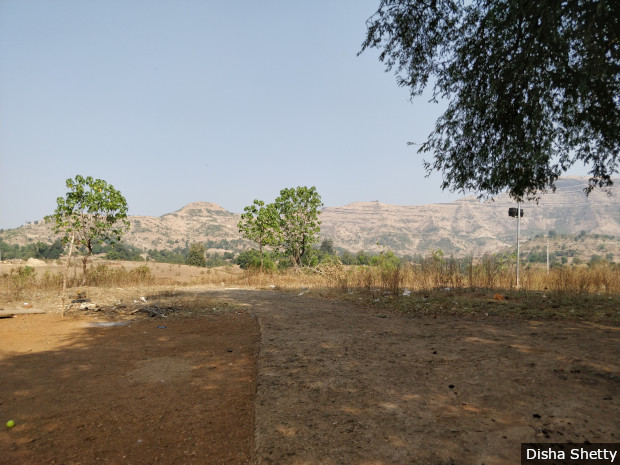 A view from Poshera village. To get to Poshera, you have to catch a bus that heads upwards along treacherous dirt roads. The last stop is 3.2 km from the village. There are no sign boards, and no street lights.
Poshera is just one of more than 1,000 villages in Palghar, a district carved out of Thane in 2014 so that its tribal areas--with malnutrition rates 50% higher the state average--get the attention they need from the administration. Four years on, Palghar still does not have a district hospital, only a rural hospital without specialised healthcare. With 3 million people, the new district has been in the news for a spate of malnutrition-related infant deaths.
Short-lived happiness
Three years ago, Arti was hovering over the firewood-fuelled stove in her two-room home, not much more than a shed with a dirt floor, lit by a single bulb, when she felt spasms in her belly. She was 22, married earlier that year, and six months pregnant. Arti ignored the pain and continued cooking.
Happy about the baby, she never missed her monthly examination. That's when she'd get weighed by a nurse who also touched her belly to check the growth of the foetus. Arti got iron tablets to prevent anaemia and folic acid to prevent spina bifida, a spinal-cord defect. The nurses didn't talk about eating healthy nor was there an ultrasound machine to monitor the baby's growth.
Known as "tribal areas", mountainous villages like Poshera are among India's most remote, underdeveloped settlements, where people still struggle for basics like water, sanitation, electricity and food. Health facilities here count as a luxury. The nearest government clinic is 10 km away. For Arti, walking was the only way to reach the clinic, and it often left her tired and drained.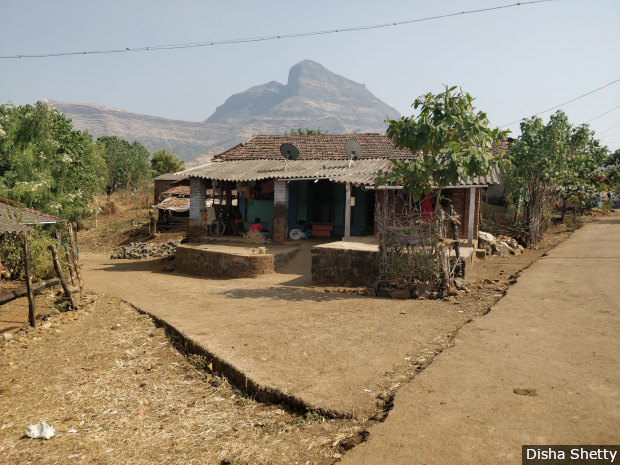 Poshera, a village in rural Palghar, is over 100 km north of Mumbai, nestled amidst mountain ranges. Villages like Poshera are among India's most remote, underdeveloped settlements, where people struggle for water, sanitation, electricity and food. Health facilities here count as a luxury.
In a medical emergency, villagers in Poshera dial 108 for a free government-run ambulance service. But the wait is long, while the driver navigates poorly marked village roads. Sometimes the ambulance takes an hour; sometimes an entire night. When a woman goes into labour, families here hope for a normal delivery because any complication could mean the death of the baby, the mother, or both.
As it was for Arti, most women in tribal areas never receive basic information about nutrition. They never learn that healthy eating alone cuts their chances of premature delivery and having sickly babies. Their diet lacks fresh fruits, vegetables and meat--often too expensive to afford. A typical meal is rice or chapatis with watery dal--an inadequate diet for a pregnant or nursing woman.
By late afternoon in March 2015, Arti's pain had intensified. It was then that she finally decided to tell her husband Kailash. Medium build and with a mop of thick black curly hair, Kailash, three years older to Arti, smiles easily.
He is a man of measured words. Despite the patriarchal society the couple lives in, Kailash shares most of Arti's household chores. After graduating with MA in History from a local college affiliated to the Mumbai University, he struggled for years to find a job. In a dim corner of their living room are rolled white sheets that serve as his canvas. He is a warli artist, creating fine white drawings, depicting nature, on a colourful background of blood red and the kind of green that reminds one of lush trees coming to life after a heavy shower. Business is not good. He has no access to a market where he can display his wares but receives a few orders on his cellphone, relying heavily on word of mouth. One painting, which takes him about half a day to make, sells for Rs 500. A quick search on Amazon shows that this kind of art sells for a minimum of Rs 2,000 a piece and can go up to Rs 10,000 or more.
Kailash wouldn't know that. For most of the day, his cell phone has no network let alone access to Internet data. He was vaguely aware that some who buy his paintings are merely sourcing it to sell it to international clients for a much higher price. He is the weakest link in the chain that refuses to pay the producer a fair price.
Hearing Arti call out to him, he left his paintbrush on their dirt floor covered with dried cow dung, a feature in most households in the area. Worried about her pain, he borrowed a motorcycle from his friend and with Arti sitting behind him headed to the nearest clinic in Mokhada. The road was narrow and bumpy with a sharp descent. The half-an-hour ride was hard on Arti's body. Her contractions grew stronger.
In 2017, the Nashik Civil Hospital caught media attention when it was reported that 241 infants died in just six months. The ventilators were not enough. That same year, 60 newborns died within a week at the BRD Medical College Hospital in India's largest state, Uttar Pradesh. This time, the hospital had the equipment but they ran out of oxygen in the cylinders. Nurses handed out small plastic hand-operated resuscitators to the panic-stricken parents, demonstrating how to use them. Many pumped for hours. No outside help arrived. Their babies died. For Kailash and so many others, these incidents reinforce their fear of the public hospitals, their only shot at getting any lifesaving treatments.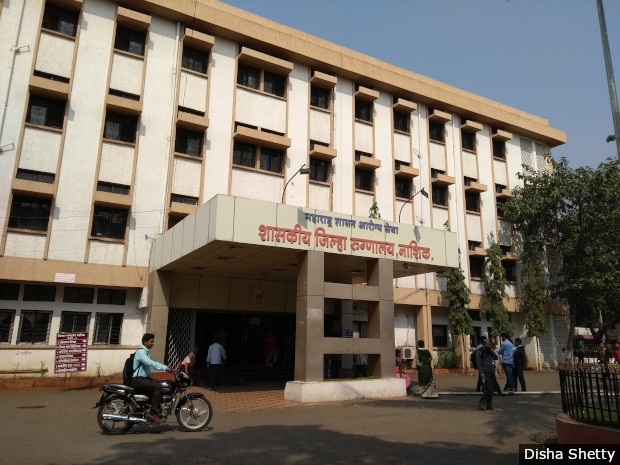 Nashik Civil Hospital receives patients from Nashik, Palghar and rural Thane. Every day, nearly 5,000 new patients use the hospital and at least 10-15 babies born to mothers who weigh as low as 35 kg require a ventilator.
Outrage often follows a spate of infant deaths in public hospitals but perhaps the media missed the real story. Perhaps they weren't asking the right questions: Why were so many babies so sick in the first place? Why were the babies underweight? Why were they reaching the hospital so late?
Answering these questions and fixing the problem would require a deeper understanding of India's flailing health system, one that begins by taking a closer look at villages like Poshera.
Abandoned by the government
Arti is barely 45 kg. She is no different from half of all pregnant women in India who are anaemic. Their blood cells lack iron, reducing the ability to carry oxygen and nutrients to the foetus.
Meanwhile, the demands from a growing foetus constantly sucking nourishment from the mother's body leaves them exhausted. It also increases their chances of premature delivery and birth complications. Two in three women refuse to consume the combined iron tablets freely distributed by the government. They loathe its acrid smell and the side effects. The pills can trigger cramps and diarrhoea, a nasty problem for these women because, as of 2015-16, only one in three rural homes had toilets. It is a subject the women won't bring up when health officials talk down to them, feeling both a sense of shame and at loss for the right words to express a basic human need. Studies have suggested that improper sanitation can have a detrimental impact on pregnancy outcomes.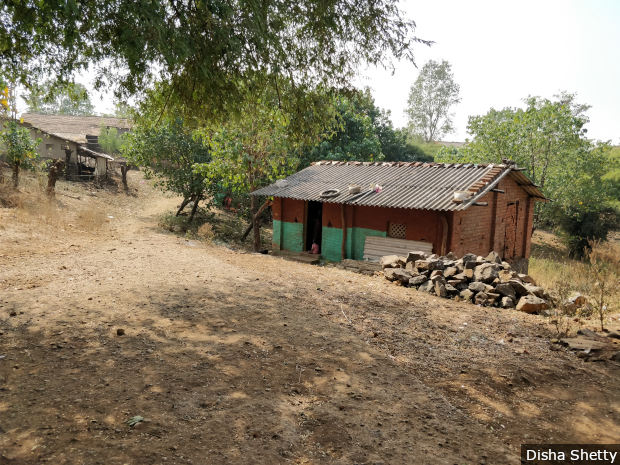 Most homes in Poshera village in Mokhada, Palghar, have two rooms, firewood-fuelled stoves, often not much more than a shed with a dirt floor, lit by a single bulb.
Compounding these issues, just one in five women receive full prenatal care. Babies born to undernourished mothers are likely to be small, prone to infections and face an increased risk of metabolic complications later in life. The cocktail of socio-economic issues and faulty nutrition has brought India to this: Over a third of India's children under the age of five are stunted and underweight.
Arti and Kailash did not want to go to the clinic closest to them as it had no doctors. They worried that by the time they got there the only nurse would have left for the day. So, they ventured further.
The private sector steps in
Soon after Independence, India's public health mission expanded but the initial focus was on infection control. Spending on public health services and infrastructure increased by about 40%--from 0.98% of the GDP in 1975 to 1.36% in 1986, Sujatha Rao, former health secretary for India, documented in her book Do We Care. But in 1991, staring at economic ruin, India was forced to open up its economy. Since then, the private sector has expanded to cater to a majority of Indians.
If the private sector and public sector worked together to address different gaps, it would have made sense. But the government continued to cut spending on public-health infrastructure, which dropped to 0.9% of GDP by the year 2000. Public hospitals looked dingy, like a neglected child whose runny nose no one would wipe. Well-meaning doctors advised patients to leave soon after an operation, lest they catch an infection from the unhygienic surroundings. Supplies of medicine to hospitals ran short.
The reduction in spending meant that healthcare professionals were overworked, underpaid and burdened with the task of shouldering a collapsing system. The public healthcare system became synonymous with neglect; the private sector with efficiency and profits.
"What the government has done is abdicated the responsibility of providing healthcare to the poor," said Arun Gadre, health activist and author of Dissenting Diagnosis, a book about India's private healthcare sector. "If as a society you are only catering to the middle and the rich class then you are an unjust one," he added.
In recent years, the young resident doctors slogging in the public health system have becoming targets of mob violence. Most doctors leave the public healthcare system soon after getting trained with a bitter experience to boot. That's bad news for a country with only five hospital beds and about one allopathic doctor for every 10,000 patients. But even as the system implodes, India's policy makers are looking to privatise more hospitals.
One in every forty Indian babies will die within the first day of life--the largest number of infant deaths in the world. Arti and Kailash were not aware of this statistic but in Poshera, newborn deaths are so common that pregnancy meant joy but also panic.
A doubtful quick fix
The clinic in Mokhada where the Buranges arrived on a motorcycle caters to nearly 80,000 people. The two-storey structure is on the outskirts of the main town and teeming with patients who have travelled several kilometres on foot or by hitchhiking. All are poor. The maternity ward has no ventilators. The hospital's lone paediatrician was appointed only in December 2017 and was immediately greeted with serpentine queues of patients. The clinic has few facilities--just two nurses, two wards with beds in them and some cabinets for medicines. Outside, there are benches for patients to sit on. Depending on the time of the day, there might be a doctor.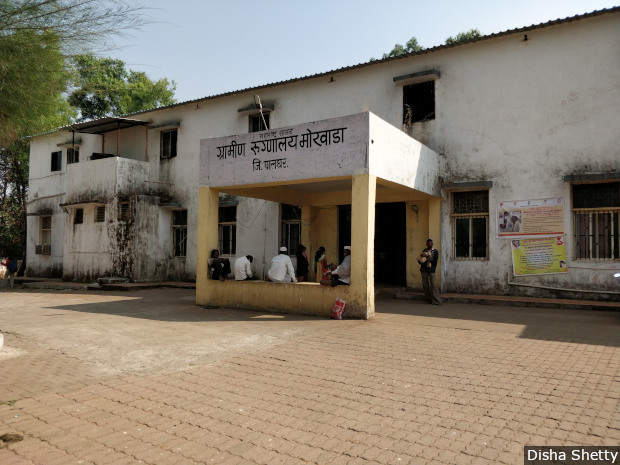 The Mokhada rural hospital caters to nearly 80,000 people. The clinic has two nurses, two wards with beds and some medicine cabinets. The maternity ward has no ventilators. Depending on the time of the day, there might be a doctor.
Kailash and Arti were among the dozens of couples who arrived in distress and confusion. Many parents from the tribal belt come with their puny newborns, several of them barely larger than a bottle of shampoo. They are then referred to the larger hospital in the nearest city, Nashik, 90 km to the north. Few will survive long after the two-hour journey down bumpy roads.
On the second level of the clinic is a ward for malnourished children younger than five. Called the nutritional rehabilitation centre, it was launched by the government along with the UNICEF (United Nations Children's Fund). There are 10 beds meant for severely malnourished children. They are admitted for two weeks and fed one of two kinds of therapeutic milk, called F-75 and F-100, infused with sugar, oil and water plus additional nutrients such as copper, zinc and magnesium. The milk is a firefighting strategy to ensure that the infant's weight doesn't slide further.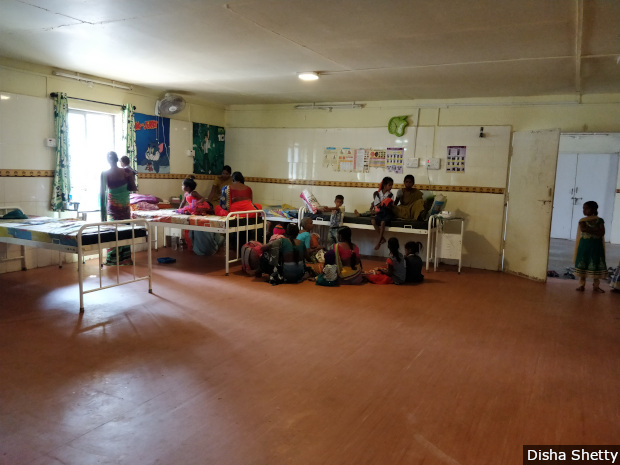 The nutritional rehabilitation centre at the Mokhada rural hospital in rural Thane teems with mothers and young children. There are 10 beds for severely malnourished children, admitted for two weeks and fed one of two kinds of therapeutic milk--a firefighting strategy to ensure that the infant's weight doesn't slide further.
Most infants will gain a kilogram or two by the end of the two weeks. Then they are released. There is disagreement on how malnutrition should be handled next. UNICEF recommends that infants continue to be given ready-to-use therapeutic food packets, commonly called RUTF. Crediting these packets with revolutionalising the treatment of severe malnutrition, the agency recommends that they be continued for up to 12 weeks or more. It contains, what experts say, is a precise mix of necessary nutrients.
However, there is a glitch that the world body has overlooked. The powder is unpalatable. One doctor, on condition of anonymity, expressed her frustration with UNICEF's method. "The mothers end up feeding this mixture to their hens. The hens too refuse to eat it."
UNICEF refused any direct interview on the RUTF issue but sent us this statement from their nutrition specialist Robert Johnston:
"UNICEF is concerned about the levels of malnutrition in India, including acute malnutrition," the statement said. "Addressing malnutrition including acute malnutrition is part of POSHAN Abhiyan (a government programme launched in March this year that will use technology to address malnutrition). UNICEF supports the Government's effort to address acute malnutrition, in line with Government's Guideline."
PMO overrides health-ministry opposition
In India, the talk of introduction of these food packets has met with staunch opposition. Activists and doctors point out that once the babies are back on track (post the F-75 and F-100), most of them will just need the basics: Real food. Mothers need to be taught what they can do using the available resources to ensure that the children don't slide back into the cycle of malnutrition. Aim for a long-term strategy and not a myopic solution to the problem, they insist.
On its website, UNICEF notes that the bulk of these food packets are sold in sub-Saharan Africa. A third of these packets are produced in the same countries, the rest by American companies and later shipped. Research on the use of these food packets has come to a unanimous conclusion: The long-term consequences on babies is unknown. And, yet, demand increased, almost as much as six times, in West Africa and Asia between 2009 and 2015; mainly because the packets were promoted as the most efficient treatment available.
The drawbacks, however, are more than one. Giving children RUTF is also more expensive when compared to fresh food. UNICEF lists the average cost of a carton of their product as $50 (Rs 3,400). A single carton has 150 packets of 92-gm sachets each, which have to be fed to children as many as five times a day.
Health activists argued there was no reason why multinational companies and a transportation chain that spans continents should be summoned for help. No large-scale study has been done in India to assess whether this powder helps pull children out of the malnutrition cycle. A single 2017 study involving 250 children in one of the tribal areas concluded that RUTF (the UN Food packets) was more effective. A close look at the results showed that the group fed RUTF was never compared to children fed nutritious home-cooked food; it was compared to those on different variations of RUTF. It was also a single-blind study and not double-blind, meaning the researchers already knew which group of children were getting what kind of products.
Despite opposition from the health ministry to packaged foods in 2017, the Prime Minister's office said individual states could decide whether to use the ready to eat packets. The decision was hailed as a relief to packaged food industry by major business dailies. Of the 20 UNICEF-approved manufacturers across the world, four are from India. One of these Indian companies, Nuflower Food and Nutrition, claims to have the capacity to make packets for 250,000 children annually.
"The UNICEF's methods don't work," said a doctor working in both government and private set up in tribal areas, who spoke on the condition of anonymity, worried about a blowback. Often, officials of the state government get kickbacks, and contracts are given to certain companies to produce these RUTF. "The entire set-up is meant to keep children malnourished as everyone in the chain makes money so they push for policies that keep the chain in place," the doctor added.
The most important question: Can't the government figure out a way to ensure that children never reach the stage where they have to rely on packaged goo rather than real food?
The long road home
There was no doctor at the clinic when Arti, who was already close to delivery, arrived with Kailash in March 2015. A nurse told them to leave for the larger clinic over 20 km away in Jawhar. Barely able to walk in pain, Arti once again sat behind her husband and the two took off.
Soon after she arrived, Arti gave birth to a baby girl. The baby was barely breathing. Kailash has no documents of the birth but said the baby was underweight.
"The doctor told me that there was a problem with the baby's heart and that she would need a ventilator," Kailash said describing the events that occurred three years back. He was once again asked to move his exhausted wife and light-as-a-feather baby, who was now given an oxygen mask, to the hospital in Nashik. This time, they went by an ambulance. Two hours later, they arrived at the Nashik Civil Hospital. There were no ventilators available for their flailing baby at the 750-bedded government-run hospital.
"The doctor told me that one option was to shift the baby to a private clinic but I had no money," the desperate father recalls with tears in his eyes.
In the wee hours the next day, Kailash and Arti's daughter died.
Their trauma did not end there. Although the hospital is supposed to provide an ambulance to take the mother back home, Kailash said he did not get one. The journey home for his wife, himself and his widowed mother, who joined them in the hospital, cost nearly Rs 100, a sum he did not have. He called a relative who came to the hospital with the money. Burial was a luxury the family could not afford.
"I told my wife that she will have to be strong," said Kailash. "We put our baby in a plastic bag and took the bus home."
Kailash made the journey home, traversing the same sharp turns he had brought his pregnant wife a day ago. His grief-stricken wife was on one side, his wailing mother on the other, and his dead baby on his lap.
The burden of pregnancy
Focusing on children, and not the mothers who give birth to them, is the system's first and basic failure. In Poshera and other tribal areas, the burden of pregnancy weakens the already malnourished and exhausted bodies of women, such as Arti. They have no time to rest, working the fields and tending to their household. Multiple pregnancies just make it worse.
A lack of calcium in a pregnant woman can increase her chances of pre-eclampsia--a condition that occurs during pregnancy and leads to dangerous high blood pressure. In low-income countries, it is one of the major causes of preterm births and maternal deaths. Pregnant women also need higher doses of micronutrients, such as zinc, copper, magnesium, and selenium along with vitamins such as B12, D and A. Their deficiency is less likely to cause any serious harm but necessary to maintain a healthy immune system.
The nutrition guidelines--even those developed in richer countries, such as the US--omit three key groups: Pregnant and lactating women and infants two years old or younger. Many countries look to US nutrition guidelines, but there isn't much there when it comes to pregnancy.
Even the UNICEF agrees the mother was rarely ever the focus of the policy. "While we need to pay attention to the child we have definitely ignored the nutrition of the mother," admitted France Bégin, senior advisor on nutrition for UNICEF. Pregnancy and lactation have huge nutritional consequences for the mother. "We do recognise that much more needs to be done," she said.
Another pregnancy, and Kailash leans in
Later that year, Arti conceived again. Scarred from their experience with childbirth the first time, Kailash did not want to have another baby but when Arti remained adamant, he agreed. To Arti, the very idea of not having a baby of her own was inconceivable, no matter what the cost. Cautious this time around, Kailash would share household chores with her so that she wasn't burdened. His mother, who lived with them, urged Arti to rest. Regardless, the same belly spasms came back to haunt the couple towards the end of Arti's second trimester.
Without any guidance about how to eat during pregnancy, Arti continued to shun abundantly available fish, a rich source of omega-3 fatty acids. Studies show that omega fatty acids aid brain development in the growing foetus. In the tribal areas where education levels are low, diseases rampant and no money for medicine, the first response to an illness is to turn to a village elder. Couples are encouraged to perform animal sacrifices and told a failure to do so would lead to deformed babies. Most, fearing the ominous prophecies, would spend on rituals rather than fresh food.
Arti also stayed away from eating any home-bred chicken on the recommendation of village elders. Traditionally, chickens were raised for sale in many of India's tribal areas. Discouraging villagers from eating them made financial sense. As is with most traditions, somewhere myth, convenience and facts became so entangled that no one explained to Arti what about chicken was bad.
Arti's weight remained dangerously low. Her blood was never tested for vitamin deficiency or anaemia. If she was undernourished, she never found out. There are no ultrasound machines in the nearest government clinic. The nurse touching her swollen belly told her the baby was growing fine.
'A foetus is like a parasite'
A growing body of research has established strong links between malnourishment among mothers and premature birth. When a baby is in the mother's womb, its entire existence depends on what nutrients it can extract from the mother's placenta. For the baby to be healthy, the mother must be so too. "A foetus is like a parasite," explained Pradeep Mally, neonatologist at New York University. All the baby's nutrient needs have to be met by the mother. When a malnourished mother gets pregnant, there is nothing for this growing parasite to suck out. Studies have linked malnourishment in mother to long-term consequences in the baby, including mental-health issues.
When mothers from Poshera reach the Nashik hospital with their weak and often dying newborns, one of the most common conditions doctors observe is intrauterine growth retardation--stunted development in the womb. Often, it is a direct result of maternal malnutrition. Babies affected due to growth retardation in the uterus are smaller in size and have a weak immune system. This makes them susceptible to infections soon after. Deaths in Poshera don't require a particularly aggressive virus. A few days of diarrhoea is enough to send a newborn to its grave.
Another journey, another baby
The rains came. Poshera's fields turned lush green and the villagers who were away working in the city returned home. Agriculture began in full swing. Also returning with nature's bounty was Arti's pain. This time, Kailash dialed 108. In her seventh month now, Arti was bundled up in the ambulance that had little else apart from a narrow hard seat to lie down on. There was no emergency equipment or paramedical staff to monitor her--just a vehicle going over pothole-ridden dirt road.
The driver took off amidst the torrential downpour pounding the window. The occasional streak of lightning lit the landscape, and for a brief second the majestic mountains surrounding the village became visible. All Arti remembers of the ride is the discomfort and the pain. The driver concentrated on keeping the wheels on the dirt road that seemed to be washing away with the rainfall, leaving huge craters that engulfed the wheels. Soon after reaching the clinic in Mokhada, Arti delivered a baby girl. Kailash's happiness knew no bounds. But when the doctor said the baby was underweight, Kailash's fear returned. All was well, the doctor insisted. The baby seemed to be healthy. The new father was gleeful.
Malnutrition among mothers is a complex issue, one that begins much before pregnancy. There is evidence that girls in India are breastfed for shorter duration when compared to boys. Taboos surrounding menstruation aggravate it. While in some areas girls are encouraged to stay away from fish when they are menstruating, in others they are asked to stay away from curd. The list of taboo items is long and diverse--curd, fish and sometimes even milk--leaving out many foods rich in nutrition. As a result, they rarely get the nutrition they need, once puberty sets in.
A child with normal birth weight could have vitamin- or nutrient-deficiency. An obese child could also be malnourished. Gestational diabetes, a form of diabetes that develops during pregnancy, and often--but not always--goes away after delivery, is frequently ignored. It is a big piece of the malnutrition-among-newborns puzzle. Recent studies have confirmed that 80% of gestational-diabetes cases are in low- and middle-income countries. How is it that in an area where nutritious food is scarce that women are diabetic? The answer: Nutritious food is scarce but carbohydrates like rice and sugary foods such as sweets are not. Vegetables and meats are expensive, so women in Poshera fill up with rice and sweets made of wheat flour and dairy fat.
The problem is rarely ever diagnosed because rudimentary prenatal checks only monitor the mother's weight.
Fresh food may be difficult to find and expensive, but fried and packaged junk food reaches even remote mountain villages in rural Maharashtra.
Gestational diabetes is directly linked with a higher chance of preterm birth, miscarriage and growth retardation in the foetus--all conditions seen in mothers from tribal areas like the one Kailash and Arti live in. The consequences do not stop there.
For the mother, having gestational diabetes means an increased risk of developing type-2 diabetes later in life. Infants who survive are likely to be larger in size, requiring a cesarean, or C-section, birth and increased complications for the mother. The infants will also have a higher risk of developing diabetes as adults and have metabolic complications--perpetuating a vicious cycle, giving birth to an entire new generation of diabetics. A poor population saddled with a disease the world identifies with the rich.
New happiness, but old sorrows return
When a relieved Kailash left Arti at the clinic with their newborn, she seemed to be recovering well. He was headed to a relative's place 5 km away to deliver the happy news of the safe birth. The doctor informed him that Arti would be discharged in a day or two.
Delirious with happiness, he kick-started his friend's borrowed motorcycle and sped off as the downpour continued. He had only covered a mile or so when he spotted the ambulance that had brought his pregnant wife from his village to the clinic going in the direction of the hospital down the hill in Nashik. It was 11 in the night and as the ambulance disappeared in the darkness for a moment, all Kailash could do was stare at the dirt road with no street lights in stunned silence.
He had caught a glimpse of Arti inside. It was only later he found out that she had developed complications and was referred to the larger hospital. Kailash raced ahead, blocked the ambulance's path and forced it to halt. The driver informed him that he was instructed to take Arti to Nashik. Left without time to think or reflect, Kailash left the motorcycle along the road and joined his wife and newborn inside the ambulance.
Once again, the ambulance went down the hilly road. It was the same hospital in Nashik. Once again, there was no ventilator. Once again, Kailash was not told what happened to the baby and how he might prevent it in the future.
All he knew was the baby was not breathing properly.
Desperate measures
Every day, close to 5,000 new patients walk into the Nashik Civil Hospital. Most patients prefer the private sector for delivery and will not look at a public hospital as an option till they run out of money. At least 10-15 babies born to mothers weighing as low as 35 kg brought here need a ventilator every day.
"The mortality rate in NICU [neonatal intensive care unit] is high because by the time these babies are brought here they are already doing poorly," explained Nashik civil surgeon Suresh Jagdale. "If we are short on ventilators, we have to transfer the children to Sion hospital or KEM [King Edward Memorial Hospital] in Mumbai but these hospitals too rarely have empty beds," he added. Asked if there was an ambulance equipped with oxygen cylinders needed to keep the babies breathing during the five-hour journey he said, "No."
And so, with a fatal journey being ruled out for the baby, desperate measures were adopted.
Squatting on the floor outside the neonatal intensive care unit of the Nashik Civil Hospital are exhausted family members. Mothers, many of them teenagers, wait in the corridor with a sleeping baby swaddled in layers of old ragged cloth. Some of the babies are no more than the size of an outstretched palm, many weighing just 500 gm--hovering on the borderline of survival. Deaths in this ward are not uncommon. There are two rooms with incubators--one for those born in the hospital and another for those coming from outside. The total number of incubators at the hospital is just over a dozen and only technicians and pediatricians trained in handling the delicate equipment are allowed inside. Even if one wanted to increase the number of incubators, the trained healthcare workers required to keep a watch are missing.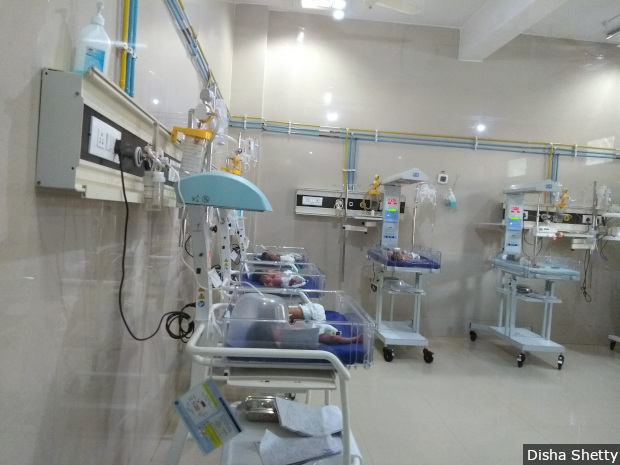 The neonatal intensive care unit at the Nashik Civil Hospital in Maharashtra. As many as three infants use one incubator; many babies weigh as little as 500 gm, instead of the normal 2.5 kg.
Their fate, for being poor
Inside the room sealed behind glass walls, the only sign of life is the chest of the newborn moving up and down. Despite their small size, some babies have an abundance of jet black hair that stands out as the babies sleep under blue lights. Called the billi lights, they help prevent brain damage caused by an excess of bilirubin, an orange-yellow pigment formed during jaundice. As many as three babies are accommodated in one incubator. With their skin touching each other, the tiny human beings who arrived before they were meant to find that they have no room to stretch inside the incubator. They've found early on that a planet with over 7 billion can be a hostile and cruel place for newborns.
Even with their best efforts, there are only so many babies the doctors can force into an incubator. Some parents, who travelled over 300 km to get here, will be told that the tiny bundle in their arms cannot be accommodated inside. Most accept it as their fate for being poor.
A second child dies: Insurance will not fix basic problems
When Nashik Civil Hospital can't handle the patient load, it does refer patients to the nearby private hospitals empanelled in the government's health scheme. With this move, the government acknowledges the inadequacy of its own services. So, in a policy that has baffled most health activists, it has decided to fund treatment in the unregulated private hospitals instead of ramping up the public infrastructure. With this, India's poorest have become the ideal clients for a private healthcare system.
"Financing of government-sponsored social sector insurance has strengthened the private hospitals without putting into place regulations to monitor them," explained Sujatha Rao, former health secretary and author of Do We Care, a book about the country's health system. With this model, the government has halted the task of bolstering primary infrastructure. This is how it works: A patient gets an insurance cover that can be used in a private healthcare set-up. This money that comes from the government now goes into the private healthcare system.
The mechanism for complaint redressal is too complicated for the often unlettered patients. While there are a few regulations in place, they are routinely flouted. In this free-for-all, the patients are like the cows being milked relentlessly. Yes, we will treat you, the hospitals tell patients, but you have to pay for the beds and other services. The patients will be given basic treatment and sent home. The hospitals tell the government: No poor patients showed up so we gave the beds to patients in need--in other words, the ones who could cough up cash.
Nashik Civil Hospital too directs patients in need of ventilators to nearby private hospitals that accept the government's insurance scheme. These hospitals are flourishing with increased referrals. But while the main treatment is covered, patients say they are asked to pay for several medicines amounting to an out-of-pocket expenditure they cannot afford. Most of the time, they do not understand of the necessary paperwork.
Yet, Modi's new health scheme now proposes to take this model, which is widely regarded as a failure in Maharashtra, to all states across the country.
So, when the doctor on shift asked Kailash if he will take the baby to a private hospital, he figured that was a death sentence for his baby.
"I have no money," Kailash said.
There is nothing we can do here, the doctor informed.
"Let the baby stay," the desolate father pleaded.
Without a ventilator, Kailash's baby girl struggled to take in air. Next morning, her lungs gave way. Kailash's second child died.
"The baby is underweight. That is all we (parents) are told. Nothing more," Kailash said. Till today, he knows little else as to why he lost the two babies.
Long-term solution: A sustainable livelihood
In 2016, nearly 900,000 children under five died in India, which is almost the same number as the population of Bhutan. These deaths dropped by 9% when compared to the previous year.
To address this, India does have schemes in place, such as the Integrated Child Development Services (ICDS), which runs the world's largest programme for early childhood care and development reaching over 100 million. The ICDS runs the anganwadi in villages that provide nutrition to pregnant and lactating mothers and children under the age of six.
At Poshera's aganwadi, the local self-help group women cook meals every day too. The government is responsible for their salaries, but it is often delayed for months. The rations are often delayed too. In recent years, the contract for cooking these meals is being given away to large contractors. In Poshera, the women running these groups have pooled their own money hoping the government will finally pay them what had been promised for their work.
For years, Kailash too had been struggling to make ends meet with his meagre income as a Warli artist. By 2017, things began to change after he joined a local NGO that creates awareness about malnutrition, as a community worker.
"Providing the sustainable employment opportunities is the only solution to the problem of malnutrition in the district," said Palghar CEO Milind Borikar. "The sources of income here are very poor. They can't afford better nutrition if they don't have money," he added listing education as another area that can make a difference.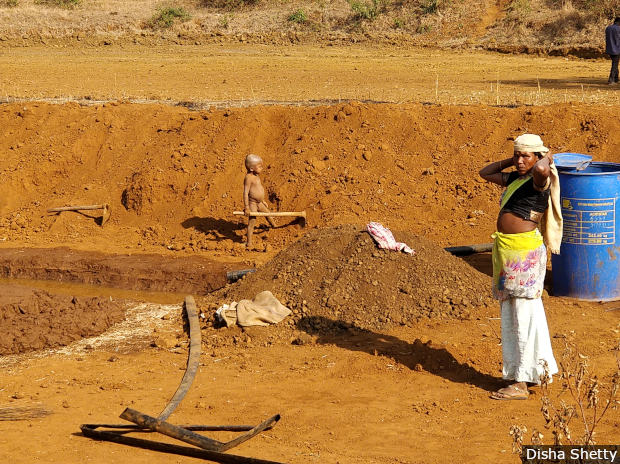 As parents work in the fields of Palghar in rural Maharashtra, young children must stay in the sun during intense summers, which cause dehydration and worsens malnutrition.
It was during one of the training workshops that Kailash met Rupal Dalal, a US-trained pediatrician who spends a large chunk of her time in rural and tribal areas training healthcare workers about nutrition and breastfeeding practices. "I would say that 99% of the mothers can afford locally grown food but instead expensive baby foods are making their presence felt even in rural areas," she said, calling it a worrying trend. Doctors are trained to focus on treatment rather than prevention, exacerbating the problem. "Poor patients cannot afford growth hormones," Dalal stressed. In the absence of proper guidance, both the mother and child continue in the circle of malnutrition.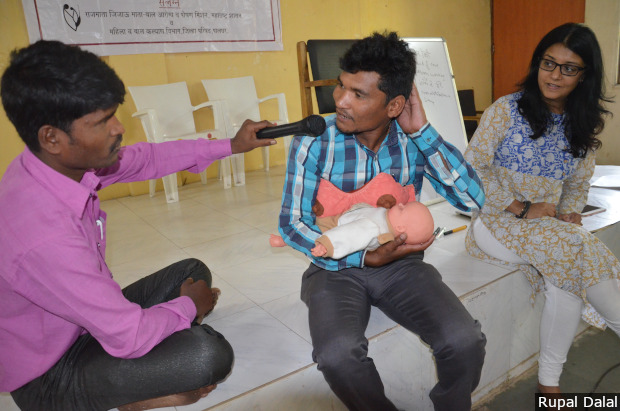 Kailash Burange (centre) during a workshop in Palghar, rural Maharashtra, in 2016. To the right is Rupal Dalal, a US-trained pediatrician, who spends a large chunk of her time in rural and tribal areas, training healthcare workers about nutrition and breastfeeding practices.
Some myths are busted, knowledge is shared
It was during the workshop that Kailash attended that he heard Dalal burst myths about fish and chicken being harmful to a pregnant mother. He also learnt about the importance of the mother's first milk, a yellow nutrient-rich liquid called colostrum that can act as the baby's first vaccine. To Kailash, these basics were eye-openers. By this time, Arti was pregnant for the third time. He decided to take matters in his own hand and heed Dalal's advice.
In most countries around the world, giving birth to a child continues to be one of the most dangerous things a woman will do in her life, sometimes deadly. In India, 130 women will die during childbirth for every 100,000 births, down from 167 in 2011-13. The government hopes to reduce this number to 100 by 2020. That would put India near Philippines at 114 but trailing behind Brazil's maternal mortality which is at 44. Brazil is only two places behind India, which now ranks sixth in the world, in terms of its GDP size.
Experts said one reason for the high mortality rate is that a fourth of all children in rural areas are born at home. India aims to cut its maternal mortality further by providing cash incentives to mothers who give birth in a hospital.
Arti said she never received any money. Just hours after she gave birth, she was shifted to another hospital on both occasions. But the money can be claimed only at the institution of delivery. In the harsh rural terrain, after losing her baby, Arti was expected to do paperwork for the money. Struck by grief, she stayed home. But the lack of money also meant that she could not afford the nutritious food her body needed.
"I had relied on what village elders said but none of it worked," Kailash said. "This time around, I decided to listen to no one." And so, he fed Arti not just fish and chicken but locally available pulses and seeds. He had learnt simple recipes that use millets and kept processed food at bay.
"I fought with my mother and insisted on feeding Arti seed powders like that of pumpkin," Kailash added. One day, his fear of losing another child got the better of him and he visited a quack. The quack told him to keep chicken and papaya away from Arti. "I didn't listen to him. I reasoned nothing done in moderation could be bad," he said.
Arti's pregnancy progressed normally. She went for monthly check-ups. This time around, there was no discomfort or pain. She saw only one doctor throughout her pregnancy. On his recommendation, Arti got a cervical stitch, a procedure done so the cervix that is an opening at the end of the womb does not open too early and cause a premature delivery or miscarriage.
Finally, a new baby
The ninth month arrived. For the third time in her life, Arti, pining for a healthy baby, went into labour. Kailash took her to the nearest clinic. They said they did not know how to remove her cervical stitch and conduct a delivery. She was referred to another clinic in the area. At the next clinic though, the doctor told the couple that it was not yet the time for delivery. Kailash was advised to admit Arti for the next few days, so they could monitor her health. When the baby did not come even after four days, Kailash brought his wife back home.
To Kailash, having Arti rest at home seemed more comforting than have her monitored at the clinic, where she would be just one of many women in distress. Trust in the public-health system runs low, even in instances when the doctors are not at fault. All the while, he was in touch with Dalal, describing Arti's symptoms to her. Her assurances and constant guidance kept him calm.
A few days later, when Arti's labour pains started again, the couple went to the clinic. Finally, three years of marriage and three pregnancies later, Sanskruti arrived--a healthy 3-kg baby girl who let out a powerful cry after birth, letting her parents know that all was indeed well.
In the clinic that Sanskruti was born, no Apgar scores are kept. But if they were, Kailash is sure his baby girl did well. By now, trained by his NGO, he knew what to look out for. The baby's weight, her cry and the colour of her skin were all indicators that she was in the pink of health. She was immediately breastfed.
Evidence suggests that breastfeeding alone can substantially cut malnutrition in infants. Fewer than 50% of babies in India are exclusively breastfed for the first six months according to government data. Research suggests that while undernutrition in mothers affects the quantity of the milk produced, it has no effect on vitamin A, E, iron, magnesium, copper and zinc content of colostrum--meaning most of the nutrients the baby needs are present. Amount of fat and lactose too remains intact.
What is affected is the IgA content, which helps baby fight infections. Protein, called the building blocks of life, and lipid another important component of a cell too is found in lower quantities in the milk of undernourished mothers. But, according to research, ensuring that the baby get six months of uninterrupted and exclusive mothers feed mitigates this problem. Simply put, even a malnourished mother produced enough milk to sustain the baby for the first four to six months. Just feeding her iron supplements can make a difference to milk quality.
UNICEF too is turning its attention at simple interventions, such as encouraging mothers to breastfeed within the first one hour after birth to help protect newborns against infections and respiratory ailments in its campaign, Every Child Alive, launched in February 2018.
When in doubt, Kailash calls Dalal for advice. Sanskruti is now a year old and her growth is above normal for her height and weight. A cherubic baby, she sleeps with her hands and legs close to her body just as she would have in Arti's womb.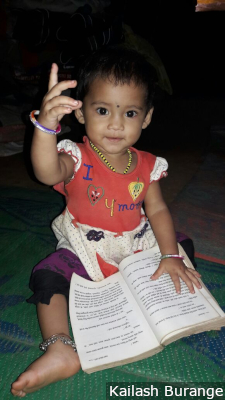 At 9 kg, Sanskruti, now a year old, is above average weight for her age group, according to the World Health Organization growth chart.
Kailash now understands all the missed opportunities during Arti's first two pregnancies. The knowledge gives him a semblance of peace. He has thrown himself in his work on preventing malnutrition in his community and encouraging breastfeeding. At times, he invites the ire of the men of the village as they suspect his intentions when he speaks to their wives about breastfeeding. But it is a work he is committed to doing.
As she does her household chores, Arti lightly moves the swing as Sanskruti sleeps. A dim bulb provides light. There is no fan. In summers, the temperatures would go up to 40oC. For most of the day, the couple and Kailash's mother pass the hours playing with Sanskruti. Preference for a male child continues to be strong in many parts of India, but Kailash and Arti are grateful for a baby of their own.
(Disha Shetty is an independent science journalist based out of Mumbai.)
We welcome feedback. Please write to respond@indiaspend.org. We reserve the right to edit responses for language and grammar.