India's Poverty Rate Falls To 12.4%, Electricity Plays Big Role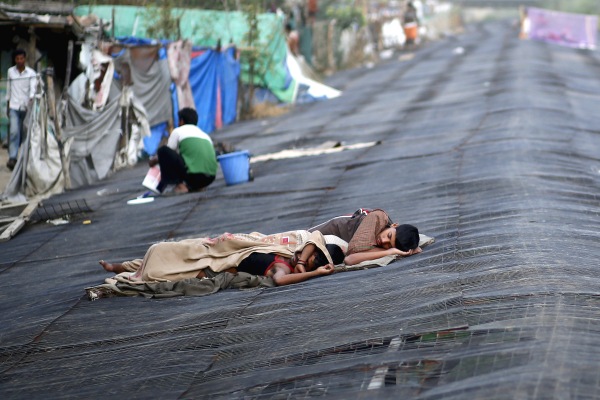 Men sleep on a temporary shade built over a drain near a New Delhi slum. Image: Reuters/Anindito Mukherjee
India has reduced its poverty rate to 12.4% from the 2011-12 estimate of 21%, according to new data released by World Bank, which identified rural electrification as an important driving factor for everything from greater rural spending to schooling for girls.
Against the earlier estimate of 269 million people living below the poverty line, according to government data, India now has 172 million people, although the World Bank revised the line upwards.
The global poverty line is the ability to live on $1.90 (Rs 123.5) per day, up from $1.25 (Rs 81). The change was made to reflect differences in cost of living across countries based on 2011 prices--in other words, to adjust for inflation and other economic variables. Here is a good explanation of why the Bank changed the definition of who is poor.
"The new global poverty line is set at $1.90 using 2011 prices. Just over 900 million people globally lived under this line in 2012 (based on the latest available data), and we project that in 2015, just over 700 million are living in extreme poverty," the World Bank said.
Sometime this year, the percentage of global population living below the poverty line of $1.90 is expected to fall to single digits for the first time.
How rural electrification, other infrastructure drive India's fall in poverty
Are India's new poverty numbers statistical jugglery or are there actually fewer poor people?
The World Bank said improved infrastructure, specifically rural electrification, has had far-ranging effects, changed earnings, consumption and even encouraged schooling for girls.
"Rural electrification in India has caused changes in consumption and earnings, with increases in the labour supply of both men and women, and promoted girls' schooling by reallocating their time to tasks more conducive to school attendance," said the Bank. "Investment in integration and connectedness through railroads in India helped reduce the exposure of agricultural prices and real income to rainfall shocks, and helped diminish the famine and mortality risks associated with recurrent weather shocks."
The role that electricity has played in reducing poverty is especially significant because rural electrification, as IndiaSpend reported, is patchy and supply unreliable.
Nearly 96% villages in India are electrified but only 69% of homes have electricity connections, according to a new report that draws on data from six states. For instance, in Uttar Pradesh, India's most populous state, 99% of villages are electrified, but only 60% of households have access to electricity, with three of four rural electrified households in UP receiving electricity for less than 12 hours a day.
This implies that regular and reliable electricity could have a galvanising effect in reducing poverty, regardless of how the poverty line is calculated.
How the Indian poverty line was created
The World Bank has used the monthly per capita expenditure data released by the Ministry of Statistics and Programme Implementation to estimate how many Indians are poor.
The National Sample Survey Organisation (NSSO) instituted a new way to calculate an Indian's expenditure-- from asking people to recall what food items they consumed over 30 days to what they ate over seven days. The NSSO also added a new question: How many low-frequency, non-food items—such as clothing and medicines—did you consume over a year?
The shorter recall period for food in both rural and urban areas increased estimated expenditure by 10–12% from earlier estimates, the World Bank said.
"These higher expenditures, combined with a high population density around the poverty line, translate to a significantly lower poverty rate of 12.4% for 2011-12," the report said.
The national poverty line using the Tendulkar methodology at the end of 2011-12 was estimated at Rs 816 per capita per month for rural area and Rs 1,000 per capita per month in urban areas for that year, according to the erstwhile Planning Commission, as IndiaSpend reported earlier. That is Rs 27 per day in rural areas and Rs 33 per day in urban areas.
For example, for a family of five, the all-India poverty line in terms of consumption expenditure would be about Rs 4,080 per month in rural areas and Rs 5,000 per month in urban areas.
Based on this estimate, there were 269.3 million people below the poverty line – 216.5 million in rural areas and 52.8 million in urban areas.
That meant 21.9% of 1.2 billion people were poor, according to data released by the Planning Commission in July, 2013.
In 2012, a new committee, headed by former Reserve Bank of India Governor C Rangarajan, recommended changes in the poverty line calculation to Rs 32 per person in rural areas and Rs 42 per person in urban areas. The recommendations, submitted in 2014, are awaiting approval from the government.
Lower middle-income countries, such as India and China, are still home to half the world's poor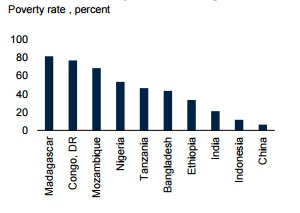 Source
: World Bank
On average, 43% of the people in low-income countries--with a per capital annual income of $1,405 (Rs 91,325) or less--are poor, compared to 19% in lower middle-income countries, defined as those with a per capita annual income between $1,406 (Rs 91,390) and $4,125 (Rs 268,125).
Yet, lower middle-income countries are home to about half of the global poor, compared to a third in low-income countries.
Part of the reason is that four countries with some of the largest populations were once classified as low-income but are now lower middle-income: China (reclassified in 1999), India (2007), Indonesia and Nigeria (in 2011), the World Bank report said.
______________________________________________
"Liked this story? Indiaspend.org is a non-profit, and we depend on readers like you to drive our public-interest journalism efforts. Donate Rs 500; Rs 1,000, Rs 2,000."