India's New Hydrofluorocarbon Target = Eliminating 1/6th of India's Coal-Powered CO2 Emissions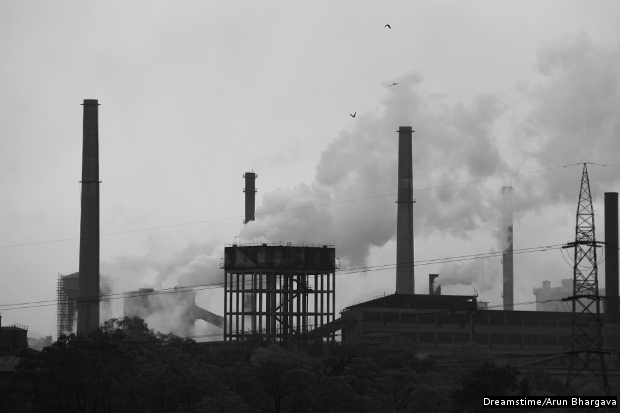 India's participation in a global agreement on climate change will reduce India's greenhouse gases equal to closing one-sixth of India's thermal power stations over the next 35 years, according to an IndiaSpend calculation, based on carbon-dioxide equivalent emissions from thermal power stations in 2012.
As many as 197 countries reached a legally binding agreement in Rwanda on October 15, 2016, to phase down the production and consumption of hydrofluorocarbons (HFCs)--gases that can have global warming potential up to 12,000 times more than carbon dioxide (CO2). The agreement will come into force on January 1, 2019, and avoid emission of 70 billion tonnes of CO2 equivalent globally--the same as stopping more than half of tropical deforestation.
India agreed to cut the production and use of HFCs starting in the year 2028--a more ambitious plan than India's earlier proposal--according to a press release by Climate Action Network International, a network of non-governmental organisations working to limit climate change.
India will reduce 75% of its cumulative HFC emissions between 2015 and 2050, under the new agreement finalised in Rwanda, according to Vaibhav Chaturvedi, a researcher at Council on Energy, Environment and Water (CEEW), a New Delhi-based research institute.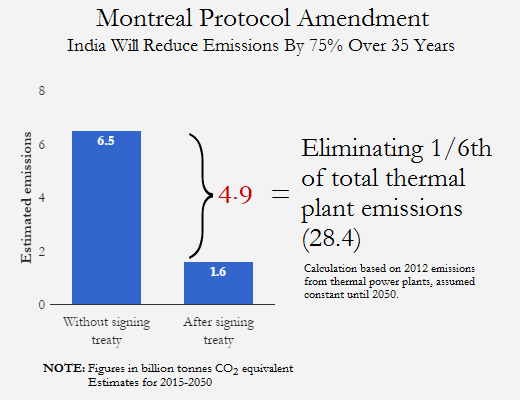 Developed countries will first start reducing HFCs in 2019, followed by a group of developing countries including China, in 2024. India is in the group of countries which will reduce HFC consumption last, starting 2028.
The agreement is part of the Montreal Protocol, a global treaty for reducing the use of ozone-depleting substances, and now global warming gases.
"The agreement recognizes the development imperatives of high-growth economies like India, and provides a realistic and viable roadmap for the implementation of a phase-out schedule for high global warming potential HFCs," according to a press release by the Ministry of Environment and Forests.
HFCs are commonly used in air conditioners and refrigerators. HFCs would make up 5.4% of India's global warming impact in 2050, as demand for air conditioners and refrigerators rises, according to a 2015 report by CEEW. The highest HFC emissions in 2050 are predicted to come from residential air-conditioning (35%) and commercial refrigeration (28%).
HFC emissions in the world are expected to grow by 10-15% by 2050, and could contribute to 200 billion tonnes of CO2 equivalent emissions. Preventing the rise of these emissions could reduce the warming of the earth by 0.5 degrees Celsius, according to this 2015 brief by Institute for Governance and Sustainable Development, a Washington DC-based advocacy and research organisation.
The new agreement for HFC reduction for a group of countries--which includes India, Pakistan, Iran and Iraq--is more ambitious that the previous Indian proposal for developing countries but less intensive that the North American proposal.
India had earlier proposed a plan for developing countries to freeze HFC consumption by 2031, which means HFC use and production would be highest in that year, and decrease every year after 2031. A counterproposal by North America had suggested developing countries freeze HFC production and consumption in 2021.
An earlier freeze and baseline under the agreed amendment means that India will mitigate more CO2 equivalent that its original proposal.
Under the new agreement, India will freeze HFC consumption and use by 2028, while phasing down HFCs, by 2047, to 15% of the average consumption and use over 2024-2026.
It would approximately cost India $16.48 billion (Rs 1.1 lakh crore), Chaturvedi, the CEEW researcher, said.
Another group of developing countries, including China, has agreed to freeze HFC consumption and use even earlier, by 2024. By 2045, these countries will reduce HFCs by 80% of the average consumption between 2020 and 2022.
Developed countries, such as the Unites States and western European countries, have agreed to freeze HFC consumption and use in 2019, and by 2036, phase down HFCs to 15% of the average use and consumption between 2011 and 2013.
"The flexibility and cooperation shown by India as well as other countries has created this fair, equitable and ambitious HFC agreement," Prime Minister Narendra Modi tweeted on October 15, 2016.
India, and other developing countries, will be financially assisted by the Multilateral Fund of the Montreal Protocol, philanthropies, and other developed countries, as they switch from HFCs to other alternatives, with lower global warming potential, as IndiaSpend reported on October 14, 2016.
The Indian government also passed an order on October 13, 2016, for all producers to destroy HFC-23, a gas with a global warming potential 12,500 times that of CO2, according to the United Nations Environment Program. This will result in eliminating emissions of 100 million tonnes of CO2 equivalent in India, over the next 15 years, according to Chandra Bhushan, the director of Centre for Science and Environment, a New Delhi-based research and advocacy organisation, reported Livemint.
(Shah is a reporter/editor with IndiaSpend.)
We welcome feedback. Please write to respond@indiaspend.org. We reserve the right to edit responses for language and grammar.
__________________________________________________________________
"Liked this story? Indiaspend.org is a non-profit, and we depend on readers like you to drive our public-interest journalism efforts. Donate Rs 500; Rs 1,000, Rs 2,000."