India's Drug Traffickers Say 'Just Courier It'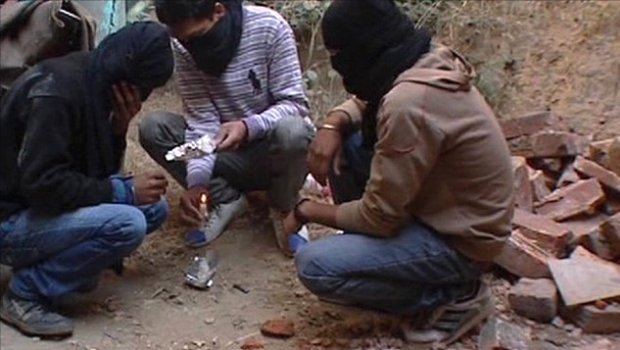 Highlights
* Seizures of controlled drugs have increased from 631 kg in 2007 to 7,208 kg in 2011
* Most of the trafficking from India done in the form of courier parcels
* Over 18,400 Indians, 236 foreigners arrested under drug trafficking charges in 2011
The recent scandal involving boxing star Vijender Singh has turned the focus again on the drug trafficking problem in India. The problem, it turns out, is not as acute as it could be. It's actually intriguing to see now the trade works and thrives and with who's help.
A recent annual report of Narcotics Control Bureau, the premier agency under the Ministry of Home Affairs dealing exclusively with drug trafficking activity in the country had this to say: while seizures of drugs like opium and controlled drugs have been increasing, the number of cases being filed are declining across the country; Punjab, which faces an acute crisis of drug abuse, leads the charts in drug seizures and the number of Indians arrested in drug trafficking cases has declined 17% to over 18,400 in 2011.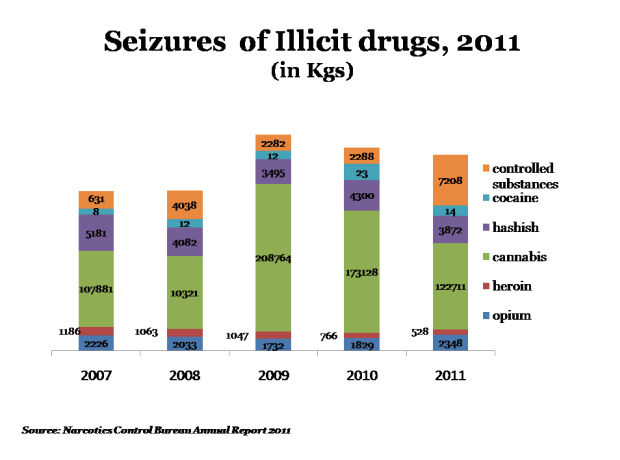 So, opium seizures have increased from 2,226 kg in 2007 to 2,348 kg in 2011 although the number of cases has actually dropped from 1,198 to 892 during the same period.
In the case of controlled drugs (defined as substances that can be used for manufacturing illicit narcotic drugs and psychotropic substances), seizures have increased from 631kg in 2007 to 7,208 kgin 2011. And the number of cases has increased from 7 to 20 in the same period. So, the increasing number of seizures in case of opium and psychotropic drugs can be seen as better police work.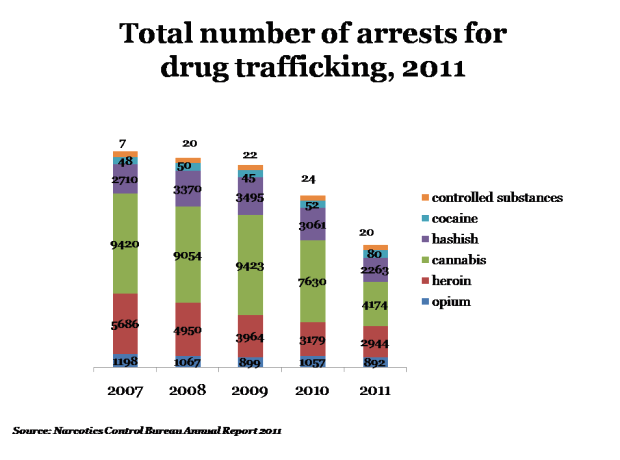 Why Is India Important For The Drug Cartel?
India is both a destination and a transit route for drugs as it is strategically located between the major opium producing regions of South West Asia and South East Asia known as 'Golden Crescent' (countries to the south west of India with Iran, Afghanistan and Pakistan) and 'Golden Triangle'(countries to south east with Thailand, Laos and Myanmar), respectively.
While India is a destination for opium, heroin, ganja and cannabis, it is a manufacturing and transit point for psychotropic drugs due to lax drug production regulations and higher demand in western and East Asian counties.
Watching Courier Parcels
According to the annual report of the Narcotics Control Bureau (NCB), most of the trafficking from India to other countries is done in the form of courier parcels. Nearly 31% of the 22 main cases (busts carried out by local authorities or NCB) at the international airports in 2011 were in the form of parcels from courier companies. The majority of parcels go to Asian countries like Malaysia, mostly containing cocaine and hashish.
At the state level, Punjab seems to have the highest numbers seizures for opium and heroin. In the case of cannabis, it is grown in West Bengal and also comes to the state from Myanmar. Hashish of Nepali origin was 49% of the total seizures made in India in 2011. U.P topped the list of seizures, and the main reasons are internal cultivation and a porous border with Nepal…
According to NCB and UNDOC, in the case of psychotropic drugs, India is more of a manufacturing hub rather than a consumption destination. Many clandestine labs have been busted with the majority of them being in the states of Gujarat and Maharashtra.
There are no particular states highlighted when it comes to trafficking in cocaine. There have been seizures in almost all metro cities, especially at international airportswhere cocaine has been seized from West Africans…
Increasing Arrests
The following figure shows the number of foreigners arrested for drug trafficking in India in 2011: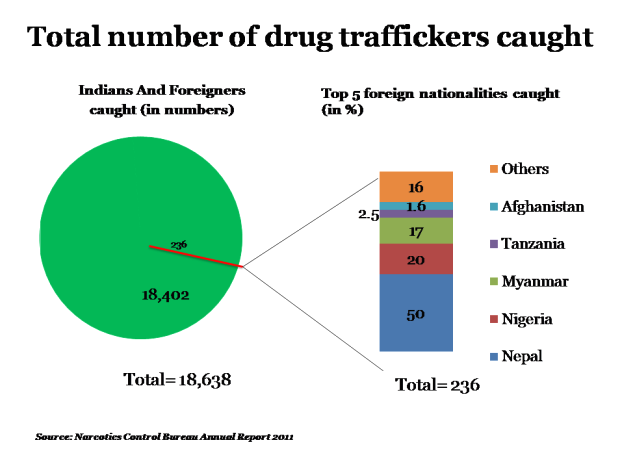 42% foreign nationals caught for drug trafficking in India are from Nepal followed by Nigeria with 20%. While the number of foreigners arrested has increased from 181 in 2007 to 236 in 2011, 18,402 Indians were caught under drug trafficking charges in 2011. Incidentally, the number has actually come down from 22,086 people in2007.
Strengthening NCB
According to NCB, states have been stepping up efforts to increase the number of seizures and reduce the amount of drugs coming and leaving the country. This has been made possible by increasing the strength of investigative officers from 221 to 314 between 2009 and 2010.
So, even though we have data about supplies, seizures and arrests, there is no data on domestic demand and how big the drug problem is within the country. This, at a time when there is increased awareness about drug abuse and attempts to check the spreading menace….