India's Cheap Generic Drug Effort Hits Roadblocks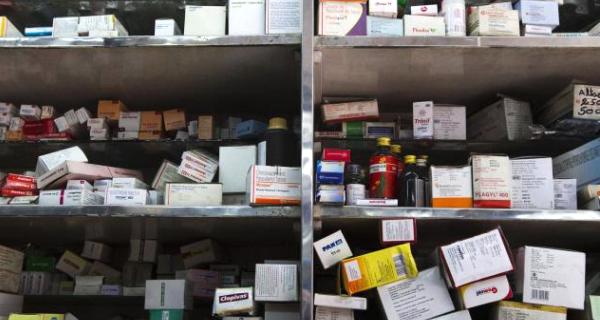 Highlights
* Government started Jan Aushadhi stores to ensure availability of quality affordable medicines to common man.
* Rajasthan accounts for more than 50% of operational Jan Aushadhi stores.
* Short supply by pharma PSUs serious concern for Jan Aushadhi stores.
Accessibility to quality, affordable medicines has always been a major cause of concern in India. The Government, in an attempt to plug the shortfall, initiated a programme called Jan Aushadhi, a chain of medical stores that would provide quality drugs at low cost to the common man. The drugs, for now, come from state run public sector units.
IndiaSpend's Sourjya Bhowmick surveys the initiative, driven specifically by the Government's Department of Pharmaceuticals, to find that stores have so far opened only in 8 states. Rajasthan and Punjab have most of the stores.
Affordable Medicines
What is the size of the gap? Well, Srikant Kumar Jena, Minister of State for Chemicals and Fertilisers, recently highlighted the drastic price differences between the average market price of generic drugs and prices in Jan Aushadhi stores in a written reply to the Rajya Sabha.
Jan Aushadhi's mission is to "provide affordable healthcare by making available quality medicines at affordable rates " but there is no budget provision for the programme. Pharmaceutical PSUs are supposed to supply medicines to the stores, and profits, if any, will be for the body that runs the store. This can be the state co-operatives or NGOs operating the store.
A Bureau Of Pharma PSUs of India (BPPI) was formed in December 2008 to help achieve the objective. Five pharma PSUs participate actively in the programme: Indian Drugs and Pharmaceuticals Limited (IDPL), Hindustan Antibiotics Limited (HAL),Bengal Chemicals and Pharmaceuticals Limited (BCPL), Karnataka Antibiotics & Pharmaceuticals Limited (KAPL) and Rajasthan Drugs & Pharmaceuticals Limited (RDPL).
There are 107 Jan Aushadhi stores currently operational around the country. Stores have been opened in only 8 states with Punjab and Rajasthan having more stores than other states. Media reports state that the original idea was to have 600 stores by 2012, and increase the number of stores to 3,000 by the end of the 12th Plan (2012-17).
Role of Other Stakeholders
Apart from the pharma PSUs, there are other stakeholders involved in the running of Jan Aushadhi stores like the state governments, the pharma industry, NGOs, Department of Pharmaceuticals and National Pharmaceutical Pricing Authority (NPPA).
Department of Pharmaceuticals looks after the publicity of the scheme, and contributes to it financially. However, there is no mention of any amount allotted to the scheme in the budget of the ministry. Pharmaceutical companies are expected to produce the drugs and supply it to the stores, and store operators are supposed to run it on a not-for-profit basis and handle operational expenses on their own. NPPA would look after the pricing and keep the stores updated about the list of essential medicines that should be stocked.
The state governments have the task of providing space for the stores in government-run hospital premises and can also run the stores. Even reputed NGOs/Red Cross/ Government bodies can run Jan Aushadhi stores. The stores are supposed to be self-sustaining and require no additional government funding for its operations. The private sector is expected to make available unbranded generic medicines and surgical products at cost price or with minimal profit. While tenders were floated in the past, the process has still not taken off.
Chain of Drug Stores
Table 1 gives an idea of the total number of Jan Aushadhi stores:
Table 1: Ensuring Availability of Cheap Medicines
| | |
| --- | --- |
| States | Number of Jan Aushadhi Stores |
| Rajasthan | 53 |
| Punjab | 21 |
| Orissa | 14 |
| Himachal Pradesh | 5 |
| Haryana | 4 |
| Andhra Pradesh | 3 |
| West Bengal | 3 |
| Delhi | 3 |
| Chandigarh | 3 |
| Uttarakhand | 2 |
| Jammu & Kashmir | 1 |
| All India | 112 |
(Source: http://janaushadhi.gov.in/)
A total of 112 Jan Aushadhi stores have been opened till now. However, only 107 are in operation. While one has been closed in Andhra Pradesh due to administrative reasons, two each have closed down in Punjab and Haryana due to operational losses.
Rajasthan has more than half the total Jan Aushadhi stores in India. All Jan Aushadhi stores in Rajasthan are run by Rajasthan State Consumer Co-operative Federation. Stores in other states are mostly operated by the Red Cross.
There is no clear reason why Jan Aushadhi stores have not been opened in other states. However, media reports suggest that Gujarat, which has no Jan Aushadhi stores, does not plan to open any in the future as it has its own model. We earlier wrote about Tamil Nadu, which provides free medicines through their own programme.
Gujarat's Central Medical Stores Organisation (CMSO) procures drugs through tenders, which are then inspected by the Food and Drugs Control Authority and distributed to state hospitals. CMSO stores around 100 essential drugs. It has been running for the last ten years, provides free medicines, bears the entire cost of treating children below 18 years at public hospitals and also covers BPL families to a maximum limit of Rs 30,000.
Jan Aushadhi vs Private Market
Jan Aushadhi stores sell around 320 generic drugs. The various categories of drugs available are anti-inflammatory, anti-bacterial, anti-infectives, anti-tuberculosis, anti-fungal, intravenous fluids, vitamins, gastro-intestinal, cardio-vascular, respiratory, anti-diabetic, cortico-steroids, anti-malarial and vaccines.
Table 2 gives an idea about the price of generic medicines at Jan Aushadhi stores and the market price of branded medicines:
Table 2: Cheap But Effective
| | | | |
| --- | --- | --- | --- |
| Name of Medicine | Dosage | Average Market Price of Branded Medicines (Rs) | Price of Generic Medicines sold in Jan Aushadhi Stores (Rs) |
| Ciprofloxacin | 250mg | 55 | 11 |
| Ciprofloxacin | 500mg | 97 | 21 |
| Diclofenac SR | 100mg | 52 | 3 |
| Cetrizine | 10mg | 37 | 3 |
| Paracetamol | 500mg | 14 | 2 |
| Nimesulide | 100mg | 39 | 3 |
| Cough Syrup | 110ml | 33 | 13 |
(Source: Press Information Bureau)
Table 2 shows that prices of generic medicines are remarkably low compared with the branded drugs that are often purchased from a drug store.
While that may be the case, many essential medicines are not available in Jan Aushadhi stores as they are solely based on supplies from pharma PSUs. Many Jan Aushadhi stores are reported to have empty shelves and low supplies.
Media reports suggest that the government has planned to float tenders to buy generic medicines from private companies in order to revive the project.
Earlier, Indian Pharmacist Association, in a report dated September 2010, had said that some of the Jan Aushadhi stores had already started procuring medicines from the open market. Incidentally, the Department of Pharmaceuticals had invited tenders in 2008 and a few companies were selected. However, after scrutiny of applications and inspection of premises, the department cancelled the whole process.
Reviving The Programme
The Jan Aushadhi programme was started with the idea of making drugs affordable to the common man. But many challenges plague the programme. A few shops have already closed down due to operational losses plus unavailability of drugs. The lackadaisical response of private players to the programme also seems to be a cause for concern.
Media reports suggest that the operational expense works out to be higher than the total sale of drugs at the Jan Aushadhi stores. More importantly, short supply from the public pharma sector units poses to be a big impediment. Doctors not prescribing generic drugs and the general notion that cheap drugs may not be effective are also highlighted as problems.