India's Biggest Companies Still Pay Little Attention to Impact on Community
Indore: India's top 100 companies only have a superficial commitment to corporate social responsibility and few involve the community in development projects, few assess the impact of their business on local communities, few disclose mechanisms to ensure board diversity or have policies to choose suppliers that prohibit child labour, according to an analysis of public disclosures by the India Responsible Business Forum (IRBF), a civil society collaboration.
Communities continue to be a "receptacle for charity, rather than a partner in development", according to the report released by IRBF on India's top 100 companies businesses. Not a single company disclosed having stakeholder consultations while formulating their CSR policy, the report said.
In India, companies with a minimum net worth of Rs 500 crore or turnover up to Rs 1000 crore or a net profit of at least Rs 5 crore have to spend at least 2% of the average net profits the company made during the three immediately preceding financial years on CSR.
Only 15 of 99 companies reported a mechanism to find out a community's problems before planning a Corporate Social Responsibility (CSR) project, and 27 of 99 companies said they had a system in place for third party assessments of CSR projects, the analysis found.
IBRF releases the India Business Responsibility Index each year that analyses public disclosures made by the top 100 companies by market capitalisation on five measures--commitment to non-discrimination in the workplace, respecting employee dignity and human rights, community development, inclusiveness in supply chain and community as business stakeholders, which are broadly based on the 2011 National Voluntary Guidelines on Social Environmental and Economic Responsibilities of Business.
"As corporates are critical components of the social system, they are accountable not merely to their shareholders from a revenue and profitability perspective but also to the larger society which is also its stakeholder," the report cited SEBI's rationale behind the national voluntary guidelines and the index.
The index only analyses policy and not actual implementation or performance of the company. It also does not independently validate information provided in public disclosures to SEBI.
The number of disclosures increased between 2013 and 2016 showing an increasing openness from companies, but they have become "more careful in reporting over the past one year," with the number of disclosures stagnating between 2016 and 2017, said Pradeep Narayanan, part of the principal research team of the report, and director of research and capacity building at New Delhi-based Praxis India, a nonprofit working on community participation. The fewest disclosures were related to the inclusiveness of the supply chain, he said.
"The overall data, especially when seen alongside the profits of corporate India, continue to reflect a distance between the interests of business and shareholders and those of communities and of workers," the report said. Only six companies each scored in the top band for just two measures--non-discrimination and community development.
And this is when the index is "already biased in favour of companies". First because we only look at policy commitment and not implementation, and second because we only look at the company's own disclosures," Narayanan said.
These disclosures, under SEBI's business responsibility report, are the only disclosures that help in understanding whether businesses follow responsible practices in their core businesses, and can help serve as a source of information for civil society organisations (some of whom might receive funds from these organisations), for communities, the media, and for the government.
"Often the questions in the business responsibility report make companies think about these issues," and could "push companies to be more responsible, Narayanan said.
Low commitment to analysing business impact on communities
The report also analyses how companies interact with communities and the environment affected by their business operations.
About 44 companies, 22% more than in 2016, reported the existence of systems that promote judicious use of natural resources.
There is a lack of commitment from companies to provide similar or better living conditions and services to people who are affected by company projects. As many as 90 of 95 companies did not report any such policy, the report found. No company reported local employment generated from their projects.
None of the companies disclosed the presence of systems to seek community participation in projects, 13 disclosed policies for the recognition and respect for local cultures, and six said they had policies for recognition of public hearing and communication of project impacts to the community, the report found.
The following figure shows the change between 2016 and 2017 in businesses' commitment to assessing the impact on communities.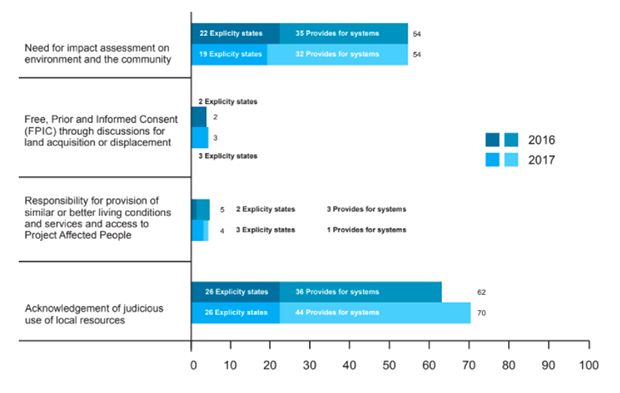 Figure: Recognition of the need to assess business impact on communities and means to minimise the negative impacts [2016 (n=100), 2017 (n=99)]
Few companies disclose policies on ensuring diversity on the board
All but 24 companies disclosed commitment to non-discrimination as part of their recruitment process while 50 of 100 disclosed details about systems and mechanisms to ensure non-discrimination, the 2018 report by the IRBF found. Only 27 disclosed policies on ensuring diversity on the board, out of which 7 disclosed steps and mechanisms to ensure diversity.
Only 19 companies disclosed policies on people with disability. In terms of diversity in the workplace, 96 companies disclosed number of women employees, while 15 companies disclosed numbers of SC and ST employees, the report found.
Employee rights don't extend to contractual employees
68 companies recognised the freedom of association for employees, while 54 recognised the principle of collective bargaining, the report found. But few (24 of 99) disclosed commitment to ensuring the minimum wage, while 6 companies reported they were committed to providing a fair living wage, the report found.
Further, these policies don't extend to contractual employees. Only 6 companies explicitly stated in their policies that the social benefits are extendable to contractual employees.
(Khaitan is a writer/editor with IndiaSpend.)
We welcome feedback. Please write to respond@indiaspend.org. We reserve the right to edit responses for language and grammar.