India's Ambitious New Energy Policy Draft Tries To Bridge Dreams And Reality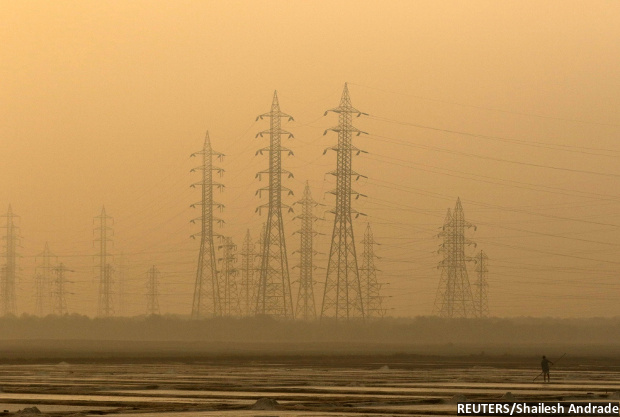 By 2040, India's electricity demand will rise 4.5 times over 2012 levels. While clean energy (like renewables, nuclear and hydro) may account for 13.5% of electricity produced by 2040 (from 3.7% in 2012), the share of coal, oil and natural gas may fall by just two percentage points to 78%.
Greater efficiency and technology can cut energy demand in 2040 by 16.6%; up to 90% of this reduction is possible in transport, industry and construction. New buildings codes could cut energy use by 50% in new construction.
If most Indian vehicles were electric by 2030, pollution levels in cities could drop 80-90%, and India could save $100 billion, a sum over two times larger than the current defence budget
These are some of the projections made by India's new draft National Energy Policy (NEP), released by the government's think tank, Niti Aayog, in June 2017. The policy closed for public comments on July 14, 2017.
The NEP focuses on four major objectives: Affordable energy access for all; reducing dependence on fossil-fuel imports; becoming a low carbon economy through growth in renewable energy; and sustaining economic growth.
Strategies to achieve these include privatising coal production and letting the market set prices for coal, removing subsidies on electricity and providing direct benefits to people vulnerable to price rise and letting competition among different resources (both fossil fuel and renewables) decide the energy mix of the country, not policy interventions.
However, while the NEP recommends several ambitious changes to the way coal is produced and distributed, an IndiaSpend analysis showed that the plan projects, at its highest, a doubling of coal-fired capacity by 2040, which is not supported by other projections made about coal by other government documents, such as the draft National Electricity Plan (produced by the Central Electricity Authority in 2016), which said India would not require any more coal capacity addition until at least 2027.
What will 2040 look like?
By 2040, India's population is predicted to increase to 1.6 billion, and the rate of urbanisation (projected average rate of change of the size of the urban population over a given period of time) of this population will be 47%. The share of manufacturing in the country's gross domestic product (GDP) will double from its current levels to 30%. As of 2017, nearly 25% of the population is still without access to electricity and 40% without access to clean cooking fuel.
Source: Draft National Energy Policy, 2017
NOTE: Figures for 2022 & 2040 are projections; Projections for various energy scenarios were done through an energy modelling exercise called the India Energy Security Scenarios (IESS), 2047, which was used to project likely energy demand in the country every five years up to 2040. The IESS makes several assumptions, such as the spread of energy efficiency programmes, consumers changing their energy consumption behaviour and growth in GDP, but these results may change if the models used to predict them do.
Under the "ambitious scenario", energy demand in 2040 could be brought down by 2628 terawatt hours (more than twice the amount of electricity that the country generated in 2012: 1050 terawatt hours), which is a 16.6% reduction over the "default scenario" (business as usual), through improved energy efficiency and technological advancements. Over 90% of this reduction could come from innovation and increased efficiency in the transport, industry and construction sectors.
Over three years to 2015, the government said it achieved energy savings equal to 1.25% of India's total energy supply and encouraged investment worth more than Rs 24,000 crore in energy efficiency technologies, the market for which is growing.
To achieve greater energy efficiency in the construction sector, the Energy Conservation Building Code (ECBC) 2017 was launched in March, prescribing energy performance standards for new commercial buildings. The government has estimated that adoption of the ECBC 2017 for all new commercial constructions will bring down energy use by 50%, translating to energy savings of about 300 billion units by 2030 and a peak demand reduction of over 15 GW (gigawatt) in a year, according to this government press release. A reduction in peak demand can significantly reduce CO2 emissions, as the oldest and dirtiest power plants are often fired up to supplement power requirements during peak hours.
In the transport sector, the NEP assumes a shift towards rail-based mass transport systems and electric vehicles. If most of India's vehicles were powered by electricity by 2030, which is Prime Minister Narendra Modi's vision, not only would it reduce energy demand, but also save the exchequer $100 billion (about Rs 6.5 lakh crore) every year, while reduce pollution levels in cities by 80-90%, according to this March 2017 government press release. For perspective, $100 billion is over twice India's defence budget for 2017-18, or over 10 times the amount India invested in renewables in 2016.
Source: Draft National Energy Policy, 2017
NOTE: Figures for 2022 & 2040 are projections; Projections for various energy scenarios were done through an energy modelling exercise called the India Energy Security Scenarios (IESS), 2047, which was used to project likely energy demand in the country every five years up to 2040. The IESS makes several assumptions, such as the spread of energy efficiency programmes, consumers changing their energy consumption behaviour and growth in GDP, but these results may change if the models used to predict them do.
The two pathways, "business as usual" and "ambitious", are based on two factors: A transition towards cleaner sources of energy and more domestic resources (like coal) for increased energy security, assuming that the government's target of adding 175 GW of renewable energy by 2022 is met; and continued addition of renewables post 2022, even if there are no targets set.
In 2012, coal, oil and natural gas provided over 80% of India's primary energy supply, while renewable and clean energy sources provided 3.7% of supply. Under the "ambitious" pathway, the proportion of renewable and clean energy in supply would increase to 7.3% in 2022, and 13.5% in 2040. At the same time, the contribution of the fossil fuels would remain over 80% in 2022, but reduce to 78% by 2040.
Of the fossil fuels, the share of coal in India's commercial primary energy supply was 55% in 2015-16 and is expected to remain high at 48-54% in 2040. Imports contributed 25% of the coal supply in 2015-16, the NEP said.
"Cutting fossil fuel consumption would promote the twin goals of sustainability and security. Hence the policy lays heavy emphasis on decarbonisation through the twin interventions of energy efficiency and renewable energy," it added.
Let there be competition: Privatising coal and letting markets decide prices
"The present coal regime in India continues to be a historical relic, while most other sectors of the economy have evolved to adopt free market principles," the NEP said, making it "essential that we move away from this opaque coal economy and introduce greater competition in it".
Coal production has remained the state's prerogative in India since Independence. The NEP recommended that state-owned Coal India Limited (CIL)--producing 84% of India's coal, and feeding 98 out of 101 coal-based thermal power plants in India--be privatised, and its various arms be allowed to compete with each other in the market. This will improve coal production and distribution, the NEP said. This means that different energy sources, whether fossil fuels or renewables, could gain a larger share in the future energy mix based on prices that are decided by the market.
"Linking pricing of coal, other fuels, and electricity on market principles will prevent wasteful use of resources and allow a level playing field for clean energy alternatives," Vibhuti Garg, researcher at the International Institute for Sustainable Development, a non-profit policy research organisation based in Canada, told IndiaSpend.
This would allow power-generation companies to price electricity on unsubsidised, genuine costs, and consumers could be compensated for any price rise via direct benefit transfers (DBT).
"This will improve financial performance of electricity distribution companies by reducing the revenue gap, and setting tariffs at cost-reflective levels will remove market distortions," Garg said.
How effective the direct benefit transfers are, depends on how well they are designed, according to Garg. Some questions that need to be answered for successful transfers include picking the optimal amount to be transferred, deciding who will receive the benefit (it could be a family, an individual or even every electricity meter), and where it should be transferred, for example special bank accounts, she added.
However, with most people, especially politicians, opposed to hikes in electricity tariffs, as IndiaSpend reported on April 13, 2017, subsidy reforms are a tough sell.
Coal's uncertain future in India's energy mix
"The electricity markets of the world including India are being shaken by the falling costs and rising efficiency of renewable technology," the NEP states, adding that "once the costs of supporting technologies such as battery storage (already falling at the rate of 10% per year) make the cost of variable renewable power viable, coal based power will phase out. This makes the task of projecting the demand for coal difficult".
Despite the uncertainty over addition of new coal-based thermal capacity, the prospects for which are falling worldwide, as IndiaSpend reported on April 29, 2017, the NEP projects that coal-based generation capacity will rise from almost 195 GW (by June 2017) to anywhere between 330 to 441 GW by 2040, which at its highest will be over two times the current capacity.
This projected expansion is not supported by other policy documents like the draft National Electricity Plan released by the Central Electricity Authority in December 2016, which stated that India does not plan on expanding its coal-fired capacity at least until 2027, while taking into account about 50 GW of installations currently under different stages of construction and likely to yield results in the future.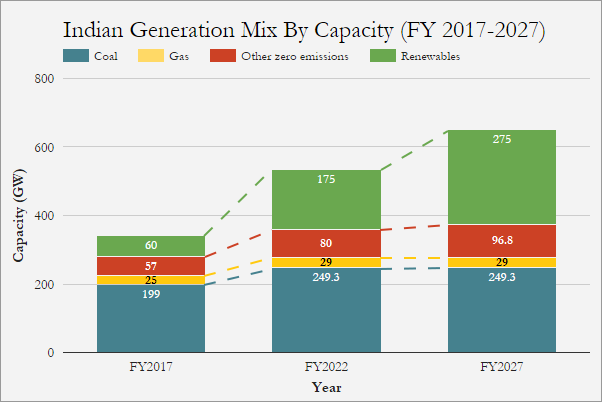 Source: Institute for Energy Economics and Financial Analysis, Draft National Electricity Plan 2016
NOTE: India currently has 50 GW of coal under construction, and this expansion in shown in the 2022 figures. But no additional new coal power stations will be needed before 2027.
"The continuing rapid growth in renewable energy in India, combined with sustained reductions in coal imports and a slowdown in coal development—with coal-fired ultra-mega power projects cancelled—is a strong indication that the low carbon transformation of India's energy supply sector is gathering momentum," according to this 2017 analysis by Climate Action Tracker, an independent scientific analysis produced by three research organisations tracking climate action since 2009.
One of the reasons the increase in capacity is necessary, the NEP suggested, is to make investments being made in coal production viable. CIL, now the world's largest coal producer, is making investments worth $1 billion/year to augment its capacity and reach a target (which might be unnecessary) of 1 billion tonnes/year.
Given that the cost of renewable energy is dropping and that in 2016-17, renewable installations overtook conventional ones for the first time, it would be better to let different sources compete in the market and that no "administrative directions" be provided for future investments, the NEP proposed.
CIL itself is uncertain of its position in the coming years. In a tender that it put out this year, the company said it wanted to "assess the long term vision up to 2030 for the coal sector in India, which takes into account the environmental factors such as reduction of carbon footprint, non-abatement of global warming…," and that "the potential for performance of the sector needs to be assessed in light of multiple changes in the energy sector".
(Patil is an analyst with IndiaSpend.)
We welcome feedback. Please write to respond@indiaspend.org. We reserve the right to edit responses for language and grammar.
__________________________________________________________________
"Liked this story? Indiaspend.org is a non-profit, and we depend on readers like you to drive our public-interest journalism efforts. Donate Rs 500; Rs 1,000, Rs 2,000."