Indians Under Trial Exceed Dutch Population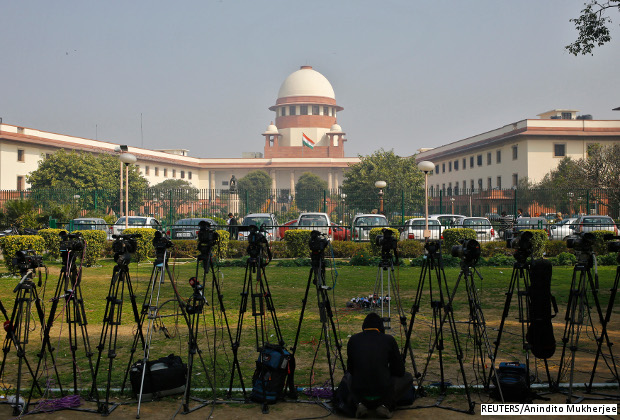 A cameraman setting up his equipment in front of the Supreme Court in Delhi in February 2014.
For the 13 years the Salman Khan hit-and-run case was in trial, it was one of 18.5 million criminal cases pending in India's district and lower courts, and the 50-year-old Bollywood star was one of 22.2 million people under trial.
Driven by a shortage of prosecutors, judges and courts and—among other reasons—slow procedures, there are more people under trial in India than there are people in the Netherlands or Kazakhstan. Some of the other reasons are the excessive number of lawsuits being filed and an inordinate concentration of work in the hands of some members of the Bar.
In 2013, the cases of as many as 85% of people put on trial were pending, according to National Crime Records Bureau (NCRB) data: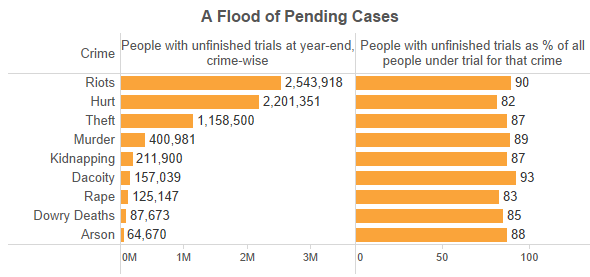 Source: National Crime Records Bureau; Figures as on April 1, 2014.
The number of under trials in prison (2,78,503) in 2013 is 67.6% of the total prison population. The previous year, the percentage was 66.2%. 37.3% of undertrials were in prison for periods up to 3 months in 2013. The highest percentage of undertrials detained for up to 3 months was reported in Andhra Pradesh (89.2%).
In 2014, the Supreme Court ordered the release of all undertrial prisoners who have been detained in prison for at least half the maximum sentence prescribed for the offences they are charged with. This brought much needed relief to poor people who were languishing in jails as they were not able to pay sureties and bail bonds to get out.
Let us look at the rates of pending cases in a variety of courts across India:
An Eternal Catch-Up Game

Courts

Cases brought forward

Freshly instituted

Cases disposed of

Cases pending at quarter-end

Cases pending as % of all cases in trial during quarter

Supreme Court (criminal)

12211

5466

5267

12410

70.2

Supreme Court (criminal+civil)

64330

22549

20819

65970

75.9

High Courts (criminal)

1023738

176652

166765

1033626

86.1

High Courts (criminal+civil)

4456412

508727

486115

4479023

90.2

District and Subordinate Courts (criminal)

18560764

3704354

3266414

18998704

85.3

District and subordinate courts (criminal+civil)

26839032

4866618

4344835

27360814

86.3
Source: Supreme Court News; Figures as on April 1, 2014
Criminal cases form 19% of the Supreme Court's pending cases and 25% of the settled cases.
In high courts, 23% of pending cases (a million of them) are criminal cases, while 6.9% of those settled are criminal cases. In district and subordinate courts, 67% of pending cases are criminal.
New cases flood in, and together with the backlog, they outnumber settled cases and increase the caseload. For instance, in the first quarter of 2014, the Supreme Court had 5,466 new criminal cases and 12,211 cases carried over from the previous year, but only 5,267 of those cases were settled.
What India needs: Judges—and more judges
India has 15 judges for every million people, one of the world's lowest ratios.
Lower-court vacancies are a leading cause of pending trials, IndiaSpend previously reported, as the table below indicates:
Understaffed and Under-strength

Court

Sanctioned Strength

Working Strength

Vacancies

Vacancies as % of sanc. strength

Supreme Court of India

31

25

6

19.4

High Courts of India

906

641

265

29.2

District and Subordinate Courts

19726

15438

4288

21.7
Source: Supreme Court News; Figures as on April 1, 2014
The lower courts were 22% (or 4,288) short of judges, as of April 2014, the high courts 29% (256) and the Supreme court, 19% (six).
Source: Supreme Court News; View raw data here.
Source: Supreme Court News; View raw data here
Delays tend to be higher in lower courts and correspond with the number of judicial vacancies. High courts with the most pending cases are also those with the most vacancies, the data show.
Update: The story has been updated with additional information on undertrials in prison and the reasons for the lengthy legal process in India.
Salve is a policy analyst with IndiaSpend.
Additional research by Aadya Sharma and Pratiksha Wadekar.
---
"Liked this story? Indiaspend.com is a non-profit, and we depend on readers like you to drive our public-interest journalism efforts. Donate Rs 500; Rs 1,000, Rs 2,000."