Indians Increasingly Prefer Private Education, 71 Million Take Tuitions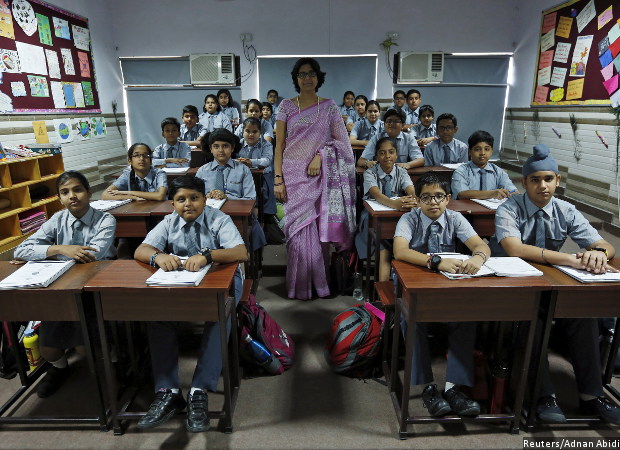 In a recent Mann Ki Baat address, Prime Minister Narendra Modi stressed that every government should focus on quality learning and outcomes rather than the school enrolment.
Was asked a pertinent question on education. Highlighted why we need to think of learning over only schooling, outcome over only outlays.

— Narendra Modi (@narendramodi) April 24, 2016
His concerns, expressed on April 24, 2016, are not unfounded.
As many as 62% of children in India attended a government primary school in 2014, compared to 72.6% in 2007-08--indicating a surging preference for private schools--according to an IndiaSpend analysis of data in a recent survey on education released by the National Sample Survey Organisation (NSSO).
At the upper primary level, the percentage of students in government schools reduced from 69.9% in 2007-08 to 66% in 2014.
An urban-rural divide is evident: Only 31% of children attended government primary schools in urban areas, against 72.3% in rural in 2014. Yet, this does not mean learning outcomes have improved, IndiaSpend reported last year.
Source: National Sample Survey Organisation
No more than 26% of children in class V can do division, a drop of more than 10% over four years, according to the 2014 Annual Status of Education Report by Pratham, an education NGO.
Despite spending Rs 586,085 crore ($94 billion) over the last decade on primary education, India has been unable to arrest the decline in learning, IndiaSpend reported.
Source: Annual Status of Education Report, 2014
Government schools shunned, rising demand for government colleges
Till Class XII, students prefer private institutions over government, with 58.7% citing "better environment for learning" as the major factor for studying in private schools at the primary level.
Only 11.6% cited "English as a medium of learning" as a reason for studying in private schools.
However, when it came to graduation, post-graduation and diploma studies, many enrolled in private institutions because they did not get admission to a government institution.
For instance, 43% of respondents pursuing a diploma cited inability to get admission in a government institution as the reason to enroll in a private institution, while the same number was 27.5% for students pursuing graduation degrees and above.
The trends were uniform in rural and urban areas--although the demand for English-medium instruction in urban areas was higher by 7% at the primary level--pointing to growing educational and career aspirations.
Source: National Sample Survey Organisation
26% of students across India sign up for private coaching
As many as 71 million students (26% of all students) enroll for private coaching in India: 273 of every 1,000 males and 243 of every 1,000 females.
Further, 89% of them cited "augmenting basic education" as the reason for additional tuition.
India's private coaching market was likely to touch $40 billion (Rs 2.6 lakh crore) by the end of 2015, according to a report by Associated Chambers of Commerce in India (ASSOCHAM), a trade watchdog.
(Saha is an independent journalist based in Delhi.)
We welcome feedback. Please write to respond@indiaspend.org. We reserve the right to edit responses for language and grammar.
__________________________________________________________________
Liked this story? Indiaspend.org is a non-profit, and we depend on readers like you to drive our public-interest journalism efforts. Donate Rs 500; Rs 1,000, Rs 2,000.