Indian Slums Declining Fast!
Tall high rises with pockets of slums adjoining them are a common sight in a bustling metropolis like Mumbai. It is now well documented that slum dwellers enjoy a higher level of economic prosperity than rural India where they often hail from. But they also have to face tough living conditions like overcrowding, lack of hygiene and sanitation, inadequacy of drinking water and poor construction.
It has also been felt in recent years that increased migration to the cities and inadequate or lack of affordable housing would lead to more slums being built. And yet, as new findings show, their numbers are coming down.
Numbers recently released by the Ministry of Statistics & Programme Implementation (MoSPI) show that the total number of slums in urban India has declined 32% to 33,510 from 49,000 in 2009. This is based on data collected in its 69th round survey between July 2012 and December 2012.
State-wise, Maharashtra, the most industrialised state in the country, with 7,723 slums accounted for about 23% urban slums in 2012. It was down from 17,019 in 2009 when the state accounted for 34% urban slums. Maharashtra was followed by Andhra Pradesh (13.5%) and West Bengal (12%) in 2012.
To put the overall numbers in context, India's urban population is now 31% i.e. 377 million out of a total population of 1.2 billion.
So, how does the Government define a slum? As per the National Sample Survey Office (NSSO) of the Ministry of Statistics and Programme Implementation (MoSPI) , any compact settlement with a collection of poorly built tenements, mostly of temporary nature, crowded together, usually with inadequate sanitary and drinking water facilities in unhygienic conditions, provided at least 20 households lived there, was considered a slum.
Both notified slums i.e. areas notified as slums by concerned municipalities, corporations, local bodies or development authorities and other slums were covered in the survey. The last survey on slums was conducted as part of the 65th round of NSS (July 2008- June 2009).
Figure 1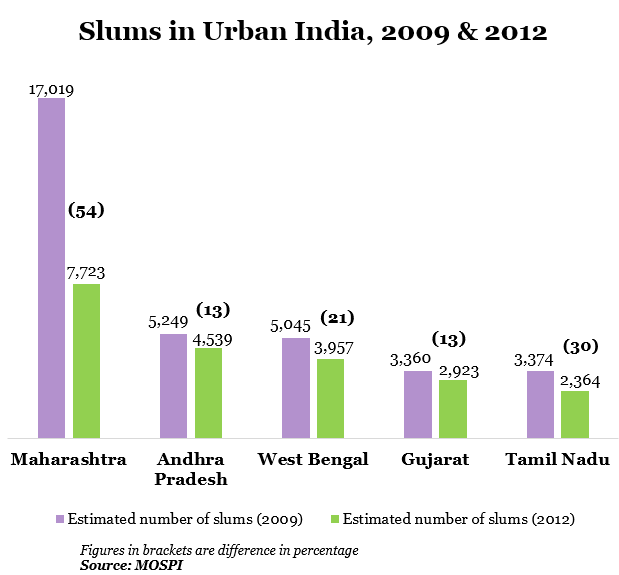 While Maharashtra still has the largest number of urban slums, the decline has been the sharpest in the last 3 years, i.e. 54% from 17,019 in 2009 to 7,723 in 2012.
Tamil Nadu also saw a decline of 30% to 2,364 slums from 3,374 slums in 2009. West Bengal, Andhra Pradesh and Gujarat also saw double digit declines in the number of slums.
An estimated 8.8 million households live in urban slums. Maharashtra, again, had the maximum households (3.3 million) living in urban slums followed by Andhra Pradesh (1.5 million) and West Bengal (664,001).
Drinking Water, Electricity & Roads
Over 71% slums at the all-India level had tap water as the major source of drinking water. Here are some other infrastructure indicators:
Figure 2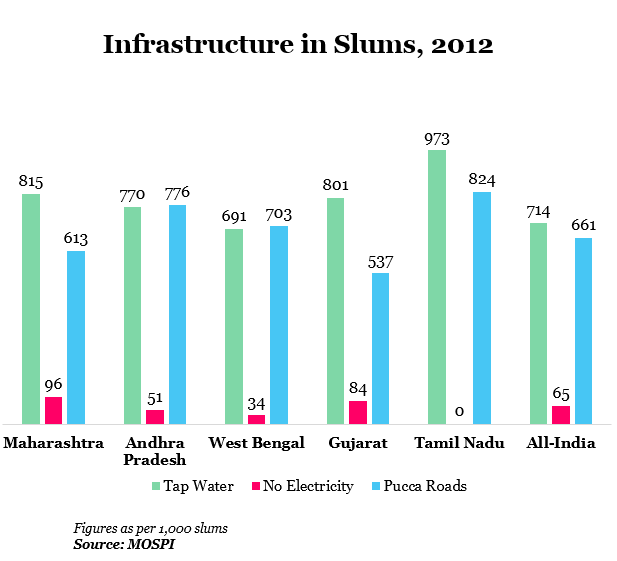 Only 6.5% slums at the all-India level had no access to electricity and over 66% slums had access to pucca roads. Dig a bit further and you can see wide disparities among states. Over 97% slums in Tamil Nadu have access to tap water, there are zero slums in the state without electricity and over 82% slums have access to pucca roads. In Gujarat, 8% slums still have no access to electricity and only 54% have access to pucca roads.