India Will Exceed Its Renewable Energy Targets: Climate-Change Expert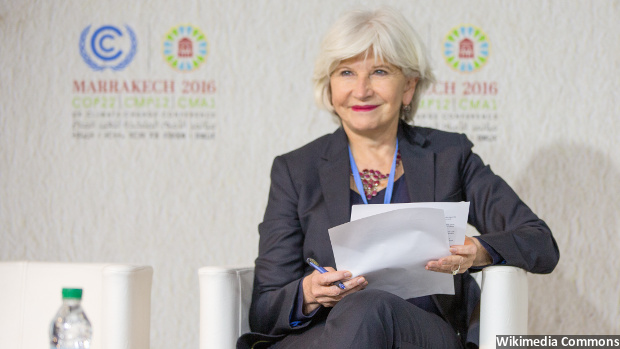 On August 29, 2017, Mumbai was lashed by the highest rainfall it has recorded in a 12-hour period since 2005. The 2017 storm killed at least 20 people and crippled rail and air transport in India's financial capital. Flooding also killed more than 1,200 people and affected the lives of 40 million across India, Bangladesh and Nepal in the past three months, the Guardian reported on August 30, 2017.
Were these natural disasters caused by climate change? Are these now more frequent than before? There are no clear answers yet to these questions. But it is almost certain that climate change will result in an increasing number of intense heat waves, storms and extreme rainfall in the future.
In 2015, countries across the world took the first comprehensive step towards halting climate change by agreeing to take action under the Paris Agreement. The agreement was to keep the rise in global temperature this century well below 2°C above pre-industrial levels and to try and limit this to at least 1.5°C.
Laurence Tubiana, 66, was among those instrumental in negotiating the agreement. She has been a champion for climate change action since the late 1990s, first as the environmental adviser to France's former prime minister Lionel Jospin and then as France's climate change ambassador from 2014-16.
Tubiana got her doctorate from Sciences Po in Paris in 1976 and in 2001, she founded the Institute for Sustainable Development and International Relations. Two years later, she returned to Sciences Po as the professor of Sustainable Development.
Tubiana is currently the chief executive officer of the European Climate Foundation (ECF), a philanthropy begun in 2008. Its aim is to help Europe become a low-carbon society and play a stronger leadership role in mitigating climate change. She spoke to IndiaSpend about the reasons why India might overachieve its ambitious renewable energy plans, what makes for successful negotiations, how countries can ramp up climate ambition and how unprepared the world is for some climate-change impacts.
The Paris treaty came into effect on November 4, 2016, and has been ratified so far by 160 of 197 countries. Given the limited success of the Kyoto Protocol (1997) that set internationally binding emission reduction targets, how did you ensure that negotiations at Paris moved forward? What worked here?
I think there are several elements that played favourably for the success in Paris. One was the idea that you really have to start from the different concerns of the different countries, and that this mutual understanding should be a key element. It's not only in the negotiation itself where you understand what India's concerns are, and not only through formal interactions, but in a more broad sense. We tried to get better understandings among people so they understood each other's drivers, and not just positions. So that's why we used a lot of informal negotiations or discussions.
The second element was to be very very transparent on the way we were conducting the process. We were trying to make sure that the concerns of all the countries were well represented. That they didn't feel we were twisting their arms.
The important thing was to understand that the negotiations were about the economy too, not just climate. We had to, in a way, make the government feel supported by their economic actors at home. That's why we first mobilised cities and businesses in preparation of Paris. Because by the time governments came to Paris they had already heard back home that some cities, local governments and businesses were interested in having an agreement in Paris.
We also thought it was important to add the element that the pledges could be improved, and that there would be no judgement made in the agreement, and everyone would make their best efforts and then try for more.
It was about substituting targets and numbers by pathways and constant revision of the commitments. At the beginning, people were very defensive. Entering Paris in 2015, no one was very optimistic about the outcome. But then they felt, there will be no finger-pointing, no judgement, they could come with the understanding that later we would have to bring more to the table. That created the atmosphere.
You made several trips to meet policy makers and government representatives before the 2015 agreement. Do you think this impacted the outcome?
Travel is an essential part of negotiation. The first impact is when you go to a country--you can actually listen to what their concerns are, and be really sure that we capture what could be a potential element of change in the positive sense. To win them, what could we do?
The participation and agreement of some countries was very important, that's why I came to India so often, or China. And then, finally found out that for India the issue was about development. But the level of development it wanted, there were many many choices to reach it. Innovation, technology and investment in the new sectors was attractive for India. If we could bring that in… and that's why we created this Mission Innovation with Prime Minister Modi and facilitated the formation of the Solar Alliance. In exchange, you drop your defensive position that we don't want to commit. For China it was really the idea that they will do it of free will, and there will be no infringement of sovereignty, which was a key element, and a recognition of what they were doing.
"The continuing rapid growth in renewable energy in India, combined with sustained reductions in coal imports and a slowdown in coal development is a strong indication that the low carbon transformation of India's energy supply sector is gathering momentum," according to this 2017 analysis by Climate Action Tracker, an independent body. It adds that India is already set to overachieve its 2030 Nationally Determined Contribution on emissions intensity (volume of emissions per unit of gross domestic product or GDP, and lower emissions intensity means less pollution is being created per unit of GDP). Could India be doing a lot better?
I think yes, of course it could do a lot better, and that was exactly the hope of the Paris Agreement. You start somewhere, and then the dynamic of your agreement and the dynamic of your own economy is pushing you to do more, and do it faster. That's exactly what we are betting on. It's all about expectation, and so I'm sure that India will overachieve its targets.
The big difficulty is of course a political one, and how many countries we get to revise and increase their ambitions to 2030 by 2020. Finally, we should be able to say 'Oh we were too prudent in Paris in 2015', and commit to more and prepare for the second phase.
How does the US leaving the agreement impact this momentum?
I mean we cannot just say it is fantastic news, we can do without you! But the positive part of it is that no other country has backed out after this. It is a concern when we look at this idea of accelerated action, and so that's why I think it is very important that Europe takes this job very seriously at home and reaches out to countries like India and China to really see what can be done together. Because these big economies can make a lot of difference. That's why we now need a conversation on cooperation, finance, technology, and in a way a long-term vision. I think we have to organise this political conversation now without the US, hoping that they will come back. But the fact is we can't delay this discussion.
Estimates for the costs of adaptation to climate change vary from $140 billion to $300 billion by 2030, and between $280 billion and $500 billion by 2050, as per the 2016 Adaptation Gap Report by the United Nations Environment Programme. And that is just adaptation, not investments in technology, energy and infrastructure. There is a financial gap that the US leaving the agreement has left. How can it be filled?
I think everybody is thinking about that. How can we mobilise funds from international or local banks? How can we align far more, the development agenda with the climate agenda? We need to have a mainstreaming of resources, from clean energy, to energy security to practice of sustainable agriculture or land use.
Then there is the possibility of leveraging private funding. The public component for funding for climate was anyway very small, so I think some other countries can also make additional efforts. No one can completely replace the US, but if we can better align our sources of finance, I think we could then use it much more efficiently.
In 2014, G20 governments paid $444 billion (Rs 28.47 lakh crore)--or about a fifth of India's 2016 GDP--in subsidies to fossil-fuel companies. However, fossil fuels created health costs estimated to be at least six times this amount: $2.76 trillion (Rs 176.93 lakh crore). Premature deaths caused by air pollution in the G20 alone are estimated to be 3.2 million, almost the population of Uruguay, according to a 2017 report by the not-for-profit Health and Environment Alliance (HEAL). In 2009, the G20 said it would start phasing out of fossil-fuel subsidies but in 2016, a phase-out date was yet to be undecided. How can countries disinvest from these subsidies?
You know, in a way, this is now domestic agenda. So I think G-20 can help, where governments look at each other and see the green energy trend taking place and thinking they shouldn't be the ones lagging behind. But now it's really a question of national political choices. Who do you support, and why?
I am glad we are finally having a conversation about the social costs of subsiding fossil fuels. Maybe the economic and developmental issues have other solutions and can be addressed differently, especially here, where so much new development in renewables is happening.
What kind of technologies do you see becoming operational by 2050 that could really change the way we fight global warming?
The field of electrification of transport is moving very fast. I think by 2025 at the latest, these electric vehicles will be as cheap as the internal combustion ones. I think by 2050 we will have also made significant progress in managing the intermittent nature of renewable energy. I think the price for solar and wind will fall even more. These three elements will change the picture completely by 2050.
Changing weather patterns are already causing large-scale migrations. Estimates of future climate migrants range from 200 million to 1 billion by 2050. The large range is because of the uncertainties about the severity and location of future climate change impacts and the economic and social conditions of the people affected, according to Population Action International, an international non-governmental organisation. How do you see this panning out?
I think that is really the most important new factor that is emerging. The accepted wisdom is that at least half of these migrations are of climate origin. I don't think we are prepared to handle it. We have been sidelining the migration issue in view of reaching an agreement for action, but this is the next big thing to talk about. I don't think we have a political response to it yet, and we need one.
(Patil is an analyst with IndiaSpend.)
We welcome feedback. Please write to respond@indiaspend.org. We reserve the right to edit responses for language and grammar.
__________________________________________________________________
"Liked this story? Indiaspend.org is a non-profit, and we depend on readers like you to drive our public-interest journalism efforts. Donate Rs 500; Rs 1,000, Rs 2,000."