India Ranked 7 Among Countries Hit Most By Terror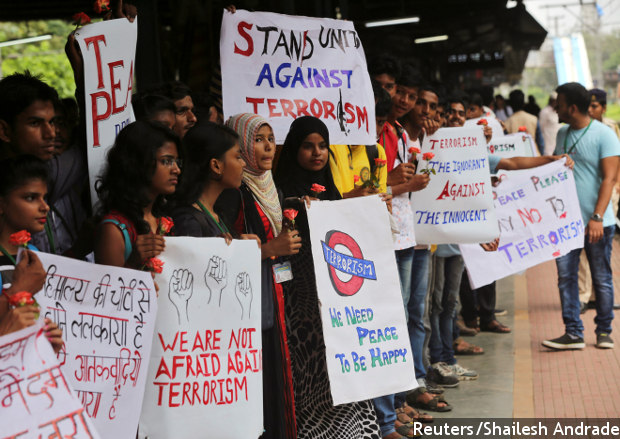 College students hold placards during a rally to condemn terrorism at a railway platform in Mumbai. India is one of six Asian countries ranked in the top ten nations most impacted by terrorism. As many as 797 terrorist attacks were recorded in India in 2015, up 4% since 2014.
India was ranked seventh in the list of countries most impacted by terrorism in 2015, according to the Global Terrorism Index (GTI), 2016, released by the Institute for Economics & Peace, a think-tank based in Sydney, Australia.
India is one of six Asian countries ranked in the top ten nations most impacted by terrorism. The Heart of Asia conference adopted the Amritsar declaration on December 4, 2016, which recognises "terrorism, violent extremism, radicalization, separatism, and sectarianism and linkages among them" as the gravest challenges facing the region.
The declaration voiced particular concern about the "high level of violence" by ISIS and its affiliates, the Haqqani Network, al Qaeda, Lashkar-e-Taiba, Jaish-e-Mohammad and Tehreek-e-Taliban Pakistan; all based in South Asia.
India recorded 289 terrorism-related deaths in 2015, a 45% decline over 2014. However, the number of Indian Army and paramilitary soldiers killed this year is at an eight-year high, IndiaSpend reported on November 29, 2016.
As many as 797 terrorist attacks were recorded in India in 2015, up 4% since 2014, the report said.
While the 2015 attacks were the highest since 2000, 80% were non-lethal. Overall, 49 different terrorist groups were engaged in attacks but 31 of these failed to kill anyone.
"This suggests that groups are seeking to remind governments of their presence without provoking significant military reactions," the report said.
India experienced 7% of all terrorist attacks around the world, the fourth highest after Iraq (20%), Afghanistan (14%) and Pakistan (8%). India, in 2015, had fewer terror attacks (797) than only Iraq (2,415), Afghanistan (1,715) and Pakistan (1,008). India suffered twice as many attacks as Syria (384).
Deaths from terror attacks globally declined 10%--from the highest recorded level of 32,765 in 2014 to 29,376 in 2015, the GTI report said.
The GTI score for a country is calculated based on weightage assigned to the total number of terrorist incidents, fatalities, injuries and property damage sustained in the year in question. The index also takes into consideration attacks which took place in the four previous years.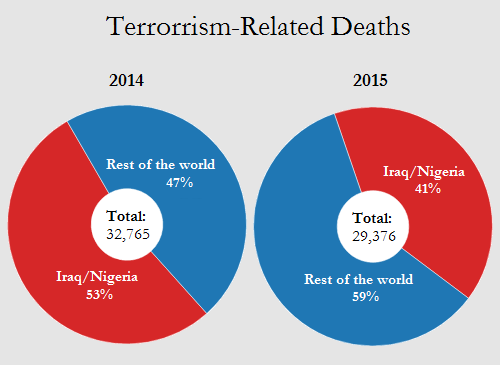 Source: 2016 Global Terrorism Index, Institute for Economics & Peace
A 32% reduction in terror deaths in Iraq and Nigeria led to a global decline in deaths by 41% in 2015. Both countries accounted for 53% of all terrorism-related deaths across the world in 2014.
Economic loss from terrorism $635 billion over 16 years
The global economic impact of terrorism has been $635 billion over 16 years, from 2000 to 2015. That is an amount equivalent to the annual gross domestic product (GDP) of Egypt and Malaysia.
Since 2014, the loss has declined from a 16-year high of $106 billion to the second-highest level of $90 billion, at constant 2015 prices. The GTI report said the decline related to the decrease in terror deaths from 2014 to 2015.
Source: Global Terrorism Index, 2016, Institute for Economics & Peace (In $ billion, at constant 2015 prices)
The economic impact of terrorism, as a proportion of a country's GDP, is highest in Iraq at 17.3%, followed by Afghanistan (16.8%) and Syria (8.3%).
Violent conflict, as a whole, caused $13.6 trillion loss to the global economy in 2015 (in purchasing parity terms), or 13.3% of global GDP.
OECD countries see 650% rise in terror-related deaths
The Organisation for Economic Co-operation and Development (OECD) countries--the world's most developed--witnessed a 650% increase in terrorism deaths, from 77 in 2014 to 577 in 2015, the worst year for the 35-nation bloc since the 2001 September 11 attacks.
Turkey, a part of OECD, witnessed 337 deaths in 2015, the highest among OECD countries. Terrorist violence in Turkey rose from attacks by the separatist Kurdistan Worker's Party (PKK) and ISIS in 2015.
The report notes that for 14 years until the start of 2015, France had averaged one terrorism-related death per annum. In 2015, France recorded 161 deaths, making it the second biggest victim of terrorism in the developed world. This includes the November 2015 Paris attacks that killed 136 and the Charlie Hebdo attack in January.
Over half of all attacks in the OECD countries were by or inspired by ISIS, a trend which has continued in 2016 with attacks in Brussels, Istanbul, Nice and Orlando, which have killed 211 people.
Iraq worst hit by terrorism
Iraq was the worst hit by terror in 2015 with 6,960 dead and 11,900 injured in 2,415 incidents. Afghanistan and Nigeria were ranked second and third with 5,312 and 4,940 deaths, respectively.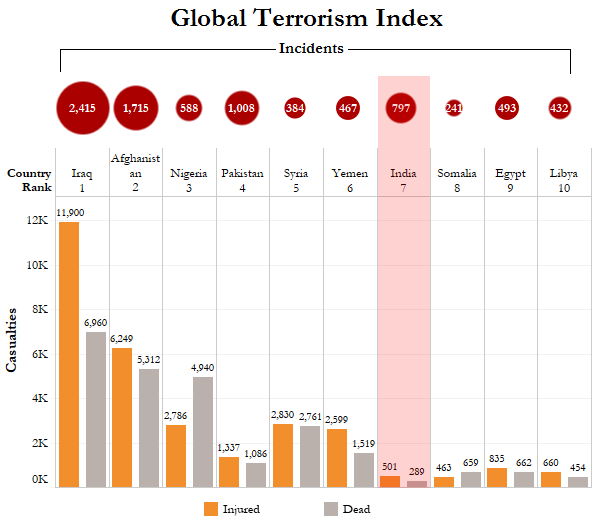 Source: Global Terrorism Index, 2016, Institute for Economics & Peace
The GTI score is based on the relative impact of terrorist incidents by accounting for the number of incidents, fatalities, injuries and total property damage.
Pakistan is ranked fourth with 1,086 deaths in 2015, a 38% decline since 2014. The report notes that terrorism in Pakistan "has moved from the border region with Afghanistan" to other parts of the country, "especially in the Punjab province", which borders India.
Terrorism has cost Pakistan $118 billion over the last 15 years in direct and indirect costs, according to Pakistan's Economic Survey 2015-16, IndiaSpend reported in August 2016.
ISIS world's deadliest group
ISIS overtook its African affiliate Boko Haram as the world's deadliest terrorist group in 2015, with attacks causing 6,141 deaths. ISIS expanded the number of countries where it conducted attacks from six in 2014 to 11 in 2015.
Source: Global Terrorism Index, 2016, Institute for Economics & Peace
As many as 4,502 people were killed in terrorist attacks by the Taliban in Afghanistan in 2015, a 29% increase since 2014. The year 2015 was also the deadliest for terrorism in Afghanistan, even as the Afghan security forces struggle to contain a resurgent Taliban and the United States draws down its troop presence in the country.
The increased violence in Afghanistan threatens the $2 billion worth of Indian aid to the country in a bid to stabilise Afghanistan's civilian leadership, IndiaSpend reported in July 2015.
(Sethi is a Mumbai-based freelance writer and defence analyst.)
We welcome feedback. Please write to respond@indiaspend.org. We reserve the right to edit responses for language and grammar.
__________________________________________________________________
"Liked this story? Indiaspend.org is a non-profit, and we depend on readers like you to drive our public-interest journalism efforts. Donate Rs 500; Rs 1,000, Rs 2,000."