India-Pakistan Ceasefire Violations Peaked In 2015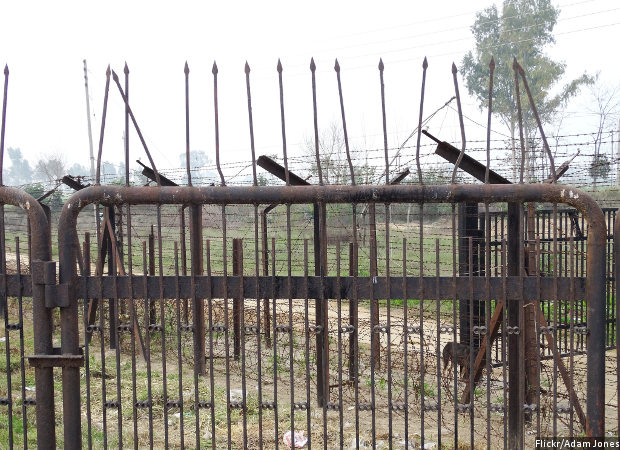 Ceasefire violations along the India-Pakistan border in Jammu and Kashmir peaked in 2015, according to data available from 2009 on South Asian Terrorism Portal, a South Asian terrorism database, providing some context to the suspension of the peace process by Pakistan's High Commissioner Abdul Basit on April 7, 2016.
The South Asian Terrorism Portal compiles data from various english language media in South Asia.
While ceasefire violations increased from 35 in 2009 to 229 in 2015, deaths along the Indo-Pakistan border showed a declining trend over the last decade and infiltration attempts fell 56% between 2013 and 2015.
Although the precise reason is unclear--indeed, the Pakistan foreign office spokesperson denied the peace process was suspended--some argued that Prime Minister Narendra Modi's visit to Saudi Arabia to strengthen economic and strategic ties could also have unnerved the Pakistanis.
Source: South Asian Terrorism Portal; Note: LoC – Line of Control; IB – International Border
The ceasefire between India and Pakistan was violated 229 times in 2015; 131 violations were along the official international border, which runs along the Radcliffe line drawn in 1947. The line of control (LOC) is the de-facto border, established in 1948.
Ceasefire violations along the international border in 2015 were about the same as the total of those over the previous six years, 2009 to 2014, according to the South Asian Terrorism Portal.
Indian government data also underline the rapid increase in ceasefire violations, IndiaSpend reported earlier.
Source: Answers to questions in Rajya Sabha, 17th March 2015, 28th July 2015, 16th March 2016.
While ceasefire violations rose nine times to 583 in 2014, compared to 62 in 2011, fatalities due to terrorism fell, from 4,507 in 2001 to 174 in 2015.
Source: South Asian Terrorism Portal; * Note: Data till 3rd April 2016; data for J&K border.
Infiltration cases across the J&K border have reduced over the past three years, from 277 in 2013 to 121 in 2015, according to this answer that the Home Minister gave the Lok Sabha (lower house of Parliament) on March 1, 2016.
Source: Answer given by Minister of State for Home Affairs in Lok Sabha on 1st March 2016.
Seven security personnel and one civilian were killed in a firefight with Pakistani terrorists in Pathankot, Punjab, in January 2016. Investigators from Pakistan visited the attack site and held meetings with India's National Investigation Agency.
The US Senate recently blocked a motion to stop selling fighter aircraft F-16s to Pakistan, thus allowing the sale of weaponry. The US also announced $850 million to boost Pakistan's internal security.
India expressed displeasure in the Lok Sabha on the sale of aircraft to Pakistan.
(Waghmare is an analyst with IndiaSpend.)
We welcome feedback. Please write to respond@indiaspend.org. We reserve the right to edit responses for language and grammar.
__________________________________________________________________
"Liked this story? Indiaspend.org is a non-profit, and we depend on readers like you to drive our public-interest journalism efforts. Donate Rs 500; Rs 1,000, Rs 2,000."