India: Make-Or-Break Player For Climate Change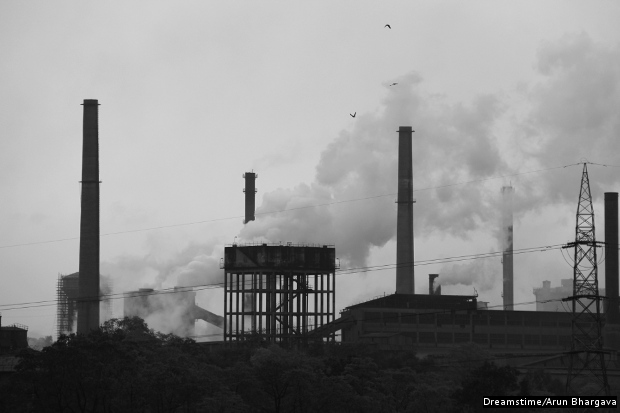 Earlier this month, the U.N.'s climate chief Christina Figueres told the media that an Indian pledge to voluntarily cut carbon emissions is "critically important" to any meaningful agreement at a crucial UN climate summit in Paris in December.
As IndiaSpend reported recently, India has bucked a global trend of declining CO2 emissions to emerge as the world's fastest-growing major polluter and is the single most critical player when it comes to global climate change.
This was revealed in the latest edition of British Petroleum's comprehensive Statistical Review of World Energy, which showed that for the first time in history, India's carbon dioxide (CO2) emissions, which had increased by 8.1% in 2014, accounted for the largest share of global emissions growth.
Source: EIA International Energy Outlook 2013
As the chart above shows, global forecasts had earlier placed India above other major polluters in terms of future-emissions growth rates. These forecasts predict that emissions growth in developed regions, such as the US, will remain negligible over the period 2010 to 2040, while developing nations like India and China will account for the bulk of emissions growth. BP's estimates confirm this general trend--but also indicate some marked deviations.
Source: BP Statistical Review of World Energy 2015, EIA International Energy Outlook 2013
The forecast had placed India's average emissions growth rate at 2.3% (the highest among major polluters). That may soon be revised upwards, now that BP's estimate has shown Indian emissions growth rate for 2014 to be 8.1%.

Chinese emissions--with an average emissions growth rate forecast to be 2.1%--grew by 0.9% in 2014, according to the BP estimate.

EU emissions were forecast to rise marginally over 30 years, but going by BP's estimate for EU in 2014, (-5.4%), the region's emissions will decline significantly over that period.
The gap between India and other polluters is growing
BP's estimates throws into question the validity of even recent forecasts (in this case, 2013 projections by the U.S. Energy Information Administration), which may now have to be revised.
Even accounting for possible inaccuracies and distortions in the data, the gap between India's emissions growth and that of other major polluters is striking. In other words, India's emissions growth rate is racing ahead at a time when emissions are either declining or being cut significantly by other major polluters.
These sharply divergent trends are unlikely to change, for two reasons, the first of which is well known: India is expected to grow faster than any other major economy. Consequently, India's fossil-fuel consumption--especially of highly polluting coal--is expected to keep growing, as IndiaSpend noted in a series of stories.
The problem is not just India's overwhelming reliance on coal but the dismal efficiency levels of its coal-based power plants, which fall way below global benchmarks on nearly all counts, as a research study by the Centre for Science and Environment revealed.
To understand the second reason, we need to look at the other side--that of emissions reduction pledges made by major polluters ahead of the upcoming Paris talks.
What the Paris pledges reveal: India's absence
Below are voluntary emissions pledges made by member nations ahead of the upcoming 2015 Conference of Parties (CoP) of the United Nations Climate Change Conference in Paris.
Termed INDCs, these pledges signify the extent of the willingness (or lack of it) among nations to tackle climate change. INDCs are largely what will determine the outcome at what has been described as the most important climate negotiation in history.
| Nation/region | Intended Nationally Determined Contribution (INDC) |
| --- | --- |
| United States | Reduce emissions by 26%-28% below 2005 level in 2025 |
| China | Achieve peaking of emissions around 2030 and make best efforts to peak early; Increase share of non-fossil fuels in energy mix to around 20% |
| EU | 40% domestic reduction in emissions by 2030 compared to 1990 |
| Russia | Cut anthropogenic GHG to 70-75% of 1990 levels by the year 2030 |
| Canada | Reduce GHG emissions by 30% below 2005 levels by 2030 |
| Mexico | Unconditional reduction of 25% of GHG emissions (below BAU) for 2030 |
| Ethiopia | 64% reduction in GHG emissions from Business As Usual scenario in 2030 |
Source: CAIT Climate Data Explorer
While every major polluter has submitted its INDCs (the final deadline is October 31), India is conspicuous by its absence.
Citing India's "development needs", Prakash Javadekar, Minister for Environment and Climate Change, told the media that while India would be submitting its pledge to the U.N., it will not set a date for peak emissions. However, he added that India's INDCs would be "much more ambitious" than the world expects.
The climate gridlock continues
International climate change negotiations often failed because of this gridlock: Developing nations point to past emissions and want rich nations to make bigger cuts, while the latter point to future emissions and insist developing nations step on the brakes first.
Partly owing to this, successive Indian governments have consistently thwarted international climate deals. Earlier this year, India rejected a climate deal similar to the one signed by US and China, because it refused to be treated on par with its Asian neighbour, whose per-person emissions is four times that of India and far lower than that of the United States and EU.
Source: World Bank Little Green Data Book 2015
So, when India and other developing countries accuse rich nations of double standards on climate change, they are right. However, the emphasis on historical inequities ignores the cumulative nature of the impact of emissions on the climate.
Climate change an imminent threat
Human activity over the last two hundred years or so--above all, economic growth fuelled by fossil fuels--has, so far, increased the average temperature of the planet by 0.8 0C, a phenomenon we now call global warming.
The scientific consensus today puts 20C as the absolute maximum temperature increase that the world can afford without setting off dangerous and irreversible warming that could endanger human survival itself.
Projected impacts on India of a global temperature increase from 20C to 40C show massive disruptions that could have a catastrophic effect: extreme heat waves, changes in rainfall patterns and persistent droughts affecting food security, impact of sea-level rise on cities and the large coastal population, freshwater scarcity owing to glacier melt, rise in vector-borne diseases and overall distress migration and conflict.
Climate change is not the futuristic scenario many imagine: some of its impacts, such as heat waves and increasingly erratic rainfall, are already being felt in India, as IndiaSpend has reported, and expected to worsen.
Analyses of the data presented by the authoritative Fifth Assessment Report (AR5) of the Intergovernmental Panel on Climate Change show that anywhere from 80-90% of remaining fossil fuel reserves should be left in the ground for the world to even have a chance of limiting global warming to below 20C. Recent research shows that if carbon emissions continue at present rates, the 20C barrier may be breached as early as 2036.
Why India should worry
The irony of climate change is that, broadly speaking, countries that have historically contributed the least to it will be impacted most by it. Tropical nations like India, especially, will suffer a disproportionate impact.
Despite this, the threat is recognised far more by people in developed nations. This, in turn, translates to relatively negligible domestic pressure on governments in developing nations to act decisively on climate change.
The cumulative nature of the impact of carbon emissions, experts say, means that India cannot afford to continue on its high-carbon-growth path, which mimics China's 'grow now, pay later' approach.
India's sheer size and the accelerating rate of its emissions, which defy a global trend of decline, appear to make India the make-or-break player when it comes to climate change.
Speculating about India's stance at the Paris talks, former environment minister Jairam Ramesh recently wrote: "India must do things on its own because of its own vulnerability to climate change and because in many areas it has the potential to exercise technological leadership… If the world wants to help, well and good. But we should not be waiting for that to happen." ¦
(Jose is a freelance media professional based in Bangalore.)
_________________________________________________________________
"Liked this story? Indiaspend.com is a non-profit, and we depend on readers like you to drive our public-interest journalism efforts. Donate Rs 500; Rs 1,000, Rs 2,000."