India Less Violent Than 2016, But Less Peaceful Than Decade Ago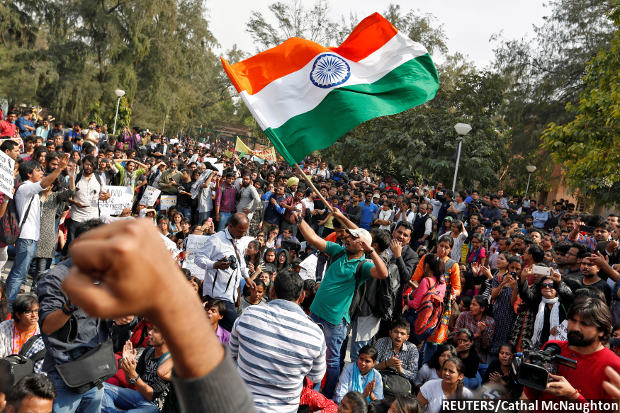 Reduction in violent crimes and increased law enforcement saw India improve its peace ranking by four positions from 2016, but it is less peaceful than it was a decade ago, according to the 2017 Global Peace Index (GPI), released by the Institute for Economics and Peace, a New York-based think tank that develops metrics to analyse peace.
India's 2017 rank was 137 of 163 countries, moving up four positions from 141 in 2016. However, deaths due to external conflict have increased, the report said, specifically in relation to the conflict in Kashmir from mid-2016.
India is less peaceful than it was a decade ago, and it suffers from more violence than Brazil and South Africa, both countries wracked by violence.
A decade ago, India had a GPI score of 2.437. Lower the score, the more peaceful a country: Iceland, the most peaceful country, had a GPI of 1.111 in 2017. India's GPI score in 2017 was 2.541 (out of 5), an improvement from 2.565 last year.
The peace index is based on 23 indicators related to level of safety and security in society, the extent of domestic or international conflict, and the degree of militarisation.
The world has become slightly more peaceful in 2017, with an average 0.28% improvement in "peacefulness" since 2016.
Source: Global Peace Index 2017
Among BRICS countries, India is ranked below Brazil (116), China (123) and South Africa (123) but higher than Russia (151).
Among its South Asian neighbours, India is ranked below Bhutan (13), Sri Lanka (80) Bangladesh (84) and Nepal (93) but ahead of Pakistan (152) and Afghanistan (162).
The economic cost of violence
The economic cost of violence in India in 2016 was $742 billion (Rs 47.5 lakh crore) at 2016 purchase power parity (PPP) rate. This accounts for 8.6% of India's gross domestic product (GDP) and $566 (Rs 36,500) per capita.
The per capita economic cost of violence in India is 8.7% higher than China ($517) which lost $712 billion or 3.5% of GDP due to violence in 2016.
The global economic impact of violence was $14.3 trillion in 2016, equivalent to 12.6% of GDP, or $1,953 (Rs 125,000) per person.
"Every $1 invested in peace-building can lead to $16 decline in the cost of armed conflict," the GPI report said.
Among BRICS countries, India's per capita economic cost of violence is about a fifth of South Africa's ($2,582), a seventh of Russia's ($3,608) and a fourth of Brazil's ($1,952).
Among South Asian countries, India's per capita economic cost of violence is 12% lower than Pakistan ($634), 45% lower than Sri Lanka ($823) and 68% lower than Afghanistan ($949).
Source: Global Peace Index 2017
India is 70th of 163 countries ranked on the basis of economic cost of violence as a percentage of GDP.
Civil war-hit Syria, which lost 67% of its GDP to violence, is ranked as the world's most violent nation, followed by conflict-ridden Iraq (58%) and Afghanistan (52%). Switzerland is ranked 163.
Ten-year trend: Terrorism has worsened things in Pakistan and the world
India's score in the terrorism impact index improved marginally by 0.006 points, from 4.013 in 2008 to 4.007 in 2017.
The terrorism impact index calculation is based on a weighted average of the last five years of the number of fatalities, injuries and property damage caused by terrorism.
The impact of terrorism in Pakistan has worsened with the score increasing by 0.279 points from 4.089 in 2008 to 4.368 in 2017.
"The impact of terrorism increased dramatically over the last decade with the scores of 60% countries deteriorating," the report said.
In over 22 countries, terrorism impact index scores have deteriorated by more than 100% while the score worsened by more than 50% in another 18 countries.
Deaths due to terrorism around the world have nearly tripled from just over 11,000 in 2007 to 29,000 in 2015.
"Deaths from terrorism in OECD countries increased over 900% between 2007 and 2016, with the largest increases occurring in Turkey, France, the United States, and Belgium," the report said.
Europe, in particular, has seen a spate of deadly attacks in recent years.
(Sethi is a Mumbai-based freelance writer and defence analyst.)
We welcome feedback. Please write to respond@indiaspend.org. We reserve the right to edit responses for language and grammar.
__________________________________________________________________
"Liked this story? Indiaspend.org is a non-profit, and we depend on readers like you to drive our public-interest journalism efforts. Donate Rs 500; Rs 1,000, Rs 2,000."