India Faces Greatest Global Loss From Internet Shutdowns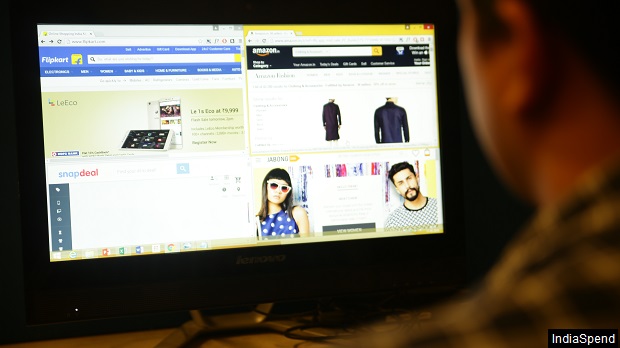 Internet shutdowns cost India $968 million (Rs 6,485 crore) in 2015-16, the largest loss among 19 countries surveyed and the result of 22 shutdowns, the same as war-torn Iraq, according to a report by Brookings Institution, a US based think-tank, indicating the negative effect of these shutdowns on the economy.
Internet services in India are shut down to prevent unrest; in Kashmir, mobile internet services have been shut as the state has been witnessing unrest for more than three months. This has rendered its information technology sector "dysfunctional" resulting in job-cuts and shifting of operations by several firms to outside the state.
The Brookings study analysed 81 short-term shutdowns across 19 countries between July 1, 2015, and June 30, 2016, and estimated that these shutdowns cost the global economy at least $2.4 billion (Rs 16,080 crore).
The maximum loss was incurred by India ($968 million), followed by Saudi Arabia ($465 million) and Morocco ($320 million).
Globally, the shutdowns across 19 countries lasted 753 days, with Syria (in areas controlled by the Islamic State) having the maximum number of shutdown days at 348, followed by Morocco (182) and India (70).
India equals Iraq in number of disruptions
There were a total of 81 disruptions across 19 countries during the surveyed period. The maximum number of disruptions was in India at 22, equivalent to Iraq, followed by eight in Syria and six in Pakistan.
The report noted that in 2016, India joined the ranks of countries such as Uganda, Algeria and Iraq that have disrupted internet services in response to concerns over students cheating in exams.
The Gujarat government had banned mobile internet for four hours to prevent misuse of cell phones during revenue talatis (accountants) recruitment exam in March 2016, Times of India reported.
"Considering the sensitive nature of the exam for recruitment of talatis, internet service providers have been asked to shut down all internet-based social media services from 9 am to 1 pm to prevent the misuse of mobiles during the exam," the report said, quoting the government notification.
Source: Brookings Institution
National internet services witnessed maximum shutdowns
The Brookings report classified internet shutdowns into six categories of disruptions: National internet, sub-national internet, national mobile internet, sub-national mobile internet, national app/service, and sub-national app/service (including VoIP (voice over internet protocol)).
The most frequent shutdowns were in national internet (36), followed by sub-national mobile internet (22) and national app/service (14).
Source: Brookings Institution
Brookings' figures are underestimates
The estimates by Brookings, however, may be an under-estimate; in September 2015, an internet shutdown for six days caused a loss of more than Rs 7,000 crore for banks in Gujarat alone, according to K V Barot, general secretary, Maha Gujarat Bank Employees Association (MGBEA), who was quoted in this September 2015 report by Times of India.
As many as 11 Indian states shut down the Internet 37 times since 2015, with 22 of those instances in the first nine months of 2016, according to data compiled by Centre for Communication Governance, National Law University, Delhi, which indicates that the Brookings report may not have covered all shutdowns.
The Brookings report clarified that the actual losses may be much more as its analysis only looked at the economic impact on GDP. It did not include estimates for lost tax revenues associated with blocked digital access, impact on worker productivity, barriers to business expansion connected with these shutdowns, or the loss of investor, consumer, and business confidence resulting from such disruptions.
Internet shutdowns have less impact in developing countries
The documented shutdowns were in developing countries. The report observes that the economic damage in a developed economy would be more than developing countries.
"For instance, the United States currently has a GDP of $18.438 trillion (Rs 1,235 lakh crore), 6% of which is derived from the internet sector," the report said. "If there were a national internet outage for one week (or 1.9% of the year), that would reduce economic activity by at least $54.1 billion (Rs 3.62 lakh crore). And if that outage lasted an entire year, the economic costs would be at least $2.8 trillion (Rs 187.6 lakh crore)."
India's economy would rise by $1 trillion (Rs 67 lakh crore) by 2020 if all Indians go online, IndiaSpend reported in May 2016.
The Brookings report further cautioned about the rising costs of internet ban in the future.
"As the digital economy expands, it will become even more expensive for nations to shut down the internet," the report said. "Without coordinated action by the international community, this damage is likely to accelerate in the future and further weaken global economic development."
(Saha is a freelance journalist and MA Gender and Development candidate 2016-17 at Institute of Development Studies, University of Sussex.)
We welcome feedback. Please write to respond@indiaspend.org. We reserve the right to edit responses for language and grammar.
__________________________________________________________________
"Liked this story? Indiaspend.org is a non-profit, and we depend on readers like you to drive our public-interest journalism efforts. Donate Rs 500; Rs 1,000, Rs 2,000."