In Lush, Prosperous Goa, The Growth Of Luxury Hotels--Up 170% In 10 Years--Is Sparking Conflict
Arrosim (Goa): "Our village is the size of a coconut shell, how can it take five big resorts?" former sailor Anthony D'Silva let the question hang in the air as a luxury car whizzed past on the narrow village road that leads to Arossim beach in south Goa.
A typical Goan village road, roughly five metres wide, curves several times around tiled-roof homes, under a perennial tree cover, before opening up at a dead end amid sand dunes near the Arabian Sea.
Two resorts already operate on a four-kilometre stretch near Arossim beach, and developers have proposed three more--two of them on either side of the scenic deadend.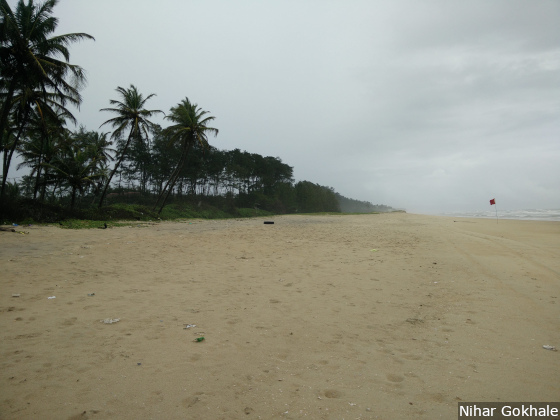 A view of the Arossim beach, a four-kilometre stretch where two resorts operate and three more are proposed.
The number of major hotels and resorts has increased by 170% from 42 in 2008 to 113 in 2018, according to the state department of tourism. In comparison, budget hotels grew 100% from 2,142 in 2008 to 4,286 in 2018.
Arossim symbolises the growing conflict between the rise of luxury tourism in Goa, India's smallest but one of the country's most prosperous and healthiest states. Goa's public-health expenditure is four times the Indian average, as IndiaSpend reported in February 2017; medical facilities abound, and there is no shortage of health professionals; the sex ratio is among India's best and getting better; and the infant mortality rate is among India's lowest.
As the Goa government now pushes for greater prosperity, driven in part through tourism--which in 2010 (the latest data available) accounted for 8% of the state's gross domestic product and attracted 7.8 million tourists in 2017, or five times Goa's population--residents of places such as Arossim allege encroachment of common land, takeover of the community's ecological assets and, in some cases, violation of land and environmental laws.
By October 2018, nearly 200 hectares of land--or as much as 374 football fields--was involved in seven tourism-related conflicts, affecting about 3,100 people in Goa, according to data collected by Land Conflict Watch, a network of researchers that maps and collects data about ongoing land conflicts in India.
The network has so far collected 16 such tourism-related conflicts in India, spanning over 8,500 hectares, or almost 16,000 football fields, and affecting about 75,000 people in eight states including Himachal Pradesh, Chhattisgarh, Andhra Pradesh and Manipur. In most of these cases, poor and marginalised communities oppose tourism projects because they fear eviction.
Source: Land Conflict Watch
In Goa, while direct evictions are rare, tourism conflicts generally involve threats to common land and community resources, which could then lead to evictions. For instance, a golf course is proposing to take over 90% of the land in a village, which includes farmland and forests.
To avoid such situations, Goans, like D'Silva, have begun to set aside time from their jobs and families to put up roadblocks, debate in village council meetings on whether these hotels should be allowed to set up, and to fight multiple court cases, challenging the global perception of Goa as a tourism state.
Number of hotels in Goa doubles every 10 years
In 2017, about 7.8 million tourists visited Goa, double the number four years ago, and five times the state's 1.5 million population.
The number of hotels has multiplied as well--doubling every 10 years, with luxury hotels being the fastest growing segment, according to state tourism department data from 1998. The growth in the number of Category A hotels, which includes luxury hotels, is the highest among all hotel categories under the Goa, Daman and Diu Registration of Tourist Trade Act of 1982, and have risen from 29 in 1998 to 42 in 2008 to 113 as of March 31, 2018, data show. One-half of hotels in this category are "star hotels" which are an even more luxurious category of hotels.
Although Category A hotels make up just 2% of all hotels, they are far bigger in size, and host a quarter of the rooms available in Goa. An average Category A property would have 110 rooms, three times the number of rooms in smaller hotels under Category B and 25 times that of the lowest Category D hotels.
As a result, even though smaller hotels are routinely hauled up for noise and environmental violations, it is the high-end hotels that require large tracts of land, put more burden on local resources, and are often opposed by villagers.
Residents protest lax environmental clearance checks for resorts
In Arossim, resentment against resorts started intensifying in 2006 when a 160-room five-star resort was proposed on a 20-acre beach-facing property.
Competent Automobiles, a Delhi-based dealership of Maruti Suzuki cars, had purchased the property from a wealthy landlord who held a Portuguese-era land title to it. There is no dispute over the sale, but two separate groups of villagers--Cansaulim Villagers Action Committee (CVAC) and Cansaulim-Arossim-Cuelim Civic and Consumers Forum (or CAC-CCF)--argue that although the site is a private property, it is ecologically important to the community because storm water drains carrying excess rainwater from the village converge into the property before draining out into the sea. It is also the regions' biodiversity "hotspot", supporting a large green cover, fauna and medicinal herbs.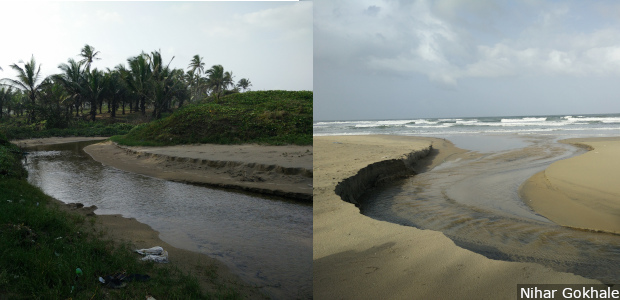 Left: Stormwater drains from the village converge at the proposed resort site and drain through this channel into the Arabian Sea. Right: The stormwater drain as it meets the sea at Arossim beach.
"The property is such an eco-sensitive area," said Marconi Correia, a Cansaulim-based physician who heads the CAC-CCF. "It also hosts two storm water drains that were named by our ancestors."
On the recent morning, a dense coconut orchard played games with the morning sunlight on the resort land. Peacocks called from tree canopies, around green paddy fields bordered by water channels. The water channels converge into a bigger channel that cuts through the beach sand and drains into the sea.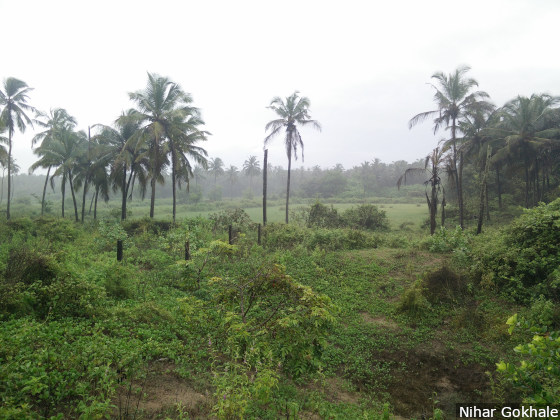 The proposed site for the five star resort in Arossim village. Villagers are concerned that the resort will destroy the site's green cover and its biodiversity.
"These water channels are the lifeline of the village," D'Silva said, as he showed this reporter how smaller drains wind across the landscape to meet at the property. "The sand dunes are natural fortresses against the sea. With these two gone our village will face a Kerala-type situation," he said referring to the recent floods that ravaged Kerala in August 2018.
The National Green Tribunal (NGT) said that the central environment ministry had arbitrarily exempted the resort from obtaining the environment clearance required under the Environment Impact Assessment Notification, 2006, which could have included a study of the site's environmental parameters, according to its January 2017 judgement in an appeal filed by the CAC-CCF and CVAC. The NGT directed the ministry to follow the process for the environment clearance.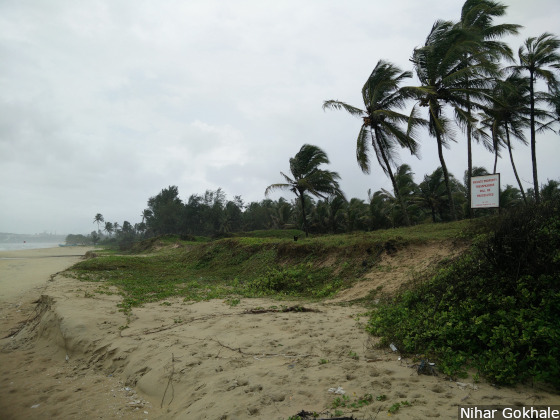 The property as it faces the Arossim beach. To the right is a sign installed by the developer warning against trespassing.
An environmental clearance awarded in 2017 acknowledged that 500 trees existed on the resort's land and allowed 200 of these to be felled.
"Somehow the environment ministry was inclined to clear the project," Correia said.
In December 2017, with all clearances in hand, Competent Automobiles sold the property to Daffodil Hotels Pvt Ltd, another Delhi-based firm, which tried to commence construction of the resort. But the residents stepped up their resistance. In February 2018, villagers blocked earth movers from felling trees at the property, while a gram sabha, or village council meeting, in May witnessed heated scenes and heavy police presence, as several protestors asked the panchayat to revoke the project's licenses. In July, they stopped trucks carrying construction material and cabins to the site.
"We will not allow the resort at any cost," said Mallika Fernandes, a CVAC member. Villagers said their resistance to the resort has held off the other two proposed projects in Arrosim. "If this project comes then the other two would also get approved. But our village doesn't have that kind of carrying capacity," said Fernandes.
Competent Automobiles and Daffodil did not respond to questions from IndiaSpend about the environmental impacts of the proposed resort, and concerns raised by the village groups.
Plan after plan emphasised tourism, but didn't measure Goa's carrying capacity
No study has been undertaken to determine how many large resorts Goa's coasts and hinterland can take. Master plans prepared in 1987 and 2001 were shelved following public opposition as these plans recommended increasing the number of resorts in both coastal and non-coastal areas without assessing the state's ecology.
"There has been no clear nor firm policy relating to tourism," the World Bank said in a 1998 report on Goa's tourism industry. Though the government approved luxury hotels on an "ad hoc basis", the report said, there was a positive bias towards hotels aimed at "upmarket tourism".
In 2013, the Goa government asked the international consultancy KPMG to design yet another tourism plan. In 2014, Goa introduced a new state investment policy that talked of "encouraging more boutique and luxury hotels".
"The government has increased its focus on high spending tourists with a potential to significantly impact the state economy and provide employment," the policy said.
A draft of the tourism plan released in 2016 called for "an emphasis on enhanced quality and quantity of higher spending tourists, both domestic and foreign", but did not spell out the state's carrying capacity for luxury facilities. The plan is expected to be finalised in the coming months.
In February 2018, state cabinet minister Vijai Sardesai had courted controversy by calling budget tourists "scum of the earth", while arguing for bringing more "rich tourists" and golf courses into Goa. "We must have high-end facilities and get high-end tourism, which benefits the sons of the soil," he said.
Sardesai's comments seemed ironic to people in the coastal hamlet of Tiracol, arguably the most known tourism-related conflict in Goa. In 2012, Leading Hotels, a Delhi-based firm, had proposed to build an international-standard golf course and resort over 300 acres in Tiracol, roughly 90% of the total land in Tiracol.
The project grabbed headlines in 2015 after villagers, who tried stopping the property's construction, were roughed up by company-hired "bouncers". That sparked protests across the state with calls to 'Save Tiracol, Save Goa'.
Later, the Bombay High Court admitted a public interest litigation that alleged large-scale violation of the state's tenancy reforms of the 1960s that had granted land rights to all Tiracol villagers.
According to the court's 2017 judgement, Tiracol's lone landlord, along with Leading Hotels, had persuaded the district administration to strike off the tenancy titles on technical grounds, clearing the land's sale and conversion to a golf course. The high court ordered a review of those decisions but the collectorate stood by its earlier orders. A fresh appeal is pending before the high court, and no work has begun on the golf course. An official from Leading Hotels declined to comment on the issue because it is pending in court.
Conflicts in the hinterland
Proposals to introduce star hotels and tourism projects in the state's green interiors, away from the beach--which the draft tourism plan argues for--have also sparked conflicts.
Villagers of Quellosim village, about 10 km inland from Arossim, are opposing the commercialisation of Kesarval, an all-year spring and monsoon waterfall that has, for decades, drawn visitors who believe in the water's medicinal properties. Although Kesarval is barely a minute away from the busy National Highway 17, a pristine evergreen forest and moss-covered stones surround the spring.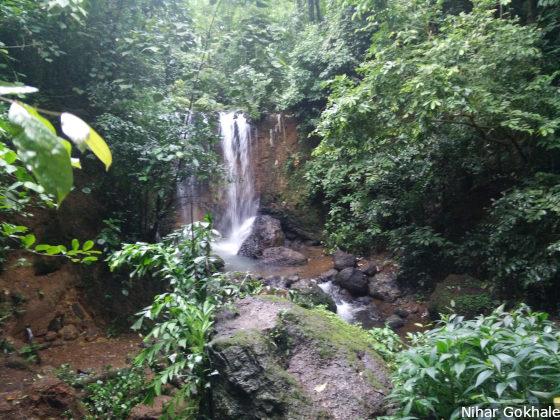 The Kesarval spring and waterfall in August 2018. The waterfall is active in the monsoon season.
In June 2018, the Goa Tourism Development Corporation floated a tender to select a developer to build a "three-star or higher category business hotel" on six acres of land around the waterfall. Before the bidding could open, the Save Kesarval Spring Movement was born.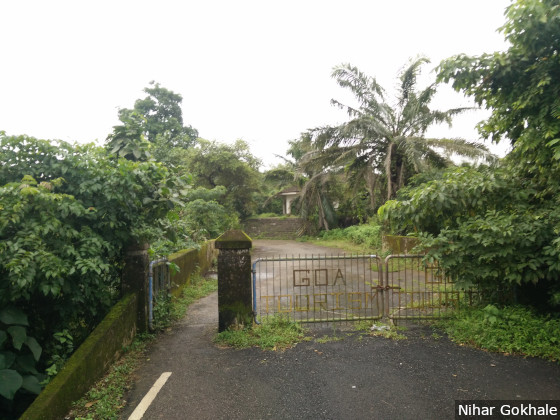 Present entrance to the Kesarval spring. In June 2018, the Goa Tourism Development Corporation floated a tender to select a developer to build a "three-star or higher category business hotel" on six acres of land.
"This is a heritage site and a lifeline for our village," said Lopinho Xavier, an engineer from Quellosim. In 2017, the village panchayat had resolved to help rejuvenate the spring, which was affected by illegal borewells at a nearby industrial estate. A star hotel would defeat the purpose, and take away historic public property from the villagers, said Lopinho.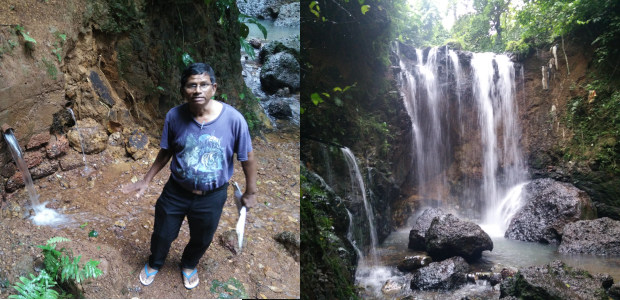 Left: Quellosim villager Lopinho Xavier shows two of the three outlets of the Kesarval spring. Right: The Kesarval waterfall and the third outlet of the spring (to the left, emerging from vegetation).
"Gawdes worked hard to develop the village and its land. After a hotel comes up who knows if we can enter [there]," Lopinho said, referring to his Adivasi community, considered to be among Goa's earliest settlers.
Lopinho had come to the fore in 2015 to oppose another "mega tourism" project in Quellosim, which was titled "Mini India", where tourists could go boating around giant replicas of India's famous monuments floating in 12 acres of a tidal waterbody near the Zuari river. The project, proposed by Pune-based Movaj Enterprises, was approved by the chief minister-led Investment Promotion and Facilitation Board, created under the state industrial policy of 2014.
The project's construction was stalled after a site inspection ordered by the NGT showed that the project site was, in fact, in a "no development zone".
In coastal areas, the growth of tourism has led to the privatisation of commons that support traditional livelihoods and community resources, said the Centre for Responsible Tourism, a Goa-based NGO backed by the Roman Catholic church, in a 2017 note titled 'People Over Profits'.
"In the specific context of Goa, tourism policy must focus on 'rights holders'…rather than 'stakeholders'," the note said. "These are two entities whose interests often contradict each other and tend to be in direct opposition."
For much of the 1990s, large hotels were taken to court by a handful of citizen groups and NGOs for violations of coastal zone norms and encroachment of public access to the sea. As the number of luxury hotels increased over the years, so did opposition against them.
For many Goans, like Anthony D'Silva of Arossim, the arrival of resorts in their village meant the possibility of new job opportunities outside traditional occupations--hopes that were soon dashed. "There was no development in the village until the two resorts came. But even when the resorts were built, no Goans were hired in white collar work and were only offered sanitation jobs. In one resort I was told about a vacancy as an assistant waiter, not even a full waiter!" D'Silva said.
At the same time, ecological costs began mounting. "In 2012 we caught the resort red-handed throwing raw sewage into the sea. The other resort levelled sand dunes to improve the seaview," he said. "Now we don't want any more mega hotels," D'Silva added.
"We were opposing the project when my first child was born, who is now six years old and we are still fighting," said Viana D'Silva, Anthony's spouse. The couple have been at the forefront of the movement against resorts in their village, and raised funds to fight the court cases through events such as charity music concerts in the village.
"I don't know the project proponents, but I do know my village and its beauty," said Viana. "I want to give it to my children as I know it."
(Nihar Gokhale is a freelance environment journalist and a contributing writer with Land Conflict Watch, a network of researchers that collect data about ongoing land conflicts in India).
We welcome feedback. Please write to respond@indiaspend.org. We reserve the right to edit responses for language and grammar.