In Last Moments Of Life, Indian Women Less Likely To Get Medical Attention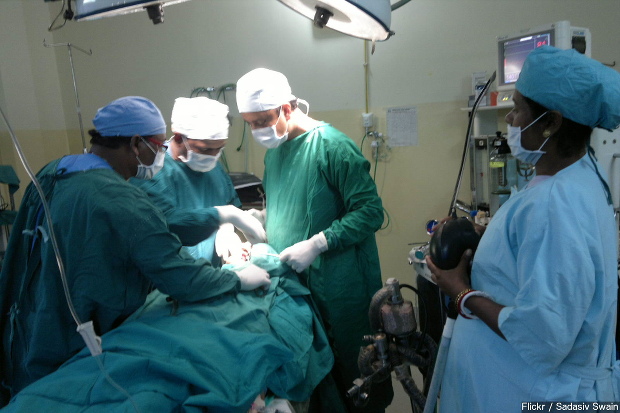 More Indian men are likely to be admitted to hospital during the last moments of life than women--62.5% to 37.5%--a statistic revealed in new government data on deaths certified by a medical professional.
Of 1.06 million certified deaths in 2014, 667,000 were male; 400,000 were female, according to Medical Certification of Cause of Death: 2014, a census department report, about 11 percentage points more than the male proportion (51.5%) of India's population.
For every 1,000 men whose death is certified by medical professionals, the corresponding figure for women is 600.
Four in five deaths in India were not certified by medical professionals in 2013, IndiaSpend reported in February 2016.
In Jharkhand, 1 in 128 deaths certified, lowest rate in India
One in every 128 deaths in Jharkhand is certified by a medical professional--the worst record of any Indian state and an indication of the absence of healthcare in India's second-poorest state by per capita income.
Of 132,099 registered deaths in Jharkhand--carved out of Bihar in the year 2000 and currently ruled by the Bharatiya Janata Party--1,028 were medically certified (0.8%), 19.7% lower than the average for India, where 20.5% of death are certified. As many as 5.21 million deaths were registered in India in 2014, of which 1.06 million were medically certified.
Though certified deaths doubled in Jharkhand from 458 in 2013 to 1,028 in 2014, the improvement did not move the state of 33 million from the bottom rung. Up to 37% of Jharkhand's population lives below the poverty line, according to this June 2014 report of the erstwhile Planning Commission; 50% of Jharkhand's districts have poverty levels above 40%.
No new hospital was opened since the creation of Jharkhand 16 years ago. The state's population surged by more than five million between 2001 and 2011, India Live Today reported in September 2016. No new college opened either over the last 15 years, and existing colleges were not expanded.
10 states/UTs report decline in medically certified deaths
Ten states/union territories reported declines in absolute number of medically certified deaths in 2014 over the previous year: Arunachal Pradesh, Bihar, Chandigarh, Dadra and Nagar Haveli, Daman and Diu, Himachal Pradesh, Kerala, Meghalaya, Punjab and West Bengal.
Source: Medical Certification of Cause of Death Report 2014.
As many as 99.5% deaths in Goa were certified--the highest among all states/UTs--followed by Lakshadweep (98.3%) and Puducherry (77.6%).
From 0.9% in 2013 to 21.9% in 2014, Assam registered the largest maximum percentage increase in certified deaths.
Source: Medical Certification of Cause of Death Report 2014.
Circulatory system disease deaths top killer, cancer deaths rising
Diseases of the circulatory system--or heart-related diseases--accounted for more deaths than any other, claiming in equal proportion the lives of men (31%) and women (32%).
Source: Medical Certification of Cause of Death Report 2014.
Death from circulatory system diseases rose from 24% of deaths in 1999 to 32% in 2014, an increase of eight percentage points.
After heart disease, chronic obstructive pulmonary disease is the second-most common affliction, IndiaSpend reported in October 2016.
As many as 23% deaths in India between 2010 and 2013 were due to heart-related diseases, according to 2013 census data; 21% in rural and 29% in urban areas.
Deaths due to neoplasm (cancer) increased from 3.6% to 5.4% and deaths due to infectious and parasitic diseases declined from 14.7% to 12%.
Source: Medical Certification of Cause of Death Report 2014.
Note: Neoplasms mean abnormal tissue growth, of which cancer is the most common.
The prevalence of breast cancer increased by 166% between 1990 and 2013, prostate cancer cases rose 220%, deaths due to ovarian cancer 123%, and deaths due to mouth cancer among men 134%, IndiaSpend reported in June 2015.
Uttar Pradesh, India's most populous state, is estimated to have the largest number of cancer cases in 2014. Maharashtra ranks second, followed by Bihar, West Bengal and Andhra Pradesh, IndiaSpend reported in June 2015.
(Saha is an MA Gender and Development student at Institute of Development Studies, University of Sussex.)
We welcome feedback. Please write to respond@indiaspend.org. We reserve the right to edit responses for language and grammar.
__________________________________________________________________
"Liked this story? Indiaspend.org is a non-profit, and we depend on readers like you to drive our public-interest journalism efforts. Donate Rs 500; Rs 1,000, Rs 2,000."