In Kerala, Women Surge Into Politics—And Fail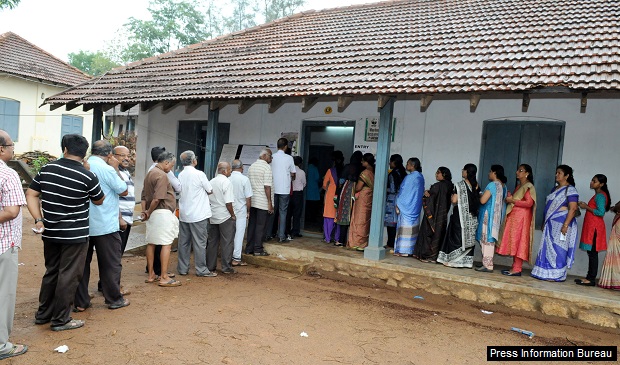 Over 20 years and five assembly elections—as women became better educated, led a variety of popular movements, voted in and contested elections in ever greater numbers in Kerala—the number of directly elected female legislators has steadily declined, according to our analysis of electoral data.
The percentage of female members of the legislative assembly (MLAs) fell from 10.23% in 1996 to 6.06% in 2016, even as the number of women candidates doubled over these five elections.
In an overwhelmingly male-dominated country, this statistic from Kerala's 2016 assembly elections appeared remarkable: 105 women contested—a third as independents, as we reported, indicating a determination to go it alone—up from 83 in 2011.
As the Left Democratic Front returned to power after five years, no more than eight women were elected in a 140-member house, which means Kerala has just one more female MLA than 2011.
The lack of success clearly is not for want of trying. But success does not appear to be correlated with the growing number of women turning out to vote. As many as 78% women voted in the 2016 election, up from 75% in 2011. The male polling percentage in 2016 was 76%.
The data appear to suggest that although women are contesting and voting in record numbers, they are not voting for other women.
Source: Election Commission
Even if more female MLAs were elected, that may not be enough to alter gender equations, said experts.
"Merely increasing the number of women representatives will not ensure a qualitative change towards gender inclusion," said Binitha Thampi, Professor of Development Studies in Department of Humanities and Social Sciences, IIT Madras. "It is time to promote female politics (Sthree Rashtreeyam) that will address practical gender needs."
Thampi suggested reservation for women in panchayat--or village-level--politics as a start, to ensure an expansion of the female agenda. "Quotas for woman are being pushed by a creamy layer and woman politicians are accessing honorary masculinity in public spaces," she said.
India's most emancipated women face traditional prejudice
The declining electoral success of Kerala's female MLAs does not represent their emancipation and, instead, appears to indicate hardening resistance to their social presence.
Women led 2014's Nilpu Samaram (standing agitation), which demanded that the government implement tribal rights over land that allow local communities to use forests and curb police excesses.
Women also led Pembilai Orumai (female unity), a 2015 protest in the tea-growing hill town of Munnar that demanded higher wages and facilities for plantation workers.
Source: Election Commission
This confidence in the public sphere reflects the status and emancipation of Kerala's women, who are India's most literate (92% female literacy; national average for women—65%), bear fewest children (1.7 total fertility rate; national average—2.5) but have a lower participation rate in the labour-force (18%; national average—25%).
Consider the credentials of some of Kerala's losing female candidates:
* C K Janu, a popular tribal leader, contested as an independent candidate with support from the National Democratic Alliance from the Sulthan Bathery constituency in Wayanad, a northern district with the highest percentage of tribals in Kerala. She finished third among eight candidates with 16% of the vote.
* P K Jayalakshmi, Minister for Welfare of Scheduled Tribes in the previous government, was the United Democratic Front (UDF) candidate from Mananthavady in Wayanad district. She was second with 42% of the vote.
The brutal rape and murder of a scheduled-caste female law student after the election was showcased in the media as an indicator of continuing gender inequality and brutality against women in Kerala.
"Women voters should have trust in women candidates... that trust is gradually fading away," said Janu, the tribal leader. "Voters are concerned whether women candidates can meet their demands after being elected because the responsibilities of women towards households cannot be broken easily. There are cases where husbands of elected women representatives are taking decisions instead of them."
Successful female politicians agree Kerala has a gender problem that extends into the family.
"The male-female relationship should be reconstituted, and it should start from sharing domestic responsibilities," said K K Shylaja, minister of health and social welfare. "It has become vital to rethink the role of women as agents of change."
While female representation in the current cabinet has doubled (two ministers—K K Shylaja and J Mercykutty Amma) compared to the previous government (one minister—P K Jayalakshmi), Kerala's first cabinet in 1957 had five women.
(Sreedevi is an Mphil in Development Studies, Tata Institute of Social Sciences, Mumbai.)
We welcome feedback. Please write to respond@indiaspend.org. We reserve the right to edit responses for language and grammar.
__________________________________________________________________
Liked this story? Indiaspend.org is a non-profit, and we depend on readers like you to drive our public-interest journalism efforts. Donate Rs 500; Rs 1,000, Rs 2,000.